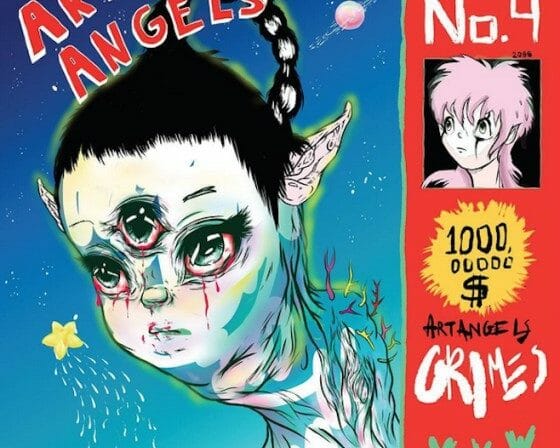 Last week, Grimes (AKA Claire Boucher) released her 5th album, Art Angels, and from what I have seen in terms of fan reaction, the consensus is generally mixed.
A lot of her original fans are big fans of songs like Scream and Kill V. Maim because it's the Grimes that her original fans have appreciated since she first came on the scene in 2010.
On the other hand, songs like California are prime to be hit radio singles with their catchy beat and poppy mood, but are definitely appealing to a different crowd than her long-time fans.
One thing is for sure, this is definitely the most pop album she has ever put out.
I'm not saying that is negative, though. The term "pop" gets a bad rep from a lot of purist music fans because it's constantly associated with mainstream, fabricated, autotuned music, which is not what this album is at all.
Even though her songs have transitioned to something that more people can bop their head to, the persona that Grimes carries remains strong throughout this album. Although California is a pop song, it still centres around her commentary on how women are poorly treated in the music industry.
To be honest, this album shows more of who Grimes is than any other album she has done. She has written, sung, and even produced every single song on this album, taking complete control of her artistic creativity throughout this process.
She has said in the past that her music idols are popular female artists like Katy Perry, Mariah Carey and Nicki Minaj, but that isn't in any way to say that comparison of her to Björk isn't relevant anymore. I personally think that people who believe she's being turned into a mainstream bubble-gum princess are the people who are limiting Grimes' sound by trying to preserve her as this counterculture fringe artist exclusive only to people who are avid readers of Pitchfork.
Overall, this is an eclectic mix of futuristic synthesizers and catchy beats that her original fans will learn to appreciate, and can also attract a wide new range of fans.