Brunswick St. stars in Film Festival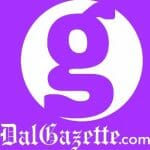 Amidst an otherwise humdrum lineup of short films, Halley Roback's Brunswick St. was the standout feature at the Atlantic Film Festival's short film reel on Saturday.
Brunswick St. recounts the story of a group of 20-somethings in the '60s and '70s, including Roback's parents. These progressive-thinking individuals lived in a four-story house-cum-commune on—spoiler alert!—Brunswick Street, in Halifax's North End. Among the chaos of daily chores, jobs, and even young children, the Brunswick Street residents existed on the founding principles of equality, openness and social change. They adopted the mantra "the personal is political," believing that their actions could create the macro-level change the world needed. Whether it be starting an environmental advocacy group or having dinner ready for 6 p.m. (one of the few house rules), Brunswick St. illustrates how its diverse members grew and shared their lives under a single roof.
Interweaving old video footage with interviews from the present, Roback invites the viewer on her personal journey toward discovering her parents' history. Equal parts nostalgic and revelatory, Brunswick St. offers a glimpse into the Halifax of a time past, and the liberal-thinking ethos prototypical of the generation that lived in it.