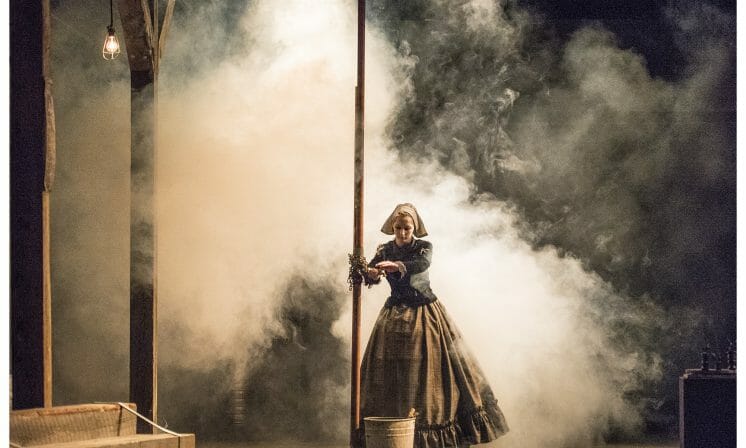 A twisted ride through a fever dream, The Ghost Sonata is nightmarish in a way that only powerful theatre can be. Dalhousie Theatre's first performance of the season is a purgatorial world of doomed mansions and enslaved souls, a place where blame is but one element of truth.
The Ghost Sonata was written in 1907 by Swedish playwright August Strindberg, during the last years of a life beset by mental illness. His work is prized as being artistically and structurally complex, while being abhorrently depressing.
The Ghost Sonata centers on a young, unnamed Student who longs for a life of reputation and nobility, the family within a nearby mansion being the epitome of his longing. After he is given the opportunity to join that world by a wheelchair-bound old man, the Student finds himself within a circle of strangers, all bound by appearance and treachery, his glowing promise nowhere to be found.
Dal Theatre's performance was a well-devised combination of ambiance, sound and shadow, following in the likeness of Strindberg's twisted creation. Metallic clattering rang from the catwalks as the lights dimmed, jittering over the gloomy thump of a thick drum. The costume design seemed a mix between Victorian-era pomposity and Tim Burton. Of particular note was the stage lighting; the crucial mansion was projected on the stage's back wall as a group of lit windows, in which the goings-on inside could be seen as shadow. As attention was drawn to each lit figure, the lights would blur in and out of focus, creating an air of unease.
A parrot-woman who cannot stand the sight of a statue of her likeness; a wheelchair-bound embodiment of vengeance; a cook who eats away the life of her hosts; a colonel without rank or honor; a young woman trapped by the inevitability of death—the cast of *The Ghost Sonata* did an excellent job of creating an ensemble of dream figures.
Dal student Scott Baker led the march as the Student and was matched on every front by an excellent performance by Chris O'Neill, playing the Old Man, during Tuesday night's performance.
Though the performance was relatively brief – clocking in its lone act at around 70 minutes – *The Ghost Sonata* kept the audience in rapt silence, trying to discern what was really happening onstage. *The Ghost Sonata* never promises any clear "aha!" moments, nor does it offer any insight into the realm of mental health. The characters come and fade like shadows and the ominous "death clock" projected on the stage's back stirs on a looming chant of "time goes, time goes."
Many left the theatre mystified—lost, as if snapped out of a lucid dream. *The Ghose Sonata* is a strong start to what will be, hopefully, a semester of thought-provoking theatre.