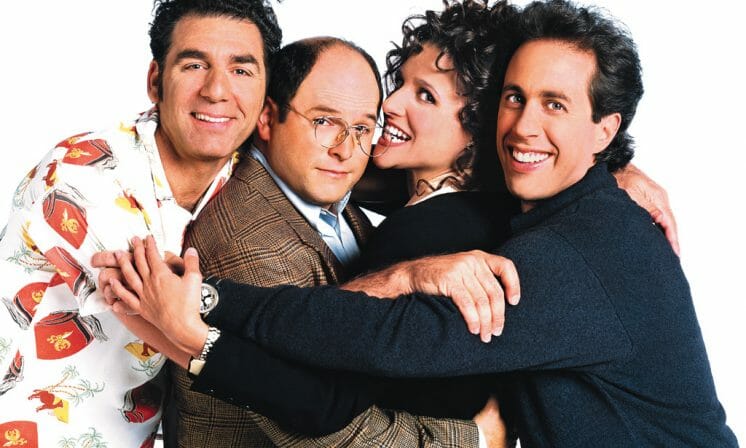 The Internet is giving TV shows a new place to live, long after their supposed last episodes aired on network television. For example, after being canceled by Fox in 2009, Arrested Development is now set to debut 14 new episodes exclusively on Netflix this spring.
It's not the only show being revived online. Seinfeld is back, too, but not with anything you can watch.
@SeinfeldToday started tweeting TV Guide-style plot summaries of imaginary Seinfeld episodes in mid-December. The account already has nearly 300,000 followers. (Jerry Seinfeld's personal account has over 1.5 million.)
While reruns continue to show the Seinfeld gang grappling with increasingly dated scenarios, @SeinfeldToday lets us imagine how Kramer might cope with LinkedIn. Or how Jerry might handle a girlfriend obsessed with Kate Middleton.
The account is a collaboration between two friends: Jack Moore, BuzzFeed's sports editor, and Josh Gondelman, a comedian.
@SeinfeldToday continues a long tradition of fan-fiction—that is, fans writing their favourite characters into new stories.
One @SeinfeldToday tweet pitches an episode in which Elaine reads 50 Shades of Grey, Amazon's top-selling book of 2012 which originally began as Twilight fan-fiction.
While 50 Shades of Grey is known for explicit sex scenes, what's unique about Moore and Gondelman's micro fan-fiction is it leaves so much up to our imaginations—or, rather, up to our well-honed instincts.
You have to know Kramer to recognize the comedic value in a situation like "Kramer claims to have invented the Snuggie." And so many of us do know Kramer—probably better than we know our own neighbours.
The religiously devout evaluate tough times by asking, "What Would Jesus Do?" Followers of @SeinfeldToday have already been trained to know what Kramer would do in any given scenario: they have 180 episodes of Seinfeld to serve as a bible.
@SeinfeldToday's popularity is a (new) testament to our enduring love for predictable sitcom characters.
So many other Twitter accounts already read like attempts to emulate Seinfeld's signature style, riffing on the nothingness that fills everyday life. @SeinfeldToday takes back the medium, asking us to forget our attempts to establish Seinfeldian voices of our own and to instead think back to the original voices we were once inspired by on Thursday nights.
Specifically, to what those voices would have to say about Kate Middleton.