It isn't rocket surgery
On Sept. 28, I had the pleasure of attending the afternoon NSLC Halifax Port of Wines Festival grand tasting. It featured the key elements of most wine festivals: men with red teeth, women with red teeth, scantily clad 20-something ladies, lots of velvet tablecloths, cheese for miles, suit jackets and shiny things. Most importantly, though, people were sipping, talking and laughing, which shouldn't be too difficult whilst sampling wine from all over the world.
Wine festivals are a hoot, mostly because you get almost free rein on hundreds of wines. But it can also be a learning experience, a space to figure out what you like and, more importantly, what you don't like as far as wine goes.
Sometimes these events can seem pretentious because some think there's some sort of special knowledge necessary to enjoy them. That isn't wholly true. By all means, just go to get drunk if that's your bag. But if you do want to get maximum pleasure out of tasting wine, whether you're opening a bottle on your couch or getting a taste at a restaurant, there are some basic rules you can follow.
Sight
First, look at the wine in the glass: the colour, the intensity of colour, and the hue. This is best done against a white background. The colour of a wine can, in itself, tell you a lot about whether you'll like it and what you can expect.
For white wines a pale yellow colour, or nearly clear, will usually have lighter body. A wine that is a deep yellow, much like your pee might be the morning after the wine festival, would usually have more body. I say usually when I speak of wine, because these are the generally the way one can judge. As for red wines or rosés, the same general rule applies.
The hue of the wine can also tell you the grape variety found in the wine. For example, a pinot noir grape can often be a lighter garnet colour, bordering on pale, whereas a shiraz is often a deeper purple. The more you taste, the more you'll see how the colour, the colour intensity, and hue are indicators of what's in your glass.
Smell
Swirl your glass vigorously. Years ago I thought people just did this to look good or to play with the wine, but it actually serves a very important purpose. By swirling the wine in a glass, you allow air to enter the wine and you also move some of the aromas up into the glass. This means that your glass should never be full to the brim, unless of course you've had quite a few glasses and smelling your wine is trumped by trying to drink quicker.
So, after you've swirled it a bit, take a big ol' whiff of the wine. You'll notice the wine is easier to smell, or more aromatic, after you've swirled. When you smell, put your nose right into the glass, and take short, deep inhales. The short breaths will prevent you from sniffing too hard, and only getting the scent of the alcohol up in your sinuses. Do you like what you smell?
The aromas found in wines are just descriptors to help categorize one wine from another. None of these descriptors are actually found in the wines; rather, they are comparisons to other things we know, like, or dislike. There is no right or wrong way to describe the scent of a wine. It can be floral, vegetal, fruity, earthy or any number of other descriptors. One person can smell a certain note, while someone else picks up another. The importance of this is not to 'get it right' but to make helpful associations. If a wine that smells like oak, dirt, and cigars appeals to me, so be it. I'll look for more.
Although some descriptors for wine, such as peach, cherry, honey, violet, pepper or melon, are more often used on bottles, and among wine critics these are just their take on a product. I have associated wines with aromas such as bacon, lemongrass, grandma's closet, attic, dandelion, mushroom, or wet-hot pavement—and there's nothing wrong with that.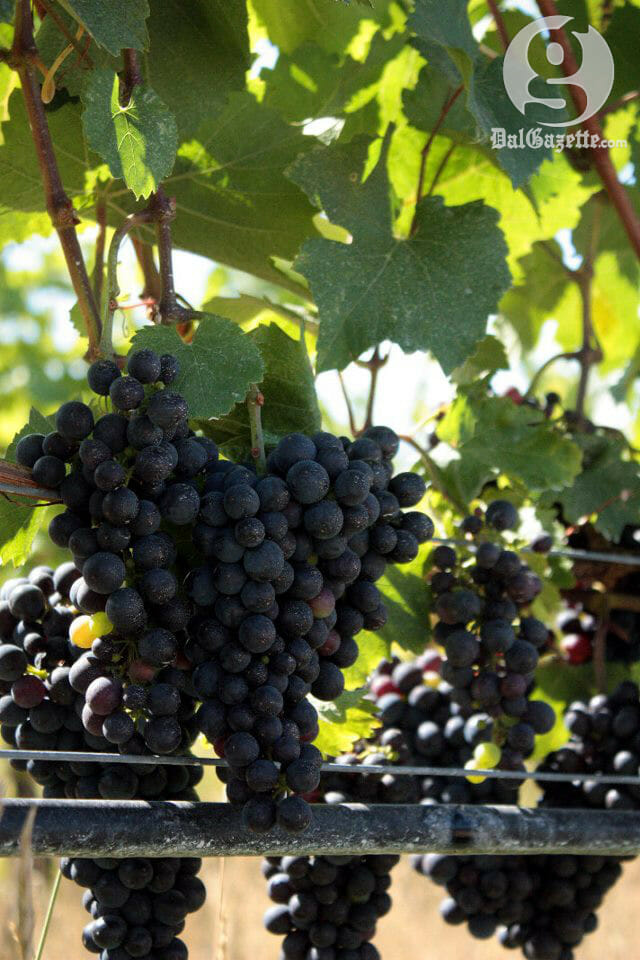 Tasting
Take a small mouthful of wine. Swirl it around in your mouth. As you do, think about how it feels, and what it does to the inside of your mouth.
When you hear people speak of 'body,' it refers to how heavy a wine feels inside your mouth. A light bodied wine is going to feel like water, whereas a full bodied wine will feel like oil. Body is often affected by tannin.
Tannins are the particles that give a red wine its degree of colour and can vary from wine to wine. Tannins come from the skin and seed of the grape, and are what give a wine its bite. When your mouth dries and you have to lick your gums after drinking a wine, it is a sign that more tannin is present. Some wines tend to have more tannin than others, like cabernet sauvignon or merlot.
Acidity is another measure to take into account. Some like a wine with crisp acidity, some like a wine that is smoother. Acidity can be measured by the amount your mouth waters after you swallow your drink.
The best wines are those that find a great balance between body, tannin, acidity and sweetness. When a wine balances all these things, it is called 'round.'
The flavours in a wine, like the aromas, are quite subjective, but some flavours come up more often in certain wines or grape varieties. Again, these flavours allow you to describe the wine. Does the wine taste more like sucking on a beach rock than biting into a pineapple? Is the wine more pomegranate seed than fresh raspberry? Using your memory bank of flavours and closing your eyes when tasting can help.
Also, when summing up a wine I like to categorize my appreciation of it with a few factors. I like to ask myself where I'd want to drink the wine, what food I might pair it with or with whom I'd most enjoy it.
Each bottle of wine is an experience reflecting the geography, soil, climate, culture and people of a region. No two bottles are identical, but if you make some small connections these might help you in finding certain styles or grape types that you enjoy.
Read the wine label, ask the wine store clerks questions, and buy a bottle you've never tried every third time you go to your liquor store. Wine isn't just for the old, the wealthy, or the knowledgeable; it's for young people too. It's made to drink in a crystal glass or right out of the bottle, it's to bring friends together, it's to enjoy with pizza, it's to enjoy in a warm bath. Wine is what you want it to be, so drink up.
—
Sandhill 2008 Small Lot Sangiovese
British Columbia, Canada
$29.99
A beautifully scented red wine with notes of ripe cherry, raspberry jam, and hints of cedar. Medium to full-bodied with smooth tannin, and a fair amount of acidity.
On the palate; cherry, smoke, and fennel. Would pair well with sausage dishes, or thin-crust tomato-based pizza.
Album pairing: Blue by Joni Mitchell. (http://www.youtube.com/watch?v=yMc_Q0bBRjg)
My score: 82
—
Benjamin Bridge 2011 Nova 7
Nova Scotia, Canada
$24.99
Intensely aromatic blend of white grapes with a nose of pronounced lychee fruit, pineapple, and honey. Slight sweetness, lightly sparkling, and refreshing. Soft, and creamy to taste with flavors of passion fruit, and lemon. A fabulous wine for celebration, or served with a lemon gelato.
Album pairing: Red Potion by English Words (http://www.youtube.com/watch?v=wmU_qFQmCIU)
My score: 90
—
Thanks to the NSLC for granting me free entry to the festival and allowing me to get a healthy afternoon buzz. Next week I'll be reviewing more wines from the NSLC Port of Wines Festival.
By Jessica Emin, Wine Columnist
On October 3, 2012 At 8:01 am
Category : Columns, Wine Column
Tags : 2008 Small Lot Sangiovese, 2011 Nova 7, Benjamin Bridge, British Columbia wine, Guides, Halifax Port of Wines Festival, Nova Scotia wine, NSLC, red wine, Sandhill, white wine, wine, wine tasting
Responses : One Comment