Dalhousie
Accessibility at Dal takes "unprecedented" hit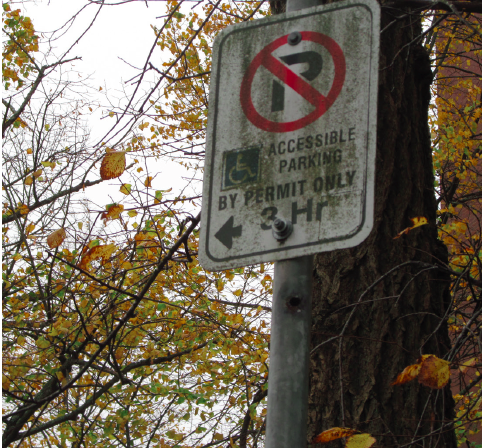 Nine wheelchair-accessible spots to be removed from University Avenue
Mary MacDonald will soon face more difficulties accessing Dalhousie's main buildings.
Amidst plans for new bike lanes running down both sides of University Avenue, there is an important detail not being publicized: these lanes will cause nine wheelchair-accessible parking spots to be removed.
Accessible parking for important areas of campus such as the McCain Arts & Social Sciences Building, the Rowe Management Building, the Nova Scotia Public Archives and the Arts Centre, among others, will be impacted by the new plan.
The spaces will be moved onto adjacent side streets: a seemingly simple solution not too great of a distance away.
However MacDonald, a disabled student at Dal, says there are many more difficulties with this plan than apparent to most able-bodied people.
"A lot of side streets aren't prioritized for snow clearance: this adds a different layer of difficulties for people with disabilities."
With winter fast approaching, MacDonald is concerned that the lack of snow clearance would make parking on the side streets and navigating the slushy sidewalks a major concern.
"Moving something around the corner for a person not affected by mobility issues might not seem to be a problem for them," says MacDonald "but especially if someone is using a wheelchair accessible van, how are they going to get the ramp down if the side streets are filled with snow and ice?"
Councillor Gloria McCluskey of Dartmouth Centre has vocalized her concern that moving the wheelchair-accessible parking spots on University Avenue will affect those with mobility issues.
"There is very little parking in that area. Other people can go and search, but wheelchair-accessible cars can't go way up the street to try and look for a spot far away."
While the emphasis upon promoting cycling is an important one, McCluskey points out that moving accessible parking spots to make way for a bike lane isn't a fair trade.
"If you're on a bike and you run into weather problems or other types of issues, you can always get off and walk or take the bus," she says. "You can't do that with wheelchairs or scooters, so instead you become confined to your home.
MacDonald, who has been a student at Dalhousie for different periods since 1993, was not consulted at all during the university's project of developing the new bike lanes.
Instead, she found out through social media about the changes that will be affecting those with accessibility difficulties at Dalhousie.
"I would have appreciated the opportunity to give my input on it, and my feedback for sure. I'm considering what avenues to address this through," she says. "I don't think it speaks well to the city's commitment to persons with disabilities to just arbitrarily remove the spots."
Unfortunately, this is not the first time that MacDonald has faced difficulties with accessible parking at Dalhousie.
She reflected upon a former parking spot that she used to use, at the south end of the Henry Hicks building, being moved farther away from the building itself.
After speaking to the facilities manager at the time, MacDonald was told that the now spot was "just another 25 paces" away.
"This is the thinking: 25 paces is not significant to an able bodied person," she says. "But to a person with balance problems, who is prone to falling or tripping or what have you, 25 extra paces is quite a barrier."
MacDonald asked several city officials about the decision to move accessible parking spaces off of University Avenue. She was told that the spots would be relocated onto side streets such as Seymour, Henry and Edward.
"I asked Waye Mason (Councillor for Halifax South) about the project, and I asked a city manager what the plan was, how parking was going to be addressed. It's a lack of consideration and it's not a solution to just simply say that we're going to take these parking spots and move them onto the side streets."
Mason did not return the Gazette's requests for comment.
MacDonald believes that moving such a high number of accessible parking spaces is unprecedented in Halifax.
"It's sending a clear message to people with disabilities that your needs and your ability to access buildings are secondary … that what you have now can be taken away tomorrow."