Dalhousie
Dal professors' study confirms what we all suspected
There is a strong correlation between attendance and final grades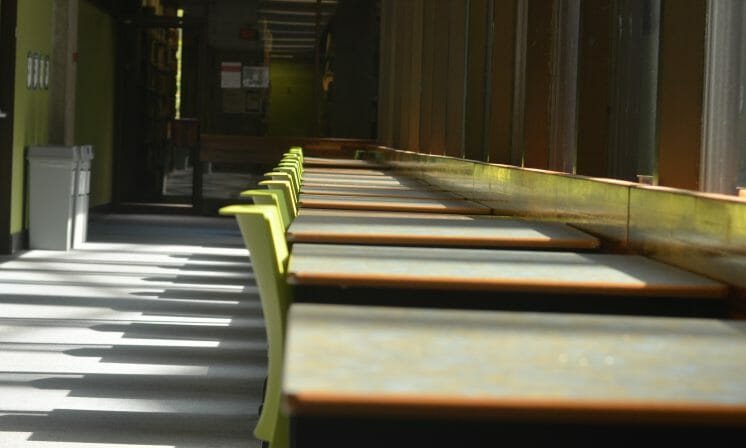 It can seem like a real struggle to get to an early university class, but missing it will likely affect your final grade.
According to a recent study on the relationship between attendance and grades, there is a strong correlation between the number of classes that students attend and the final grade they receive.
"I always suspected that it contributed to poor grades and that's really what the study brought out," says Thomas Duck, author of the study and faculty member of the department of physics and atmospheric science at Dalhousie University.
To conduct the study, sign-in sheets were passed around his first-year science classes on several occasions during the winter semester. These sheets were later used to build an attendance database.
Students who attended all of the classes received an average final grade of 73 per cent, while those who still passed the class but never signed the attendance sheet averaged 52 per cent, the lowest passing grade received.
At the first year level, attendance is a major issue, says Duck.
"In upper-year classes, I have 100 per cent attendance rate, so the objective here is to get more students to the finish line."
Duck and Simon de Vet, co-author of the study, also found out that about 70 students were signing the attendance sheets by March, compared to 230 students at the beginning of the semester.
"We were not really surprised of the results concerning attendance rate because when you're teaching, you can see easily see that the class is half-empty," says de Vet.
Now that there is hard evidence of the relationship between attendance and grade, Duck says he plans on working on the format of some of his assignments as well as discussing the importance of attendance on the first day of class.
Feedback
Duck and de Vet also informally asked students about their attendance habits. Some of the reasons given by students for missing classes were related to the time at which the classes took place, time management problems or the lecture format.
The university assigns the time at which the classes take place, says de Vet. Changing them is not an option.
"If we look at the student evaluations we get every year, students are pretty happy with us and we get very positive reviews."
"We spend a lot of time teaching and I strongly believe there is a cause and effect situation here; attending classes is beneficial."