Election Bio: JD Hutton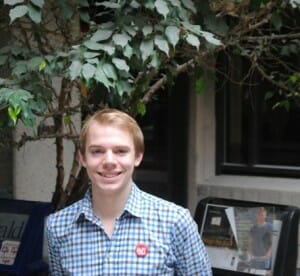 *Editor's Note: JD Hutton has officially withdrawn his candidacy for VP-Internal.
Running For: VP (internal)
Name: JD (John David) Hutton
Age: 22
Program: Third-year IDS and economics
Hometown: Halifax, NS
Interesting Fact: Awarded his Black Belt in Shotokan Karate when he was 16 and has taught it since the sixth grade.
JD Hutton is running for VP (internal) for three main reasons. First, he believes that there isn't enough participatory democracy going on at Dalhousie. "I think there should be more elected positions, like VP of Finance," says Hutton.
If elected, he plans to create an alternative school budget to the one proposed by the administration. "I think it's bad when the president of the school makes more money than the Prime Minister, especially when tuition is going up," he says.
Second, he wants to fight harder for lower tuition. He thinks the best way is action. "There is a time and a place for lobbying," says Hutton.
He is helping plan the Student Day of Action and will try to mobilize the student body more often.
Asked what he likes most about the current student government, Hutton cited the unified response to the 10 per cent fee increase last summer, which resulting in a lowering of the fee increase to seven per cent.
And lastly, Hutton is perhaps most passionate about the issue of campus food. Through participating with the King's Alternative Food Cooperative Association (KAFCA) and the Loaded Ladle, Hutton has been working towards bringing local, healthy and good food to students. "I think I have the passion and the mind for food," says Hutton.
With his experience fighting these issues, Hutton believes that if these are the issues you care about, he's the candidate for you.