Money for nothing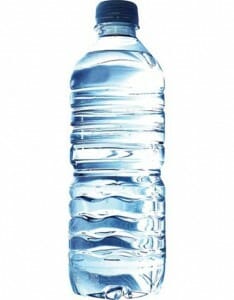 Bottled water is at the hub of sustainability. Whether it's the environment, human rights, human health, politics, dependency on oil or good old fashion pollution, bottled water is right there creating problems.
The simplest and most astounding thing about the bottled water industry is not its gargantuan size (although it makes billions of dollars a year), but the product it's selling.
Think about it. Since we were kids, we've been told that tap water is not safe. No one ever said it explicitly, but advertisements told us how pure, clean and fresh bottled water was. We simply inferred the rest. We've been tricked into thinking (or not thinking) many facts about bottled water.
One of those facts is that bottled water is a healthier alternative to the tap. But in reality, nothing could be further from the truth.
Bottled water not only contains harmful chemicals leached from its oil-based packaging, but is tested a fraction of the times a year as municipal water. There is less than one person (that means they have more jobs than just overseeing water) in the entire FDA who monitors bottled water quality in the United States. The Canadian system isn't much better. While Halifax's water commission tests its water at least weekly through a third party laboratory, bottled water is tested yearly at most and is always done so by the companies themselves. They sell us lower quality water and charge us thousands of times more for it.
Speaking of cost, many arguments against sustainability involve economics. A green future always seems to clash with the cold recognition of an economy at work that must remain at work. Corporate business undercuts sustainable development in the interest of cutting costs, because consumers are seldom willing to spend more money unless they absolutely have to.
That's why it's a travesty that people let themselves be convinced to purchase bottled water. It is literally thousands of times more expensive than what comes out of your tap. They are selling you something you can have almost for free. That's like being charged for the air you breath.
If you don't care about your health or where you spend your money, you must at least care about other people. Communities all over the world are cornered by massive companies such as Coca-Cola and Nestlé and are forced to give up their fresh water supplies. If they have time to mount a defense, they are often defeated in court. How can a community of people who make $50,000 a year compete with a company like Nestlé, whose profit was $10.3 billion in 2011? We like to think the justice system is not swayed by money, but when there are billions and billions of dollars involved, it definitely can.
You may remember the hydrological cycle from elementary school: the rain falls, it seeps into the ground, collects in rivers and streams, and finds its way to the ocean, where it's evaporated and turned into clouds, followed by rain once again.
That's not really how it works anymore.
When water is bottled and shipped around the world, it cannot complete its natural cycle. The bottling and shipping of fresh water is one of the many factors leading to some of the world's most powerful rivers drying up. We have only a finite amount of fresh water on our planet and we're now letting it be sold for profit.
There is an alarmingly long list of problems with bottled water, but it's time to think about solutions.
The cornerstone of unsustainable business is how global it is. The more expansive one's business, the more customers you'll have and the more money you'll make.
So how do we counteract global gigantism? With localized action.
Although a cliché, it is true that we can all make a difference. Realistically, we all have a responsibility to make a difference.
So how do we do it? Corporate business is not going to listen to a single consumer, but they have to listen to government and the government has to listen to the people. And the people, though we frequently feel disenfranchised, have power in our collective voice, which is most sternly held in our institutions.
Institutions such as universities are a powerful tool in public debate, and we should collect our efforts in such a way that we can influence policy. If we influence policy, we can move towards a future that is rid of the cancer of the bottled water industry.
It is imperative that we do our part—not as single consumer boycotting bottled water, but as a collective community of aware citizens maximizing their democratic rights.
Editor's note: Christian Pollard is on the water committee of the DSUSO