Staff
By Katrina Pyne, Editor-in-Chief • August 12, 2011
The Gazette is a student-run publication and it relies on the hard work of its staff and volunteer contributors to exist. Each spring, a hiring committee is formed to democratically select the most skilled applicant for the editorial positions. Assistant editors are hired by their section editor. Contributors can write any time on any subject: feel free to drop us a line or an article.
Editors
Ninety-nine per cent coffee and one per cent nervous anxiety makes up Katrina. She may have only entered the journalism program at University of King's College because she'd watched a lot of Gilmore Girls the night before the registration deadline, but after three years she's pretty sure she's in the right field now, she thinks. In the short time she has worked as a self-proclaimed journalist she has been a small-town rural reporter, arts columnist, freelancer and the Gazette's own news editor. She is now pleased—no, thrilled—to be taking on the role of editor-in-chief at the Gazette and can only hope she is not remembered as the EIC responsible for bringing the paper down. She enjoys ice cream sandwiches, wearing unnecessarily loud heels and is an admittedly wanna-be surfer, climber and diver. She apologizes in advance for eating most of the pizza at contributors' meetings.
Torey is a fourth-year Canadian studies, history and journalism student and a lover of all things grammatical. She has worked with the Gazette for the past two years, first as a staff contributor and later as the assistant news editor. Her new role as copy editor gets her some sweet perks, such as an email inbox that makes her feel popular and being able to hide in the back room during the chaos of contributors' meetings. Mild agoraphobia notwithstanding, any writer looking for help with a story, advice on how to improve writing or reporting skills, or to question a dubious editing decision can find her there most days of the week. And yes—that Oxford comma was deliberate.
Born in Toronto like most people at King's, Daniel is tentatively in the four-year bachelor of journalism program, but may switch to a history or philosophy major so he can have even fewer job prospects. He started at the Gazette last year as a contributor, and wrote stuff. He still writes stuff, but now, as the news editor, he does other things too. One hobby of his is rock climbing, although he admits that since coming to Halifax he has been generally ground-bound.
Calum is in his fourth year at King's; he's never taken a journalism course.
He is studying the history of science and technology, and economics—which he'd be only too happy to talk to you about. It's interesting, he swears. But with graduation fast approaching, he finds himself filled with as much dread and regret as all of the other staff members. He may be back next year.
This is his second year writing for the Gazette. Another damned Torontonian, he asks your forgiveness. He can be found in the King's library, at the Wardroom, and wherever good coffee is served. His hobbies include reading, running, and photography.
He encourages you to write for the Gazette.
Andrew Mills is a journalism student with an absurd yet sincere nose. He's studied philosophy and international development, traveled, worked menial jobs and read long novels on a predictable quest for authentic living. When he's not busy trying to piece together a decent folk-punk band, he enjoys loud music and weird films.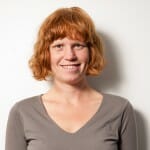 Meagan Deuling, Assistant Arts Editor
Meagan Deuling will always take the long route even though she gets carsick and she doesn't have any pets although she is fond of all her addictions. No matter what, Meagan will spend her entire life writing last-minute pieces of poetic prose based on true events to read over the radio. She will nourish herself with ice cream cookies dipped in espresso-based drinks at breakfast and with thick juice at dinner. Meagan doesn't do it on purpose but she always notices what some people call coincidences and she's got a knack for finding rocks worth keeping and bits of bleached bone. One day she'll find a fossil.
Sam is a third-year English and early modern studies student at Dalhousie and King's. Her passion for writing began at age six, when she inscribed the words "Lauren is a meanie" into her first journal. Opinions flew freely from there. When not writing or editing, Sam shares her passion for literacy by putting in time tutoring in a homework club with Frontier College. Otherwise, she can usually be found in a library (any library) alternately doing schoolwork and staring into space. Her passion for Halifax and the great outdoors leads her on many walks, bike rides and swims around the HRM, so if you can't find her volunteering, in a library or in front of a computer, she recommends breaking out the GPS.
Never the fastest or the strongest kid on the school playground, Ian has since learned his knack for writing would one day let him brush shoulders with the athletes who would have schooled him during recess. Born and raised in southeast Manitoba, Ian has been writing sports for the Gazette for the past two years and is in his second year as sports editor. He is also a part-time traffic reporter for CBC Radio Halifax and has worked in the summer as a reporter/photographer for The Carillon, an award-winning newspaper near his hometown. He is presently studying journalism at King's while also taking commerce classes at Dal.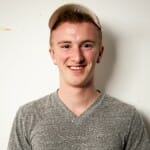 Graeme Benjamin, Assistant Sports Editor
Graeme Benjamin is a second-year journalism student at the University of King's College who has always had a keen interest in sports. A Haligonian born and raised, he was never one to take part in traditional sports so he is constantly trying to publicize sports in the Gazette that don't receive the credit they deserve. Technically a King's student but a Tiger at heart, Graeme has a passion for athletics at Dalhousie. This year he is the assistant editor of the sports section and is excited to take his journalism career to the next level.
Chris was born and raised in Saint John, New Brunswick (not to be confused with St. John's, Newfoundland). After studying for two years at the University of New Brunswick, he transferred to Dalhousie to study neuroscience.
It was here that he discovered his passion for photography and joined the Gazette as a contributing photographer. Now in his fifth year, Chris is excited to take on the role of photo editor. As the photo editor, he hopes to create an environment where contributing photographers can both develop and improve their photographic skills.
When he's not in class or working on an assignment, Chris can be found (with his Nikon camera) searching for the next great photo op. He invites you to keep up with some of his personal projects at: http://www.flickr.com/photos/christophparent
Ethan is savagely addicted to the following things: coffee, Kraft Dinner, hockey, Twitter, Gangnam style, Harry Potter, fiction writing, Natalie Portman, Fulham FC, travel, Igor Stravinsky, corny Pokémon memes, self-deprecating Jewish jokes and, of course, DalGazette.com. He was born in Ottawa, raised partially in London, England, and is currently in his last year in Halifax. He started out studying journalism at King's, but switched to Russian studies when he realized that he could never be Carl Bernstein. In his free time (free time?!), he can generally be found studying one of his four languages: English, French, Russian and Hebrew. This is generally done by watching Harry Potter films in said language. Make sure to shoot him an email at [email protected] if you want to talk about absolutely anything.
This small-town New Brunswicker thought she wanted to be a journalist—until she got a chance to work behind the scenes in her second year at King's, after which she switched out of the journalism program. Now in her fourth (but not final) year, she's finally getting a foot in the door thanks to the Gazette. Apart from how official her title of assistant online editor sounds, Joelline also likes mint chocolate chip ice cream, the technology that makes it possible for her to email from her cell phone, words, and the Internet (obviously).
While digging up rocks and painting living rooms for money for the past three years, Ben never once imagined editing fiction. Now he also doesn't imagine it—because it's what he does. He works at Common Roots Urban Farm and jane's on the common, teaches writing at The Spot, runs a catering business with his friend Jess, and has had his poetry published in magazines in Canada and abroad. He spent the past year driving across America visiting writers he admires, and recently released a chapbook, "Expensive Clouds," through Kid Justice books.
Jonathan Rotsztain is a freelance writer and graphic designer. He specializes in and offers communications services: Editorial Design, Typography, Branding/Identity, Print Production, Illustration, Web Design, Communications Writing and Project Management.
Jonathan has worked with many clients in Halifax and around the world including jane's on the common, FRED., Nimbus Publishing, Ecology Action Centre, Aisling Discoveries, RBR Development, Bus Stop Theatre, eyelevel gallery and Byrony House.
Jonathan has served as the Art Director of the Dalhousie Gazette since August 2009. He is responsible for the new brand and interior redesign, layout, graphic generation, advertising and pre-press as well as illustration coordination.
Jonathan is partner at ALL CAPS Design. Feel free to get in touch with him at [email protected] or [email protected]
John Last is an avid beard enthusiast and wannabe inscrutable journalist type. Dragged across Canada for his entire youth, he has now added Qatar, Sri Lanka, Israel, the West Bank and Washington, D.C., to the list of places he can say he's visited to impress fellow journalism students. He has worked as an out-of-work journalist at CFRC Radio and produced a number of web series that have never been seen by anyone. He also once ran for mayor of his hometown of Kingston, Ont., but that was just ridiculous.