By Olivia Malley
The current rising star in Halifax's music scene is local ABBA cover band Dancing Queen.
Surprisingly, the band was not formed by a fan of the famous Swedish pop group.
Dancing Queen was created by local Halifax musician Casey Thompson. Last year, Thompson says his girlfriend dragged him to see Neptune Theatre's production of the musical Mamma Mia!
"I think I am an anomaly; I didn't grow up listening to ABBA," says Thompson. Despite this, when Thompson saw Mamma Mia!, it turned out he still knew most of the songs in the show. According to Thompson, it was after seeing the musical that he thought to himself, why not make an ABBA cover band?
The formation
To form the cover band, Thompson reached out to his then current and former bandmates. Later, his friends and other musicians joined the mix, and together they became Dancing Queen.
There are seven members in the group: Thompson on bass, Lucas Denison on drums, Ross Avey and Sam Dyson on guitar, Adam Johnson on piano and Carolyn Curry and Leah Kays doing vocals. According to Thompson, Kays is the only diehard ABBA fan in the group, but the rest of them all know ABBA's big hits.
Thompson says Dancing Queen isn't looking for gigs outside of Halifax. This is because the members are all around 30 years old and have day jobs. Some of them even have kids. Thompson himself is a third-grade teacher at Oyster Pond Academy, an elementary and junior high school. Johnson is a music teacher and Denison works at The Halifax Music Cooperative — a local not-for-profit organization.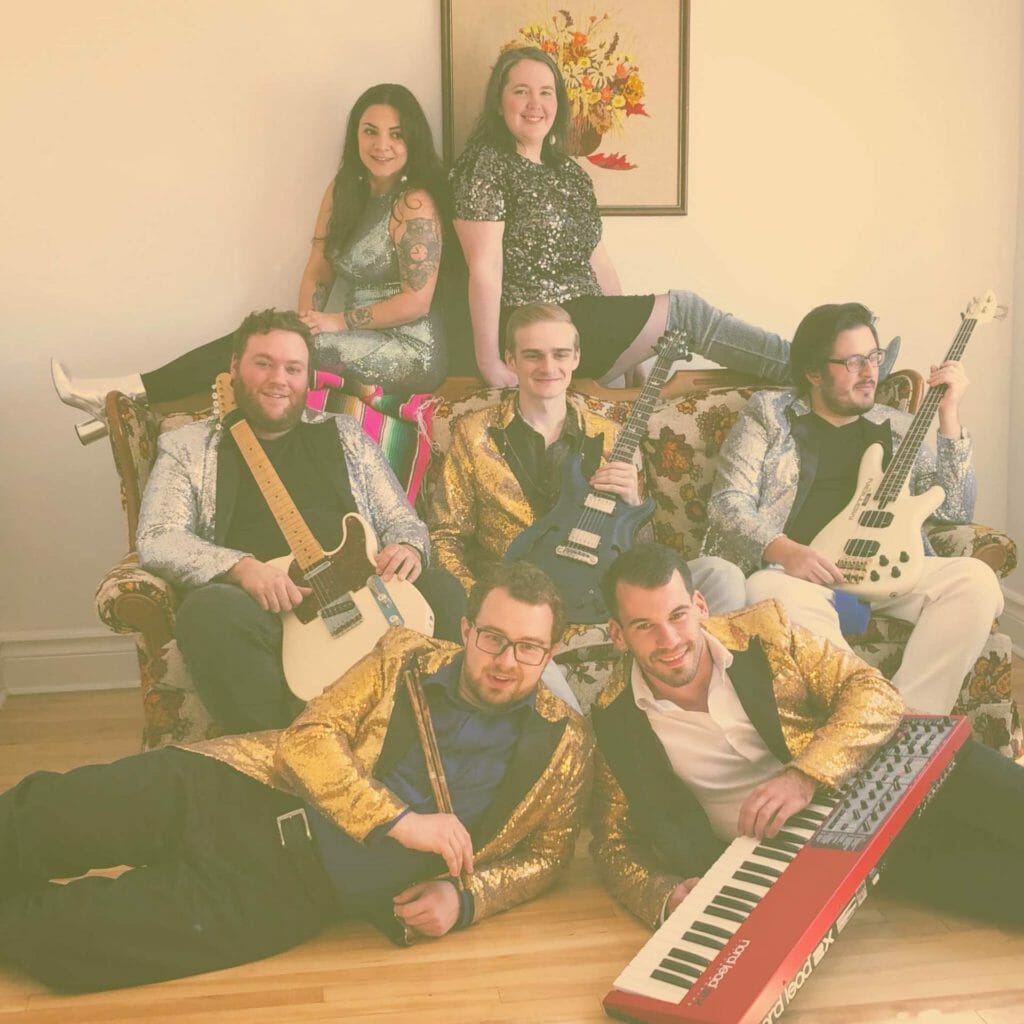 A quick success
The band has less than 10 shows under their belt. Their first gig was at Menz & Mollyz Bar in January of this year. The show is still fresh in Thompson's mind.
"It was insane," says Thompson. "People love ABBA more than anything else I have ever played. It was bananas." 
This past September, Dancing Queen sold out The Marquee Ballroom — a dream venue for Thompson. One of the people in the packed Gottingen Street venue that night was Colleen Crowe.
"They just capture your attention," Crowe says about the band, "and they sound like ABBA."
Crowe says she loved Dancing Queen's stage presence during their performance at The Marquee. She mentions how the band members talked to the crowd to get everyone amped up. She also loved the band's sparkly gold and silver jackets.
Crowe says that Johnson, the pianist, was amazing that night at The Marquee. Thompson also remembers Johnson's memorable piano-playing that night.
 "He was singing 'Does Your Mother Know' and a girl got up on stage and was doing some dancing with him. It was super amazing, unexpected, unplanned, awesome," says Thompson.
As for Crowe, she says she's already stalking the band's Facebook page for their next show.
Vision for the future
Thompson believes Halifax has a vibrant music community, but there are a limited number of performance venues. He says what allows Dancing Queen to keep performing is they "play music people know and love." While Dancing Queen has played at The Marquee, Menz & Mollyz and The Seahorse Tavern, the band has also performed in a few places outside of downtown Halifax.
"We play a lot of churches, says Thompson, "which I don't think people would expect."
Yet because of ABBA's broad appeal, Thompson believes his band could play almost anywhere and get a good crowd to come out.
To keep things fresh, Dancing Queen wants to learn more of what Thompson calls ABBA's "deep cuts" or "the B-sides" — essentially, the songs most people don't know. The group is also looking to add other disco bands like KC and The Sunshine Band, Donna Summer and the Bee Gees to their repertoire. The band likes to play any music that keeps people on the dancefloor because, as Thompson says, "people like to get drunk and dance."
Dancing Queen is focused on having fun and will keep doing so until the city tells them it's their time to stop.
"We will play until we can no longer book gigs," says Thompson, "until no one will have us."