Halloween season has come around yet again. This month, there will be no shortage of local events celebrating this spooky holiday. Among them is the brand-new theatre production Zomblet.
From the Villain's Theatre and Terra Novella Theatre comes a play with an entirely new take on William Shakespeare's Hamlet. The play asks the tantalizing question: what happens when zombies come to the royal castle of Elsinore?
The Villain's Theatre is no stranger to plays from Shakespeare's time. According to their website, the non-profit theatre company has been "staging the beautiful and challenging plays of the Renaissance" since it was founded in 2009. Like the Villain's Theatre, Terra Novella is based in Halifax, but was only founded in 2016. The two companies decided to collaborate to create this action-packed adaptation of a classic Shakespearean tragedy.
An entirely new spin
The premise of Zomblet is much spookier than Shakespeare's original play. In the wake of his father's bizarre death, titular character Hamlet and his Danish friends are confronted with a new evil that threatens to destroy their kingdom: an unholy zombie plague. The heroic characters must then get down and dirty in order to save Denmark.
According to writer and director Dan Bray, audiences should not come to this show expecting to see a typical Shakespearean Hamlet production, but with zombies.
"This is something else entirely," says Bray, who is also the artistic director and founder of the Villain's Theatre. "It uses the [original text's] idea of someone encountering something supernatural and it's just kind of spiraling out from there. In the original, Hamlet sees the ghost, and in this one, Hamlet sees the zombie. That is largely where the plot similarities end."
The Villain's Theatre artistic producer Colleen MacIsaac describes the show as Hamlet meets Shaun of the Dead (the 2004 apocalyptic zombie film).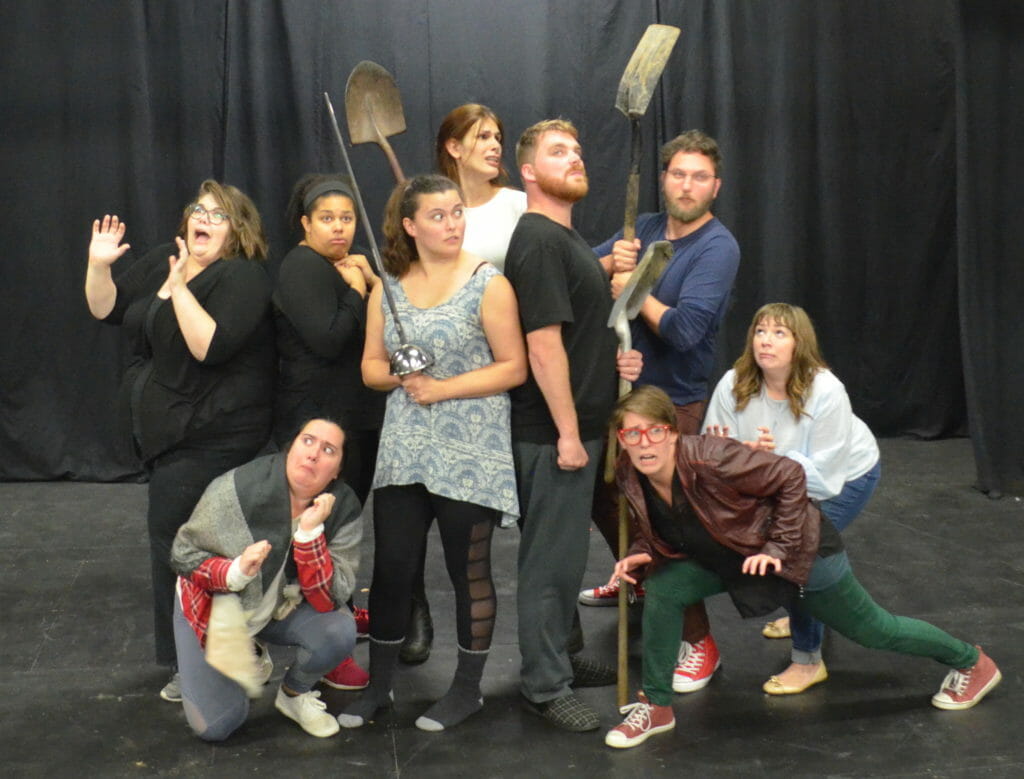 Putting it together
So, how exactly did this kooky, creepy production come together? It all started with an idea Bray had.
"I've always loved Shakespeare and I love horror movies and I just thought it would be a fun thing to play with," he says. "It just kind of got away from me."
Bray says the next thing he knew, members from the two independent theatre companies were rehearsing action scenes for the play together. But it's not just Bray taking charge of all the fun on stage.
The cast and crew have been keeping busy bringing Zomblet to life. Actor Nick Cox, who is playing Hamlet, is also doing the lighting design and the music. Audrey Eastwood, who plays the character Ophelia, is in charge of set design and fight direction. MacIsaac is the production manager but it also performing and taking care of sound design.
"The cast has nine people in it and there's a bunch of other people working on the show," says Bray. "Everybody's doing triple duty."
A show for many audiences
It certainly seems like the cast and crew's hard work putting this show together will pay off to bring an entirely new and fun experience for all kinds of audiences.
"If you're a Hamlet scholar, you're going to get a lot out of the show," says MacIsaac. "If you've never seen Hamlet and have only seen Shaun of the Dead and like zombies, then you're also going to like the show."
Zomblet will be playing every night from Oct. 23-27 at The Bus Stop Theatre on Gottingen Street.
"It's got so many strange and different elements in it from all this amazing group that's working together to create this thing," says Eastwood, "and once it gets going, it's a pretty non-stop ride from start to finish."
This new production is all about action, horror and comedy. What better time of year than Halloween to witness all of these elements brought together?
As Cox says, "'Tis the season to experience the joy of being afraid!"