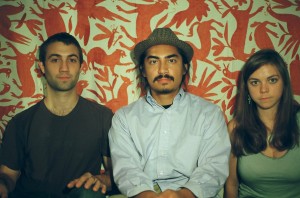 City and Colour will be returning to the Rebecca Cohn Auditorium for two sold-out shows Feb 20 and 21. But this time, instead of borrowing Halifax's beloved Symphony Nova Scotia, Dallas Green has handpicked Rhode Island band The Low Anthem as the opening act.
Together, the two bands are on the home stretch of their six-week, 30-show, sold-out Canadian tour, which will be ending in Saint John later this month.
Fans of Green's music who were lucky enough to snatch a ticket are getting much more than just a City and Colour show. Providence-based indie-folk group The Low Anthem scours yard sales for old music-makers, repairs vintage pump organs and swaps instruments on stage, all in the name of producing a sound as haunting as a friendly ghost.  They have already toured with acts ranging from Iron & Wine to Ray Lamontagne to The National.
The *Gazette* caught up with The Low Anthem's multi-instrumentalist and co-founder, Jeff Prystowsky, by phone from his home in Providence just two days before he embarked on one of the most anticipated Canadian tours of the year.
For the past 11 months, the band has been promoting their most recent album, *Smart Flesh*, with much success.  After building up a following in the US and the UK, they've yet to spend any considerable amount of time performing north of the border.  "This cross-country Canada tour is exciting, and hopefully we'll win the hearts of Canadians," says Prystowsky.
Their performances have been doing just that, thanks to The Low Anthem's dynamic musical recipe consisting of a double bass, a clarinet, a violin, a couple guitars, an organ, and anything else they might have acquired from attics and eBay.  When asked about what kind of show Halifax audiences can expect, Prystowski said he and his bandmates strive to always sound good, but never sound the same.  "We play some pretty strange [instruments] that you may have never seen before and we change up our set list every night."
The band's process for the making of *Smart Flesh* remains equally as impressive as the songs themselves. Most of the tracks were recorded during the winter months of 2009 in an abandoned Rhode Island pasta sauce factory.  The band went beyond the call of recording music to establish a full-fledged society inside the old factory.  "Once we were in there for a few weeks, we realized the potential for the building to be a space for many artists.  It was the size of an airplane hangar so friends would come over, go to the far corner and paint or make movies or do whatever they wanted." says Prystowsky.
When the recording light was on, however, everybody would freeze; to get warm again, it wasn't uncommon to see people biking laps around the giant room.  "In the pasta sauce studio, we invented a game called  'Baffle Ball', which was a combination of ping pong, tennis and squash … you really needed a huge space to play it, so it was a lot of fun."
The Low Anthem accredits the pasta sauce factory for being the biggest band member on *Smart Flesh*.  Such a supernatural sonic experiment has earned them this trans-Canada gig, with Dallas Green as their tour guide.
If you are lucky enough to be heading to the show and you're hoping to put a face to a name, Prystowsky is the man with the extraordinary moustache, jumping back and forth between the double bass and the drum kit.