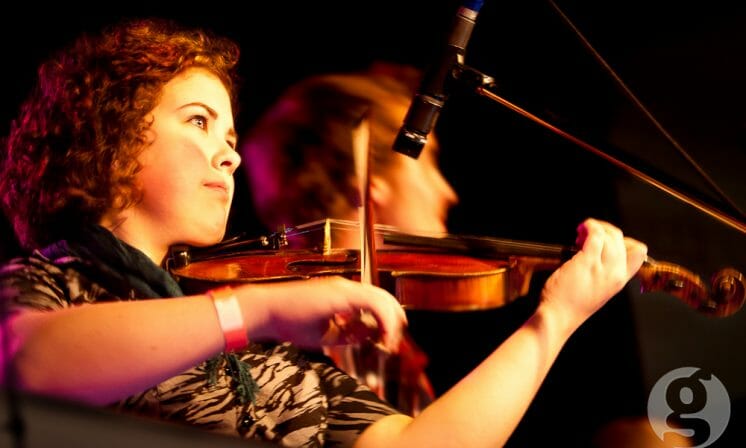 There are rock stars hiding in the monolith of the Killam Library and George Woodhouse is going to find them. Woodhouse, the host of Dalhousie's open mic nights at the Grawood, says he feels joy when scared students shed their chrysalis of silence.
"They step up to the mic, nervous as hell, and tell the room that what they are about to do is complete their new year's resolution of actually performing a song on the guitar they just got last Christmas," he says via email.
"That's when my heart explodes and I love my job."
It's scary stuff, to transform from audience member to performer.
"Some people come to me asking to sign up, with a look so petrified, they look like they're going off to war, and they sit nervously with their friends nursing their beers until finally their slot comes around," he continues, but says students shouldn't be afraid to step onstage.
"Nobody cares if they screw up, 'cause the crowd goes absolutely nuts when they finish to acknowledge the brave act that just took place."
University doesn't have to be a desert for creative expression. Though students consume an endless manna of lectures and readings, they shouldn't be limited by the passive requirements of their field.
"Some performers are music students who are just looking to vent their 'non-classical' talents that build up during the semester," Woodhouse says.
"People play their favourite tunes, sing their own songs, and collaborate on the spot. Students need to have access to a space like that, so that's what we love providing at open mic night."
There are aspects of both the city and campus that should be explored. That slight British boy, scented by a sinister veneer of Febreze, could be a ghostly troubadour in disguise. There's only one way to find out.
"Open mic isn't just about the music, or the beer, or the music and beer, it's about people jazzing and jamming, and hanging out with sweet passionate melodies in the air," Woodhouse says.
Here's a quick primer on some of the city's legendary musical hideaways:
– On Monday nights Ben Caplan's open mic (2539 Agricola St.) is a dose of unfiltered glory. Show up before 9 p.m. to sign up to play. BYOB and linger with talented north-enders.
– Coburg Coffee (6085 Coburg Rd.), the resident cacao bean provider nestled across the street from Howe Hall, hosts a caffeinated jamboree open to all every Tuesday from 7 to 10 p.m.
– If you're up for a more traditional east coast gig, Bearly's (1269 Barrington St.) boasts a Sunday night blues jam at 8:30 p.m.
– Ask around for The Burrow in the North End, lest I ruin its mystique by betraying the precise address. Tunes pierce the smoke filled haze of a basement, interpenetrated with laughter and conversations in this elusive Halifax treat.
– For those still working up the courage to release some melody or recite an epic verse, inquire at the Rebecca Cohn (6101 University Ave.) about the soundproofed practice rooms.
Grawood open mics for the fall semester will be held Sept. 13, Oct. 4, Oct. 25 and Nov. 15.