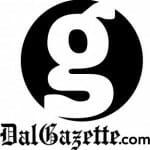 Rule #34 of the Internet decrees: If it exists, there is porn about it.
But have you ever wanted more to your porn than tentacles and chocolate pudding? Something deeper, more analytical? A comparison of Marx's labour theory of value with modern sex workers, perhaps?
Luckily, rule number one of academia is: if it exists, there's someone writing about it. You probably won't find Porn Studies 101 at Dalhousie anytime soon, but the new academic journal NSFW wants to answer your deeper questions.
NSFW (a play on the internet term Not Safe For Work, labeling potentially unsuitable content for those browsing the web at the office) will open up a space to discuss pornography and culture. Katie Toth, NSFW's publisher (and the *Gazette*'s very own former sex columnist and opinions editor), thought of the idea while watching the Adult Video News Awards last year.
"Porn has become this background noise in our lives," Toth says. It's a subject that often intimately reveals a society's fantasies and secret anxieties. Fifty Shades of Grey exploded the cultural consciousness and broadened public interest in erotica, "much to the chagrin of literary scholars everywhere," in the words of NSFW's social media coordinator Natasha Hunt. But there isn't a lot of academic space to talk about it.
"Halifax can use a magazine like this," Toth says.
Jannette Vusich, an early modern studies professor at University of King's College whose research has focused on Renaissance art, wrote in an email: "Even though pornography and erotica have contributed a great deal to material culture as we know it—across time periods and geographical areas—it remains largely unexamined in comparison with the other, more traditional forms of visual culture."
Although NSFW will be the first journal of its kind in Atlantic Canada, another Halifax-based channel for dialogue has opened up to talk about porn and erotica: a book club.
The Bad Bad Book Club started in September of 2012, when Jean Ketterling and Ashley Alberg were inspired by an NSPIRG talk called "Porn: Let's Talk About It." According to Ketterling, they wanted to "continue the momentum of that discussion." They considered a book club the most accessible and informal setting to have such a discussion.
As you can guess, they read erotica. The discussion centres less on literary merit and more on social issues, personal experience and cultural analysis. It's held monthly at the South House Sexual and Gender Resource Centre (formerly the Women's Centre) at Dal. The organizers select a theme for each meeting, and the books are curated by rotating members. So far, the themes have included BDSM, anal, consent and trans-erotica.
Asha Katz, a book club and South House board member, says the purpose of Bad Bad Book Club is to "de-stigmatize the discussion" around erotica and porn. Porn and erotica can be problematic, but they can also be sex-positive, celebrating pleasure over penetration, and providing honest depictions of sexuality, says Katz. Ketterling even hopes to expand beyond the book club and create a library of erotica in the South House.
Both places recognize the importance of discussing the negative aspects of porn and erotica, particularly as the Internet shapes their very definition (r/creepshots, anyone?). In the same token, though, they strive to make the dialogue sex-positive.
"Sex isn't something that should be shameful or demonized," Hunt says. Hunt believes porn and erotica can and should be empowering.
NSFW accepts art, screenplays, narrative non-fiction, science articles—whatever form you choose.
"If you can combine academic masturbation with your actual masturbation, we will edit your splooge," Hunt says.
JON:
IN A SIDEBAR/END BOX/WHATEVER, PLEASE:
If you want your splooge edited, NSFW's extended deadline is Feb. 14 (yes, Valentine's Day.) Send submissions to nsfwjournal@gmail.com.
The Bad Bad Book Club is open to any and all, and they're looking for new members! Their next meeting will show a screening of the documentary *After Porn Ends* (2010). Head down to the South House or check out the Bad Bad Book Club Facebook page to find out more.