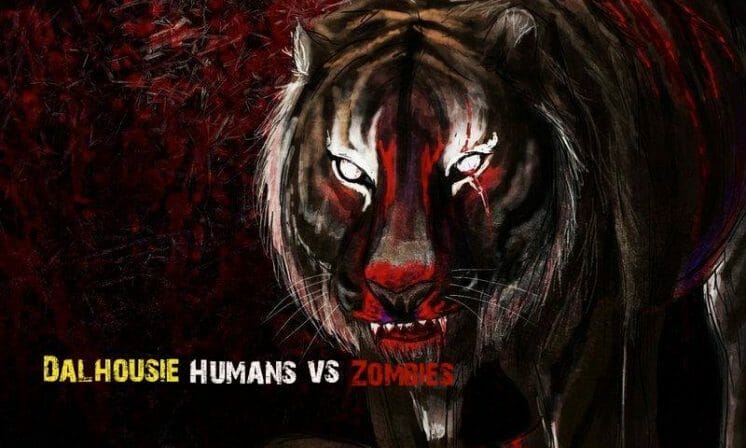 A giant game of tag pitting humans against zombies will be taking over campus, the first of its kind at Dal.
The game will last all this week, between the hours of 8:00 a.m. and 5:30 p.m., unless all players become zombies, which would end the game early.
"Zombies are really popular in pop culture right now, so it is something a lot of people have an interest in," says Bryn Karcha, the primary coordinator for the event. "I have been pushing for this for a couple of years. I just thought it would be fun to have people run around, firing Nerf guns at each other, to get people more active and engaged in the Dal community."
Contestants start off as humans, with one pre-determined zombie hidden among them. The zombie will start tagging people, turning them into zombies after an hour, and humans will have to defend themselves by shooting the zombies with their Nerf guns, stunning them for 15 minutes. A zombie will also need to feed, or tag someone, every 48 hours to avoid starvation. Humans will have an ID card they will give to the zombie who tags them.
Registration closed the first day of the game, on Nov. 4. A website will allow players and moderators to track their progress online. Players can also register as squads to bolster their chances of survival. One group is expected to play in kilts. Moderators will be wearing orange headbands, and ask that players wear another colour, and that they not use Nerf guns that are modified to resemble real guns. Anyone not following the rules or being disrespectful will be removed from the game.
"Humans vs. Zombies is coming at a great time. People are finishing off midterms, handing in assignments, and this is a great way to unload," says Moe Elgayar, the event's communication coordinator. "But there are people who take jokes too far, and we don't want that trouble to affect anyone. Safety is key for fun."
The game will be off limits inside buildings and moderators will be watching to make sure non-players aren't being attacked in the crossfire.
While registration was free, players were asked to donate a non-perishable or canned good to the DSU Food Bank, which always accepts donations.