One week after the release of the Report on Lord Dalhousie's History on Slavery and Race, Dalhousie announced new campus street names that honour two important figures in Canadian history — Da Costa Row and Norma Eddy Lane. 
With the construction of the new Emera IDEA Building and Richard Murray Design Buildings, the Sexton Campus' single civic address was no longer cutting it. At the street sign unveiling on Sept. 10, Dalhousie's interim president Teri Balser said it was becoming increasingly difficult for emergency services to find where they needed to go on campus.
"The requirement for new street names originated out of operational need, but it has provided us with an opportunity to do something historic," said Balser, "to show Dalhousie's commitment to equity and inclusion going forward."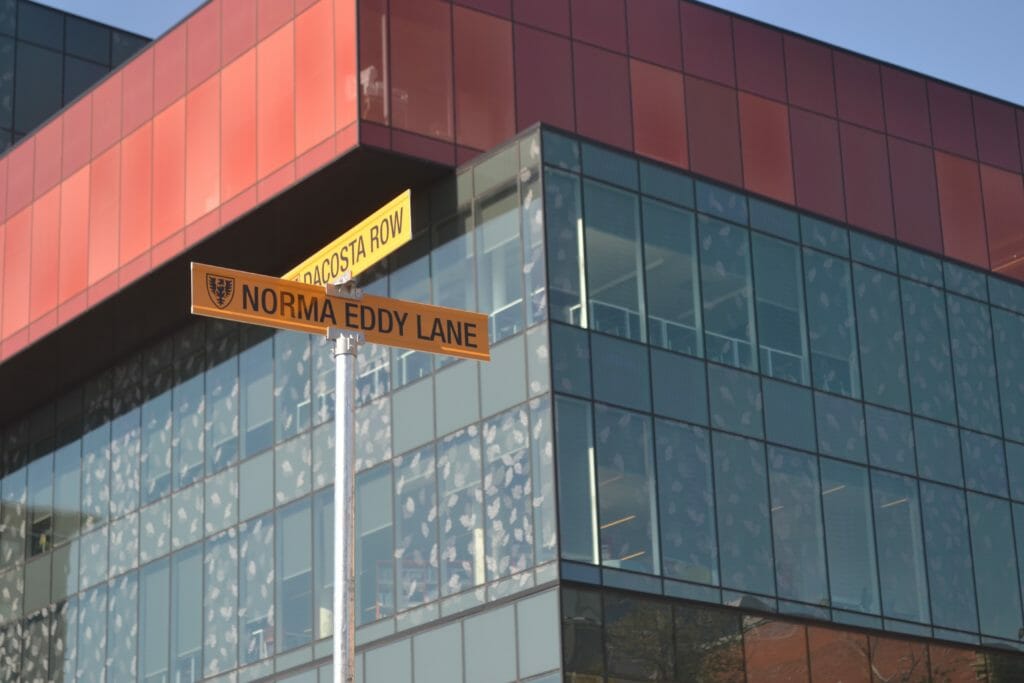 The first of the two streets is named after Mathieu Da Costa, who is considered to be the first recorded person of African descent to enter Canada and the beginner of the African-Canadian experience.
This name was submitted by members of the committee for Dalhousie's African Nova Scotian Strategy, which is an initiative dedicated to improving the university's environment for African Nova Scotian students.
The second street is named after the late Norma Eddy, who became the first woman to graduate with an engineering degree when she graduated from Dalhousie in 1956. Her husband, Bill Fluhmann, was at the unveiling event, where he talked about how the two had met when they were assigned to be lab partners.
"We are so pleased to be able to honour their legacies in this way," said Balser.
The Lord Dalhousie report included 13 recommendations for Dalhousie's future efforts. One of them was to "encourage Dalhousie, the city and the province to name and rename rooms, edifices, streets, pathways, lanes, and parks and gardens in honour of African Canadians, African Nova Scotians and people of African descent."
While the new streets are not a direct response to the Lord Dalhousie report, their arrival is very timely.
More work to do
Dr. Barbara Hamilton-Hinch, a Health and Human Performance faculty member and representative for the African Nova Scotian Strategy, said "this is the culmination of a number of reports and Dalhousie recognizing their commitment to the community of people of African descent and saying we need to do more and we need to do better."
While these initiatives are important, there's still work to do, Hamilton-Hinch said. Students, faculty and staff of African descent still experience levels of institutional discrimination. Also, the school still has low numbers of both faculty and students of African descent. However, she said, there are a number of programs in place that show the institution is committed to people of African descent, and that these programs continue to grow and develop.
"We recognize that we still have a long way to go as an institution," Hamilton-Hinch said, "but we also recognize that we're trying more to make all populations belong and I think we're heading in the right direction." 
Correction: An earlier version of this article erroneously stated "Dalhousie announced new campus street names that honour two Black Nova Scotians." In fact, the streets are not named after two Black Nova Scotians – Mathieu Da Costa was black (but not from Nova Scotia) and Norma Eddy was white. The Dalhousie Gazette apologizes for the error.