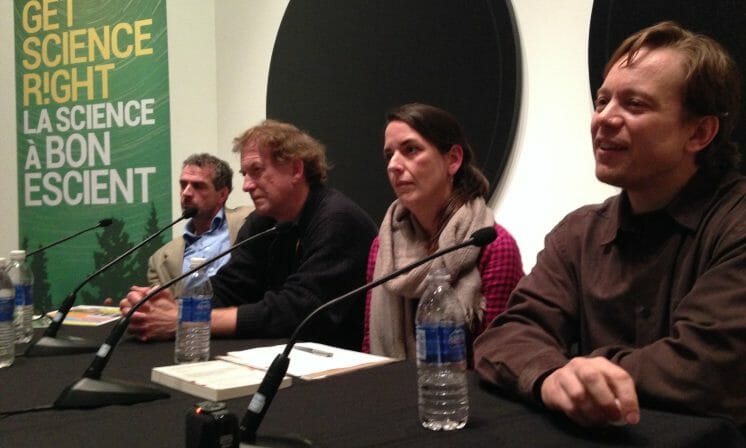 Thomas Duck, an atmospheric scientist at Dalhousie , wants people to start talking about science. It's important, because research funding is facing drastic cutbacks from the federal government.
Duck was one of four speakers discussing the impact of government attacks on science at the Get Science Right town hall at the Nova Scotia Art Gallery on Nov. 14.
"There have been terrible, terrible cutbacks to programs in places like environment Canada and the department of fisheries and oceans that protect the health of Canadians," says Duck. "There have been savage cutbacks of universities as well. There's also been the muzzling of scientists, which is a troubling issue"
Get Science Right is a national campaign led by scientists who are trading-in their test tubes for microphones to send out the message that science matters.
Efforts like this panel are designed to combat the silencing of researchers by the federal government.
"There was a recent survey done of environment Canada personnel and other personnel in the government and it found that some huge portion of them had experienced some form of muzzling—not being allowed to talk to media and explain their research."
Duck says that the list of programs eliminated by the federal government is long, but he's seeing a trend; many of them deal with environmental assessments and with monitoring our water and air.
"These are areas of concern to the natural resources industry which is likely why they are the areas that have been targeted," says Duck.
In addition to research cuts and muzzling of scientists, Duck says there are also many significant changes to legislation.
"The fisheries act no longer protects fish habitat—it's shocking—it only says we're going to be protecting fish of economic or cultural importance."
Normally Duck's research on climate change takes him to the high arctic, in the northern part of Elsmere Island called Eureka, as far north as you can go as a civilian.
Despite popular interest in climate change, Duck and his colleagues have faced setbacks to their research; his team only got two thirds of the funding they needed. This means that they've trouble hiring adequate technical help, and have lost key personnel.
Duck is less worried about his own project than the implication of the cutbacks on what he calls basic scientific research—projects that don't have a clear commercial application.
"Scientists are well aware that it's basic research that leads to the technological advances that we all crave. The government on the other hand seems to want to fund the last mile of the research, they want to fund just the applications.  You can't have the applications without all the hard work before that."
Duck admits that speaking at town halls and mobilizing campaigns doesn't always come naturally for scientists, and that has been part of the problem.
"I think we very much set the stage for the cutbacks that we've seen.  For years the universities relied on the government people to do the communicating for us," he adds. "If Canadians aren't aware of the good important work that we do—why should they support it?"
The next event plugged by the group will be Hype in Science, a day-long workshop at the University of King's College's Alumni Hall, on Dec. 7.  The event is free and open to the public.