Basketball
Ritchie Kanza Mata sets AUS record
Tigers point guard has most career assists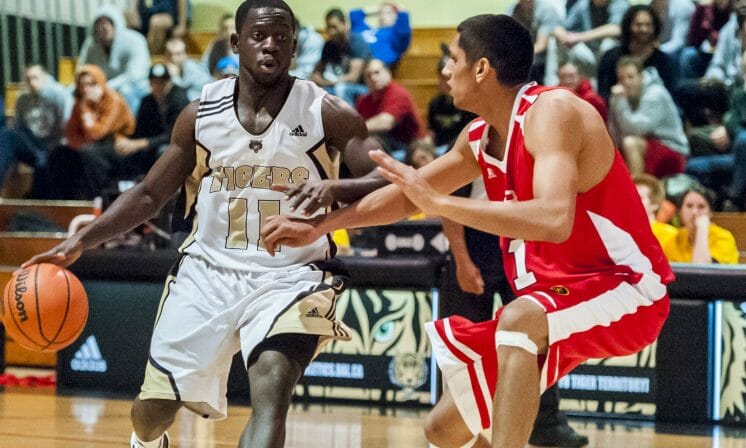 Dalhousie Tigers point guard Ritchie Kanza Mata is the best passer in Atlantic University Sport (AUS) history. On Sunday, January 15, Kanza Mata recorded his 536th career assist in a game against St. Mary's, breaking Cape Breton University's John Ryan for the AUS record for most career assists.
"I'm still a little shocked because I wasn't expecting it at all," said Kanza Mata. "I had no idea I was up there in the leaderboard."
Kanza Mata did not realize he was to close to the record until the day before the game, when the Dal Tigers twitter account tweeted at him saying he was five assists away from breaking the record.
Kanza Mata now joins Dean Thibodeau as the only Tiger with AUS career records. Thibodeau played from 1988 to 1993 and owns the record for most career rebounds with 923.
Second-year guard Jordan Aquino-Serjue is not surprised that Kanza Mata was able to achieve this record.
"He is an amazing floor general," said Aquino-Serjue. "On the court he will find you wherever you are, if you're open he'll find you."
Kanza Mata credits his team with helping him achieve the record. He said if his teammates didn't hit their shots then he would not have many assists.
Kanza Mata also believes team chemistry and familiarity is a big reason why he has been able to get a lot of assists. Five players on the team have played with Kanza Mata for three or more years.
"That's the biggest thing," said Kanza Mata. "You build that chemistry, and Kashrell (Lawrence), Jarred (Reid), Sven (Stammberger) and I have been here since (Rick) Plato got here so we have that chemistry…it makes basketball that much easier. I'm not thinking, I'm just playing, reacting, and having fun."
The record will be added to the list of individual achievements Kanza Mata has earned over his five year AUS career with the Tigers. He won the AUS defensive player of the year award in 2014-15, and last season he won the Climo Award as Dalhousie's top athlete. He has also been named to the AUS all rookie team, and been named a first team all star.
Tigers coach Rick Plato has coached Kanza Mata for four seasons and credits Kanza Mata's elite passing ability to his strong understanding of the team's offence.
"He's a leader, he has developed his game and he is that much more aware offensively on where to find guys…I think it was a natural evolution for him to mature, be more under control, and I think that has everything to do with it."
Tigers Notes
Tigers rookie Alex Carson is injured with a groin injury. The team is waiting for one more diagnosis but it is believed he could be out for the rest of the season.
The team has recruited guards Jordan Brathwaite from Thornhill, Ontario, Keevan Veinot from Wolfville and forward Tyler Williams from Dallas, Texas. All three players are expected to push for starting spots next year.