The Dalhousie University athletics program was well-represented in Italy this summer. Not only were four Dal Tigers athletes selected to compete for Team Canada in the International University Sports Federation (FISU) Summer Universiade in Napoli, but two coaches from Dal went as well.
"It was a tremendous experience," says Rick Scott, head coach of the Dalhousie Tigers women's volleyball team. He's going into his 11th season in that role and coming off of his sixth consecutive Atlantic University Sport championship. "It was a real honour representing Canada at FISU and a real honour representing Dalhousie University there."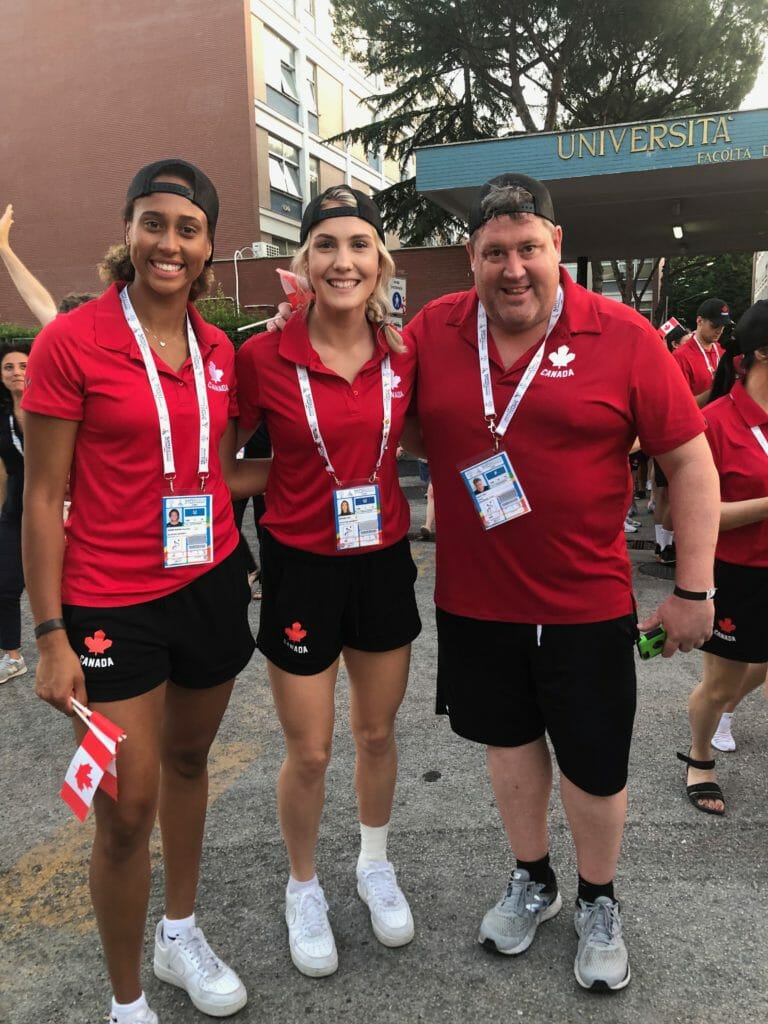 Both Scott and Cindy Tye, the head coach of the Dalhousie Tigers women's soccer team, were selected to be assistant coaches for their respective teams. They each have previous experience with international competitions: Scott was involved with the Canadian Junior National Team at the North, Central America and Caribbean Volleyball Confederation Championship in Mexico in 2010 and Tye was an assistant coach with the U20 women's national soccer team in 2015.
"This was a very different experience," says Tye.
Forging collaborative relationships
The Dalhousie coaches worked with other staff from the top schools across Canada. Women's volleyball was headed by Laurie Eisler from the University of Alberta Pandas, while Peyvand Mossavat from the Ontario Tech Ridgebacks was the head coach for women's soccer. Working closely with staff from other athletics programs in different conferences means they had the chance to exchange different ideas and coaching philosophies.
"Anytime you get to work with other coaches, good coaches, there's definitely sharing and ideas that take place and that's awesome. That's what coaching's all about," says Scott.
"It creates those relationships [where] you share back and forth, which makes everybody's programs stronger," adds Tye. She says that the connections made this summer will last into the future with more opportunities for collaboration.
The Summer Universiade was an especially unique experience for Scott because he got to see two of his athletes, Julie Moore and Courtney Baker, named to Team Canada.
During the competition it was business as usual, he says.
"In the moment you just see them as one of […] the rest of the team," but he says there's a lot of pride as well. "It was pretty special to see two of your own competing in the red and white for Canada."
The life of a coach
Although they were travelling in another country, neither Scott nor Tye had much time to sightsee, or to watch any part of the competition besides their own sports.
"It was very busy, but it was definitely a great experience [to] be on the field every day with the best players in the country," says Tye.
Training their teams every day, sometimes twice a day, and playing games every few days, it was a packed schedule. The coaches also had to stay up late reviewing video and get up early to prepare game plans.
"I don't think people realize the preparation that takes place," says Scott. "It was a very exhausting, intense two weeks. Very demanding, very tiring, but very rewarding."
Being part of an international competition like the Summer Universiade is all-consuming, but as Scott says, "That's kind of the life of a coach."