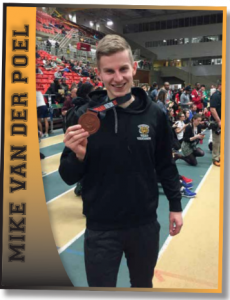 Sport: Track and Field
Position: Sprinter
Super Power: Super speed
Last season as a second year sprinter, Mike Van Der Poel set an Atlantic University Sport (AUS) record by running the 300 meters in 34.96 seconds. At the 2017 U Sports national championships, Van Der Poel finished third with a time of 34.40 seconds.
He was named AUS Track athlete of the year.
Even with all the accomplishments, Van Der Poel doesn't think he is fast.
"I never really think of myself as fast it is just that other people tell me that I am," he said.
He thinks this is because there are other athletes that are better than him in their sport, so he doesn't see himself as particularly special, he sees himself as an average athlete. Van Der Poel admits he didn't watch many superhero movies growing up, but he enjoyed the Sonic video games, so that is his favourite comic hero.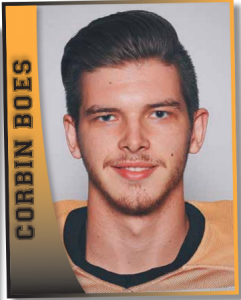 Athlete: Corbin Boes
Sport: Hockey
Position: Goalie
Super Power: Super reflexes
Boes uses his reflexes effectively. He regularly faces North of 30 shots a game and has lead the AUS in save percentage the past two seasons. His strong play has caught the attention of the Detroit Red Wings who have invited Boes to this year's training camp.
Outside of hockey, Boes says having quick reflexes is similar to reacting to different life situations. He was able to adapt and react to the new challenges that he faced while living on his own for the first time. His favourite superhero is Batman, which Boes believes works well with quick reflexes because Bruce Wayne had to react and adapt himself into a superhero, instead of having his powers naturally given to him.
"In relationship to the quick reflexes, I guess you have to admire how Batman is more or less a human and he has taken on a different persona through his training and allows him to be the figure that he is," said Boes.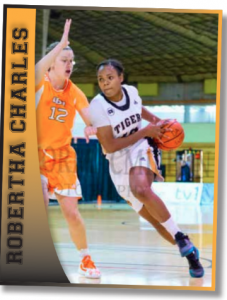 Athlete: Robertha Charles
Sport: Basketball
Position: Forward
Super Power: Super accuracy
In her rookie season, Robertha Charles lead the Tigers with 9.1 points per game and a field goal shooting percentage of 43.4, which was also sixth best in the league.
"We have a lot of good shooters on the team and to be considered one of the good ones is nice," said Charles.
Charles is constantly working on her shot in order to sustain it, and make it better. "Coach (Anna Stammberger) always says to us to try to get 500 shots a day in the summers so I try to do that," says Charles. She tries to shoot in the same positions that she would shoot in a game in order to be comfortable shooting from those spots.
Her favourite superhero is Superman, because he can do anything and he's always there when people need help.