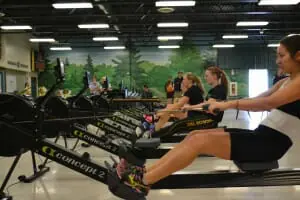 The Dalhousie Rowing Club had an impressive showing at the Atlantic Indoor Rowing Championships on Jan. 31, scooping up six gold medals.
With about 20 rowers entered, the crew managed to win gold in almost all categories. Maya Biderman and Kyle Brisebois won the novice women and men categories, respectively, while Melissa Fraser and Brent Miller won the senior lightweight titles.
Lizzie O'Carroll won the U-23 women title, but Coleman Kettenbach was narrowly beat out in the U-23 men category by Cody Bailey, a member of Row the Podium, the province's Olympic training program. Kettenbach, a rookie on the Dal team, managed to best Logan LeFort, another member of the program, showcasing Dal's up-and-coming talent. The highlight of the day came in the mixed relay event, where teams of four completed a two kilometre sprint, each rower pulling 500 metres. It was a close race with the team from St. FX and the Dalhousie 'A' crew racing side-by-side. St. FX pulled ahead slightly, which widened into more than a 100-metre lead by the 1500 metre mark. The Dal crew, anchored by Kettenbach, managed to claw their way back, bringing it to a photo finish. St. FX, anchored by their coach Katie Edwards, finished with a time of 6:26, beating the Dal crew by four-hundredths of a second. Dalhousie rowing President Rachel Mays says the indoor rowing event is key for motivation. "Training for regattas is always fun so this is something nice to work towards and push our fitness. And getting medals is always fun," she said.
Mays said a strong training regime will be especially important this year for the Dal crew as they hope to attend the Canadian University Rowing Championships this fall in Antigonish.
"It's important to see the field and see what's out there."
The national championships coming to Nova Scotia this fall marks an important turning point for rowing in the province. It's the first time in the event's 20-year history that it will be taking place east of Montreal. Row Nova Scotia President Peter Webster said the event being hosted in Nova Scotia goes to show how much rowing has grown over the past five years and how facilities are changing to meet the demand. "Two years ago, we had Javex bottles marking the course, to last year's buoyed four lane course, and this year we're going to have a starting platform and seven lanes," said Webster.
Webster said the indoor rowing event is good preparation for the big regatta and is purposefully scheduled to coincide with similar events held in Ontario and B.C., giving crews a peak at the competition across the country.
"We're really impressed to see so many Dal rowers out this year. At St. FX, and similarly at Dal with all the work Rachel has put in, the calibre of rowing is improving," he said.
"You know, as they say, medals are won in the wintertime."