Hockey
Dalhousie men's hockey team off to best start in 15 years
Beat rivals SMU at homecoming game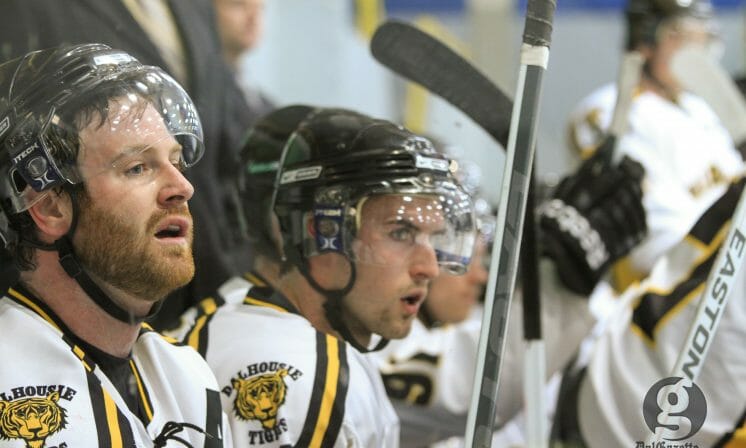 The Dalhousie Tigers men's hockey team beat their rivals, the Saint Mary's Huskies in front of a loud and raucous crowd at the first ever hockey homecoming game, at the Halifax Forum. The game was an exciting back and forth affair, with hardly any whistles. Dalhousie ultimately won 3-1, leaving the Tigers with a 2-1 record after three games, which according to Tigers Head Coach Chris Donnelly is the best start for the men's hockey team in 15 years, "we had struggled to beat them early on last season, so it always feels good to beat your rivals, and its allowed us to get off to a great start."
The Tigers got off to a slow start in the game, allowing an early goal to the Huskies just 1 and a half minutes in, sending the loud visiting crowd into a frenzy, however the Tigers were able to settle down later into the period and tie up the game in the second period. The score remained tied for the rest of the second period and most of the third period until Felix Pagé scored for Dalhousie with less than four minutes left in the game, and the noise emanating from the Tigers side of the arena was deafening. Andrew Wigginton scored with just over a minute left to put the seal the deal for the Tigers, marking the second time in two weeks that the Tigers beat the Huskies in men's hockey by a final score of 3-1.
In addition, the amount of student support at the game was unprecedented for a Dalhousie sports game, with the Dalhousie supporter section at the Forum about two thirds full of students and alumni alike. There were even a few youth hockey players in the audience. Both supporter sections were rambunctious, and there appeared to be an unofficial cheer off between the Dalhousie fans and the Saint Mary's fans. The crowd was so loud that when the goals were announced over the arena via loudspeaker, the announcer was drowned out by the noise of the crowd.
According to Donnelly, "the players were caught by surprise by the number of students at the game, which was the most that the players had ever seen at a hockey game, with the exception of the Bell Let's Talk game (for mental health) last season. It was a lot more people than they were used to playing in front of."
Even the school presidents, Dr. Richard Florizone from Dalhousie and Dr. Robert Summerby-Murray from Saint Mary's were at the game and joined in on the fun, which resulted in Dr. Summerby-Murray wearing the Tigers jersey for a day due to the Huskies loss. The jersey swap occurred at centre ice and drew numerous large cheers from the Dalhousie faithful.
"Having the president be here tonight shows that he cares a lot about the school and its students, and it was a fun night for all involved," Donnelly says. "It provides a great way for students to start off their evening with free entertainment, before they go and do what else it is they do on weekends. You turn on the TV and you always see lots of student support for US college games, so it's great to see that same support here."
If the Tigers continue to play the way that they played against Saint Mary's for the rest of the season, then Donnelly and players can expect to continue to see many students at home games, which would be a welcome sight for a team used to experiencing apathy from the Dalhousie community.