After a spirited preseason hockey contest at Acadian University that saw the Dalhousie University Tigers men's hockey team fall short in overtime, first-year assistant coach Andrew Wigginton is thrilled to kick off a new season with the team he sees in front of him.
"What I noticed early on is that our skill level is much higher, execution is a lot better and our two preseason games were really good games," he says.
Fellow assistant coach Ryan Falkenham, who also just joined the coaching staff this year, agrees.
"Our skills are great and we have a great group of guys that can bring it," says Falkenham.
Familiar faces
Wigginton and Falkenham are quite comfortable here. Both Halifax-born, they've played hockey for years in the city. Wigginton is a Tigers alumnus, having played for the men's team from 2012-2017 under current head coach Chris Donnelly. Donnelly is entering his ninth season at the helm. Wigginton, after his final year of eligibility at the university level, spent a year playing in the second tier of France's professional circuit. At the end of the day, however, his heart is at home.
"I hated [having to leave Halifax] when I was done my fifth year," he says. "When I came back from France, Chris asked if I wanted to help out with the team, and now this year I'm on full-time. It was [an easy decision] for me to come back."
Falkenham is another familiar face in the Halifax hockey scene. He played for the Halifax Mooseheads of the Quebec Major Junior Hockey League from 2012-2015. During that time, he helped them win the Memorial Cup in 2013 and captained the team in the 2014-2015 season. After that, he studied for two years at Dal and then coached for two seasons in Quebec. He knew he would do more of the same when he returned.
"It only made sense, to come here with Chris and to be at Dal," says Falkenham. "I wanted to continue coaching."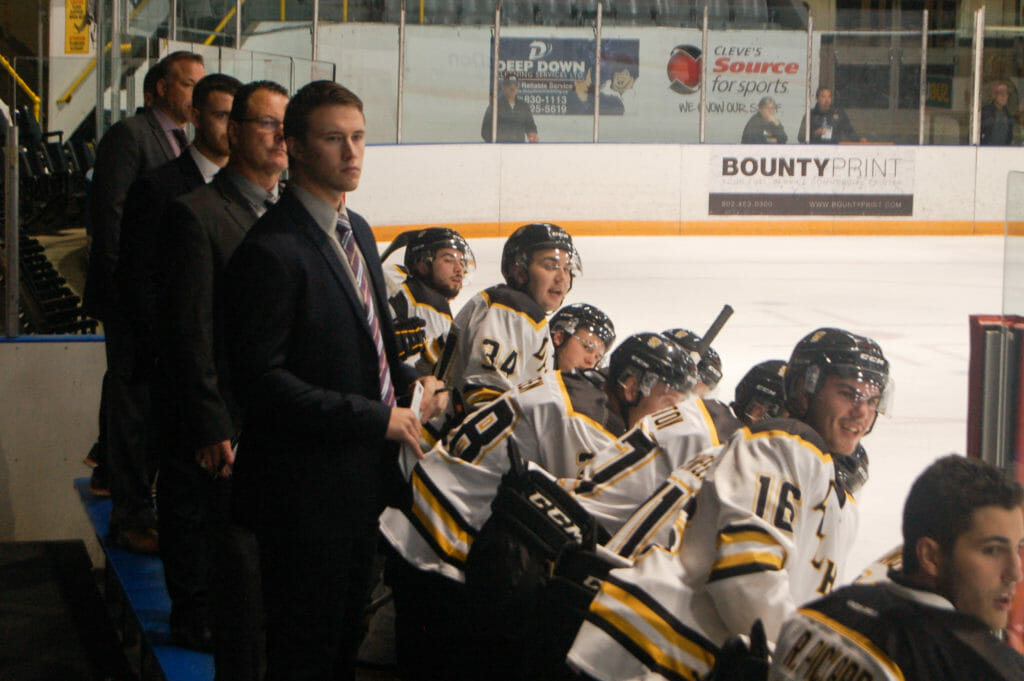 Rebuilding the team
He and Wigginton join the Tigers in a revamp period. Dalhousie last saw playoff action two seasons ago, their only berth in nine years and their second in 16. A last place finish in 2018-2019 wasn't an ideal follow-up to the post-season run the year before, but Falkenham assures that this is a team with youth and ability that will be competitive now and in the future.
"We added a lot of talent and offence that might have been lacking in the past," he says.
That comes in the form of a handful of rookies including Cameron Thompson from the British Columbia Hockey League, as well as Maritime Hockey League alumni Logan Johnston, Matt Green, Brett Crossley and Michael Dill.
As assistant coaches, Wigginton mainly oversees the penalty kill and manages the forwards behind the bench, while Falkenham handles the power play and individual player development.
Wigginton and Falkenham say Donnelly, as the head coach, has given them the freedom to make an impact at their respective positions and "make changes wherever we may see necessary," says Falkenham.
It'll be a tough start to the season for Dalhousie: three of their first four games come against teams who finished in the top four in regular season standings last year.
That doesn't bother Wigginton and Falkenham, who are ready for the challenge of getting the Tigers to the post-season in a competitive conference this year.