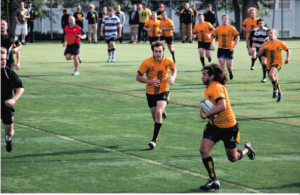 Hazing has cast a dark cloud of controversy over sports at Dalhousie for the past two years. Now, it's misogyny. Which one's worse?
According to Dal's policies, hazing has the upper hand.
First, the women's hockey team was suspended two years ago following a confirmed accusation of hazing at an off-campus party. Then came both men's rugby teams' suspensions just last September for the same violation. Both situations were nearly identical, giving the university community an opportunity to see how administration has improved its approach to accusations of this nature.
The women's hockey situation was a bit of a mess. Following the accusation by one of the players in October, the team continued to compete in their regular season games while university officials conducted one-on-one interviews with the senior players involved. It took until January for them to officially suspend the guilty parties, leaving the team with only four players and ending their season.
This sparked change. The university senate passed a brand new hazing policy last June. Amongst its most important points was that, "any student athletes, team personnel or coaches encouraging, facilitating or participating in [hazing] activities may be subject to disciplinary action including immediate suspension or dismissal from the Dalhousie University varsity program and/ or the university." The university met with every Dal varsity and club team, articulating that this policy derived due to the seriousness of hazing. The university vowed it would firmly follow this policy if a new accusation arises.
And they did. When a university employee filed a formal complaint against the men's rugby team, they followed the new policy to a tee. Both men's rugby teams were automatically temporarily suspended from further play pending an investigation by the university into the investigations.
There was no backlash. Athletes didn't fight back. They were simply suspended because that's what the policy said. That was it.
Now let's compare this approach to how harassment is handled at Dal.
When some women dentistry students felt they were subject to sexism this summer and wanted to make a complaint, they had two options under Dal's Sexual Harassment Policy. The two options were an informal resolution process or a formal complaint process, and the formal complaint process would not guarantee their anonymity. The women (understandably) decided to remain anonymous, and their complaint wasn't processed.
Clearly, that's far different than when complaints were filed in regards to hazing. What we're seeing is an automatic suspension of team members from competition when they force a teammate to do something they don't want to do, but when a student feels they have been sexually harassed, we can expect no results if they want to remain anonymous. How does that make sense?
I realize that kicking a student off a sports team and expelling a senior graduate student from their program have far different implications, but that doesn't change the damaging effect the offence has on the individual who was subjected to the verbal, or sometimes physical abuse. If the university is true in taking this self-proclaimed "victim-centred approach", then that's exactly what they're going to have to do in all their policies, regardless of the offender's age, education, or athletic ability.
It's a shame that after effectively cleaning up a filthy mess within their athletic department, they weren't able to learn from that and use the characteristics of their other policies simultaneously. Consistency is key to situations where the safety and protection of victims is at the forefront. The university can't change the way it approaches these situations from individual to individual. Their new hazing policy, at the time, seemed like proof that they've made that realization. Clearly, there's more work to be done. Victims of sexualized should be able to easily file a formal complaint if they feel their safety is at risk. And as of now, they're unable to do that.
If the university truly is victim-centred, they will make that option available. Until then, their zero-tolerance policy will be in question.
Graeme is the Gazette's Sports Editor. He was the Assistant Sports Editor for Volume 145.