Tim Maloney named director of varsity athletics after nationwide search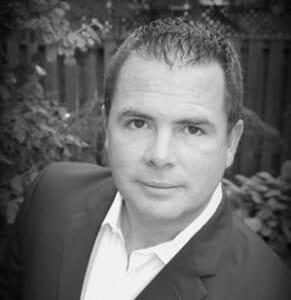 Tim Maloney has quite the athletic resume at Dalhousie.
The Halifax native began his new position as director of varsity athletics on Aug.
25 after a comprehensive nationwide search following Emeritus Director Karen Moore's retirement announcement.
Maloney first stepped foot on campus 20 years ago as a student athlete, competing in basketball for three years and soccer for one. Along with achieving Canadian Interuniversity Sport (CIS) Academic All-Canadian status in 1998, Maloney was a member of two conference championship teams, one of which reached third in the CIS championships.
"My passion and connection to the black and gold runs deep and has been a big part of my life for a long, long time," he says.
Upon graduating with a kinesiology degree, Maloney moved across the country to pursue an MBA at the University of Alberta. He received a coaching position on the UofA basketball team in 2002 and continued working closely with varsity athletics.
Maloney has also gained experience working as the manager of Canada Basketball, as well as in the private sector. After more than 15 years outside Atlantic Canada, Maloney is excited to be back on his stomping grounds.
"Growing up in Halifax, I attended plenty of the games," he says. "It's a real honour to come back and be a part of this department and team."
As director of varsity athletics, Maloney will be responsible for providing strategic direction and leadership for the varsity athletic programs and establishing long- term goals for the department. He says he will be doing a lot of listening during the early stages in order to get a sense of Dal's current athletic standing, but still hopes to provide solutions to the issues the teams currently face.
"I go by the rule you have two ears and one mouth for a reason," he says. "I try to listen twice as much as I talk these days."
Though Maloney has his own outlook for where he wants the teams to be, he says he sees the importance aligning himself with the university's strategic vision of balancing academics and athletics as well.
"There are few institutions in Canada that can lay claim to striving for excellence in both academics and athletics," he says.
Maloney was disappointed to hear that the Academic All-Canadian Luncheon was nearly cancelled last year due to budget cuts. He says he understands the significance of the award and its meaning from his experience as a student athlete.
"It rests above both championships I've won," he says, in relation to his '98 All- Canadian honour. "I think the ability to be successful in the classroom and on the playing field or surface is ultimately what we're striving for."
However, he is prepared to take a realistic approach on the matter.
"The budget and funds are tight, but for me, there is a great amount of pride that Dal and our athletic department should take in those athletes that achieve that honour."
Maloney also plans on working closely with the Dal Varsity Council to increase attendance to games this year.
"We need to do a better job at communicating and engaging with our student body," he says. "We need to provide an environment that provides them with a [positive] experience and to feel welcome."
Even though Maloney has only been provided with a brief outlook of the potential of Dal's varsity teams, he has a strong feeling that many will get back on track and will be at the top of Atlantic University Sport again.
"We're focused on being winners here," he says. "I'm not interested in participating, I want us to be successful."
Graeme is the Gazette's Sports Editor. He was the Assistant Sports Editor for Volume 145.