Hockey
Tigers playoff hopes defeated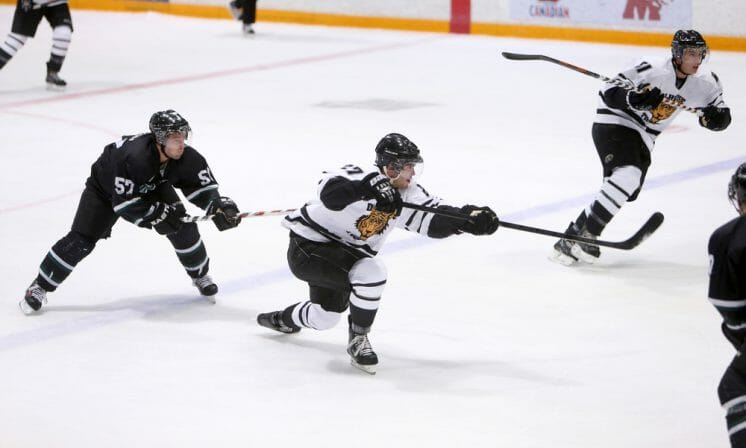 The Dalhousie Tigers men's hockey team faced the co-first place Acadia Axemen Friday Jan. 24 at the Halifax Forum. Despite being at opposite ends of the standings, both teams came into the match coming off two-game losing streaks and were looking to turn things around.
Unfortunately the Tigers were struggling with injuries and only had four defensemen dressed for the game, falling 7-2 to the Axemen. Despite the extra two days of rest due their postponed Wednesday match, the Tigers were eliminated from playoff contention.
The game started with both teams coming out strong and playing even end-to-end hockey. However, midway through the game Acadia reaffirmed their first place status, adding to their lead by scoring two goals 48 seconds apart to make it 3-0.
With Dal down 4-0 entering the third, Fabian Walsh would get the Tigers back in the game with an early goal in the third period making it 4-1, but Acadia continued to run away with it, adding three more goals before the final buzzer.
"That's been basically the story of the season, those little breakdowns playing 58 minutes and not 60," says captain Pierre Vandall, voicing his displeasure after the game.
The loss would prove costly for the Tigers as Saint Mary's went on to beat St FX that same night 4-3 in a shootout, crushing any remaining playoff hopes for Dal with six games remaining in the season. "There are a lot of positives to take out of our season despite where we are in the standings," says head coach Chris Donnelly.
Walsh, who scored his sixth goal of the season, believes his team can still have a positive run of games to close off the season. "We still have lots of hope," he says. "It's a tight knit group in there, we just need to stick together and ride it out."