"How was that?"
Chas Smith holds a stopwatch to his coach's face with his right hand, while placing his left hand on his knee, slightly bent over. He gets the words out easy, not gasping for air.
"You've had faster times," Coach Adrienne Power says.
It's about 6 p.m. at the Dalplex and Smith is running the 200-metre sprint.
Smith grew up in Bermuda and is in his fourth year of Material Engineering at Dalhousie. He has been on the track and field varsity team since 2013. Smith has had constant injuries since his rookie year. Last year, he was not able to medal at Atlantic University Sport (AUS) championship in his main event, triple jump. Due to the injuries from jumping, Coach Power has turned Smith into a sprinter and Smith has taken over the track.
"This is a sprints group and he walked on the track and became a sprinter," Power says. "The moment he did that, all the other sprinters, he's surpassed them all in the first month."
Sprints take the pressure off Smith's jumping injury, his fat pad (the back base of your foot), which Smith has flattened over the year. Sprinters run on the balls of their feet so there was less pressure on the affected area.
Smith is a top athlete for Dalhousie track. Power believes it is still possible for him to compete in triple jump since he has been resting his injury.
"If he's healthy and he can do triple, which is possible, I would expect him to be a top four, top five finalist in triple jump. And that's not even training for the event. He's that talented."
Track and field has been a part of Smith's life since he saw Usain Bolt run in the 2008 Olympics. By 2009, at the age of 14, he was on the Flyers track club in Bermuda as a sprinter.

A year later, high jump became Smith's primary event.
At 15 years old, Smith jumped 1.90 metres against competitors who were 18 years old in the Pan American Junior Games in the high jump event. Most 15-year-old boys jump around 1.72 metres.
"I was flying that year," Smith says.
Smith's eagerness to excel at an event eventually led him to triple jump. He went on to compete in three Caribbean Free Trade Association games and two junior Pan American Games.
Although Smith made great strides in track and field, competing in sports wasn't always a part of his life growing up.
"Back then, I wasn't smart and I wasn't good at sports."
Smith recalls days while attending Paget primary school, in Bermuda, when he was the last pick for any sports game. He says he couldn't play cricket or any other sport well.
"I was the guy that couldn't bowl or the guy that couldn't bat, or like, the guy they didn't want on their team playing football."
In Grade 6, Smith transferred to Warwick Academy, a private school where he was engaged in swimming, track, football and any sport the school had to offer.
"I fell in love with every sport, but I wanted to specialize in one."
Smith remembers a day when his Warwick Academy football team played against Paget's team and he was recognized by his old coach.
"She was surprised I was playing because I wasn't good, but I wasn't given the chance to be good."
During Smith's years at Warwick Academy, his skill in track and field continued to progress, but he believes his academics was where he excelled.
Throughout his high school career, Smith consistently was in the top 10, earning A grades on international exams. Smith's goal was to get into university based on his grades, not his athletic prowess.
Smith applied to Duke, Stanford and Georgia Tech, top universities in the United States. His mother also made him apply to her alma mater, Dalhousie University.
"If I'm being 100 per cent honest, the only reason why I came to Dal is because it's the only school I got into," Smith says.
In 2013 at Dalhousie, Smith won the AUS Rookie of the Year and broke the AUS triple jump record with a jump of 14.66 metres.
Although Smith was breaking records and getting recognized as a top athlete, he says he was disappointed he didn't get his pick of schools and that affected his mood.
"I'm getting my work done, but I wouldn't say it's done to the best of my ability."
He also was not happy about the coaching staff in 2015.
"In the past, it hasn't been athlete base, it was coach and point base. Keep the coaches happy, get as many points on the board as possible."
In his third year, Smith had worsened his first-year injury right before the 2015 AUS track and field championships.
In triple jump, the most forces go through the body. For an athlete like Smith who trains 15 to 18 hours a week, the constant pressure to his fat pad and knee was slowly taking him out of his event.
Power was his co-coach at the time.
"She didn't want me to jump, she wanted me to be healthy for the CIS, but my other coaches wanted me to jump for AUS conference points."
Smith jumped and his injury worsened. By the time the CIS championship approached, Smith was neither mentally nor physically prepared.
"It sucked because I medalled my first two years and not my third."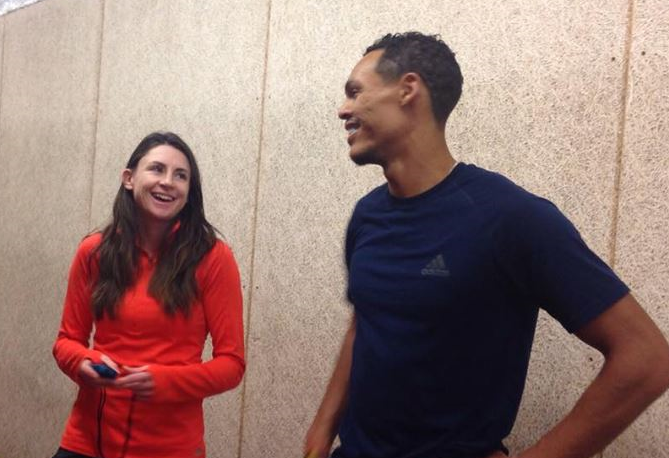 He's much happier with Power as his coach. Power competed in the Olympics for Team Canada as a sprinter and now co-coaches Dalhousie's track and field team. She began coaching Smith last year.

When asked to describe Smith in three words, she can't do it.
"He's a million words," Power says.
"Chas will take people under his wing for sure. If I'm coaching and there's a bunch of us and I'm not getting anywhere, Chas is the type that will take them aside and help them out. He's kind of the grandfather of the group that way. He'd come in and assist them and motivate them which is really great."
As the CIS championship approaches, Power is preparing Smith for the 4 x 200 national medalist team and if he's healthy, his main event, triple jump.
As Smith looks toward his future, he's not positive on what's next after finishing his engineering degree at Dalhousie and his season of athletics. However, he has given some thought on becoming a professional athlete.
"It's in the cards. I don't know if that card is going to get played," Smith says.
Every day has a new set of tasks and Smith tries to meet every goal. For Smith, the only thing that matters today is what will happen the next day.
"When I get on the line, it's not the last 10 seconds that matters, it's the next 10 seconds that happen that matters."