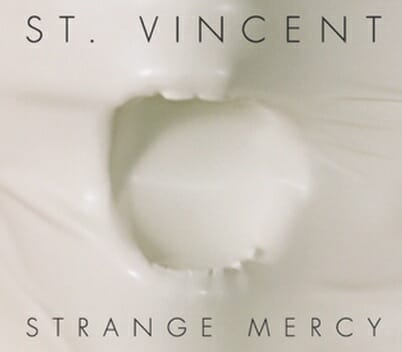 Following the thick, billowing shroud of 2009's Actor, subversive, sensual indie-folk sweetheart Annie Clark—better known by the liturgical moniker of St. Vincent—returns with an album of ferocious, saw-toothed exhibition.
Strange Mercy, Clark's newest album, is biting and sudden. Where Actor was an expansive, cloudy waxing of post-modern poetics, Strange Mercy is an exercise in restraint and self-acceptance.
Right away you'll notice that Clark has pushed her swaggering, jagged guitar up-front, letting it tear the skies like a volley of harpies.
"I've had good times with some bad guys / I've told whole lies with a half smile / held your bare bones with my clothes on," she sings in swaying wisps before drilling us with scratching, scuttling guitar jabs on "Cheerleader," spitting the vicious, self-reflective declaration, "I don't wanna be a cheerleader no more."
Clark has traded the bulging, cavernous theatrics for a spiritually raw and sonically honed exploration of identity, and we're immediately enamoured. A more self-contained and musically mature offering, Clark's melodies this time around are more immediate and articulate, every hook digging in for dear life.
"I spent the summer on my back," Clark tells us on "Surgeon," smirking sardonically, noting that we "best find a surgeon to come cut me open," just before a wail of schizophrenic synthesizers cleaves the track in two.
Channeling the style of an "Is This Desire?" era P.J. Harvey on Northern Lights, she moans and croons behind a thick gloss of muddy, thunderously distorted chords.
Showing us the softer side of stargazing across that vast, empty void, her voice crumples like tissue paper in the cold, vesper-like wash of "Champagne Year," a solemn, stoic repentance forcing our heads down as she admits "I make a living telling people what they want to hear / It's not a killing but it's enough to keep the cobwebs clear / It's not a perfect plan but it's the one we've got."