The Gazette
is a student-run publication that relies on the hard work of its staff and volunteers to exist. Each spring, a hiring committee is formed to democratically select the most skilled applicant for the editorial positions. Assistant editors are hired by their section editor. Interns are hired at the beginning of the winter semester. Contributors can write any time on any subject: feel free to drop us a line or an article.
Editors: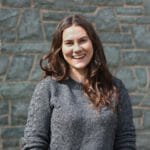 Kaila Jefferd-Moore, Editor-in-chief
Successfully not dropping out during her first year of university at UBCO, Kaila dropped out after finishing out the year. And then took a gap year. 
She grew up in the Northwest Territories and is a fourth-year journalism student at the University of King's College. She began at The Dalhousie Gazette as Arts & Lifestyle Editor in her second-year (sometimes writing stuff) before filling the shoes of Editor in Chief. 
Local bylines are occasionally in The Coast and Discover Halifax. Wayback when bylines are in The Inuvik Drum. Most recent are with CBC North.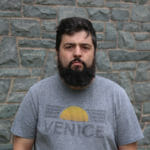 Matt Stickland, Copy Editor
After a failed attempt at university in his teens and a brief, decade-long stint in the Navy sailing across and under the oceans of the world, Matt decided it was high time to go back to school. He started writing for the Gazette in his second "first-year" when he was sitting in an anthropology class that was a massive waste of his time and pondered to himself, "Are bird courses worth it?"
He penned an opinions piece about it since he wasn't doing anything productive in the class anyway – and with that ignominious article, his career with the Gazette started. In his second year, he was a regular contributor to the paper.
In his third year, he became the Opinions Editor. After a year of yelling to himself about grammatical mistakes from contributors he decided, "never mind the writing, I should be a copy editor."
This allows him to yell at the people making the mistakes instead of his own computer, and sleep soundly at night.
Rebecca Dingwell, News Editor
Rebecca, AKA Becky, is unapologetic about being an obnoxious horse girl and dog mom. She is also often accused of not being a "real" journalist because she hates coffee. Tea, please.
Becky graduated from the Bachelor of Journalism (Honours) program at King's in 2015. She's worked as a freelance writer for the past few years, with her byline appearing in Halifax Magazine, Celtic Life International Magazine, Metro Halifax (now Star Halifax) and The Coast.
As her 18-month stint as a staff writer with The Coast came to a close, she decided to go back to school. Becky is currently enrolled in Master of Journalism in Creative Nonfiction, pursuing the completion of her memoir. She is writing about how life and family changed, from her perspective, following her father's diagnosis with ALS.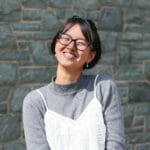 Lexi Kuo, Opinions Editor
Lexi is studying political science and philosophy at Dalhousie University.
She spent most of her life working toward a future in STEM and somehow ended up in a Bachelor of Arts. She couldn't be happier with how things turned out. Politics infuriate her on a daily basis, but she finds pleasure in the pain. When she isn't stressing about politics, you will probably find her in bed, or wishing she was in bed.
She's been a regular contributor to the Dalhousie Gazette and after spending so much time writing her opinions, it's about time she gets some compensation for it and an opportunity to help others write out their opinions, too.
Email: lexi.kuo@dalgazette.com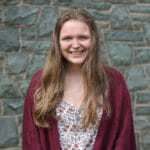 Jessica Briand, Arts & Lifestyle Editor
Living in Halifax her whole life, Jessica Briand always dreamed of attending the University of King's. College. She's currently a fourth-year Journalism and International Development Studies student, enjoying (almost) every minute of it.
She loves all things writing, music and food she started writing for the Arts & Lifestyle section of the Gazette in her second year, eventually, she became the Editor for the section in her third year. In 2016, she penned a piece on the normalization of obsessive-compulsive disorder published in the Gazette and continues to be a mental health advocate.
Jessica is a Canadian Union Press representative for the Atlantic Region and has published work with The Coast and The Nova Scotia Advocate. She also has had a documentary made about her life with OCD.
Email: jessica.briand@dalgazette.com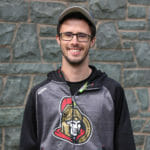 Josh Young, Sports Editor
Josh wrote his first sports story for The Gazette before writing his first full story for journalism school.
Now entering his fourth year of Journalism at the University of King's College, and his second year as Sports Editor, Josh (hopefully) has a strong understanding of Dalhousie University athletics. He's covered every Dal varsity sport and a few club teams over the past three years. Outside of the Gazette, Josh does play-by-play announcing for Dalhousie and Saint Mary's varsity games on AUStv. He was also an occasional guest host on CKDU's Sports Talk.
When Josh isn't doing journalism or schoolwork. He can be found exercising, playing or watching sports, playing video games, volunteering at St. George's Youthnet and trying to learn how to be an adult.
Email: josh.young@dalgazette.com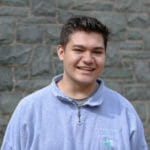 Chris Stoodley, Visual Editor
Born and raised in Halifax, Chris is entering his third year of journalism at the University of King's College. He's been fascinated with the media for as long as he can remember and began planning for university in grade 10. Originally, Chris wanted to pursue a degree in communication studies but fell in love with telling stories through writing, photos and video.
He first picked up a camera when he was 12-years-old. By receiving praise for his photos and automatically becoming the family photographer, he decided to keep playing with cameras at events, vacations and in his free time.
Eventually, Chris also taught himself how to shoot video. And when helping his older sister pass a film class while she was in high school, he fell in love with creating videos. He's since focused on more serious videos that tell stories and inform others.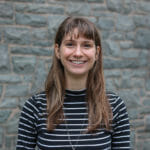 Alexandra Sweny, Business and Administrative Assistant
Eight hours after she was born, Alexandra Sweny's older sister tried to rename her "Puffy".
Since then, it's been (mostly) uphill.
Alexandra "Buffy" Sweny is a fourth-year English & Contemporary Studies student who spends most of her time speed walking between Dalhousie and King's. Hailing from the suburbs of Ontario, she moved to Halifax in 2015 initially to pursue a degree in journalism. A hobby photographer, Alexandra started working as a social media ambassador for the University of King's College and covered student-led events such as the Nov. 2 Day of Action and the Fight the Fees campaign.
After working with the Gazette as Visual Editor and running their Instagram page, Alexandra decided to use her skills to keep the behind-the-scenes of the Gazette from falling apart and Editor-in-Chief, Kaila, from pulling her hair out. 
Alexandra's work has been featured by CBC, the Writer's Trust of Canada and the Atlantic Film Festival. Her greatest personal achievement has been learning to like tomatoes. Her favourite colour is yellow.