The Dalhousie University Art Gallery has reopened after being closed for the 2020-2021 academic year. The gallery reopened with exhibits for October's Nocturne: Art at Night, a nighttime festival that displays local artists work at various locations throughout Halifax.
Though the festival took place from Oct. 13 to Oct. 16, the gallery will continue showing its exhibits throughout the month. Making it, once again, a location for artists to display their skills to the public.
Dalhousie students also have the opportunity to experience a site-specific art display in the Marion McCain Building, which was originally part of Nocturne but will be staying in place until Nov. 28.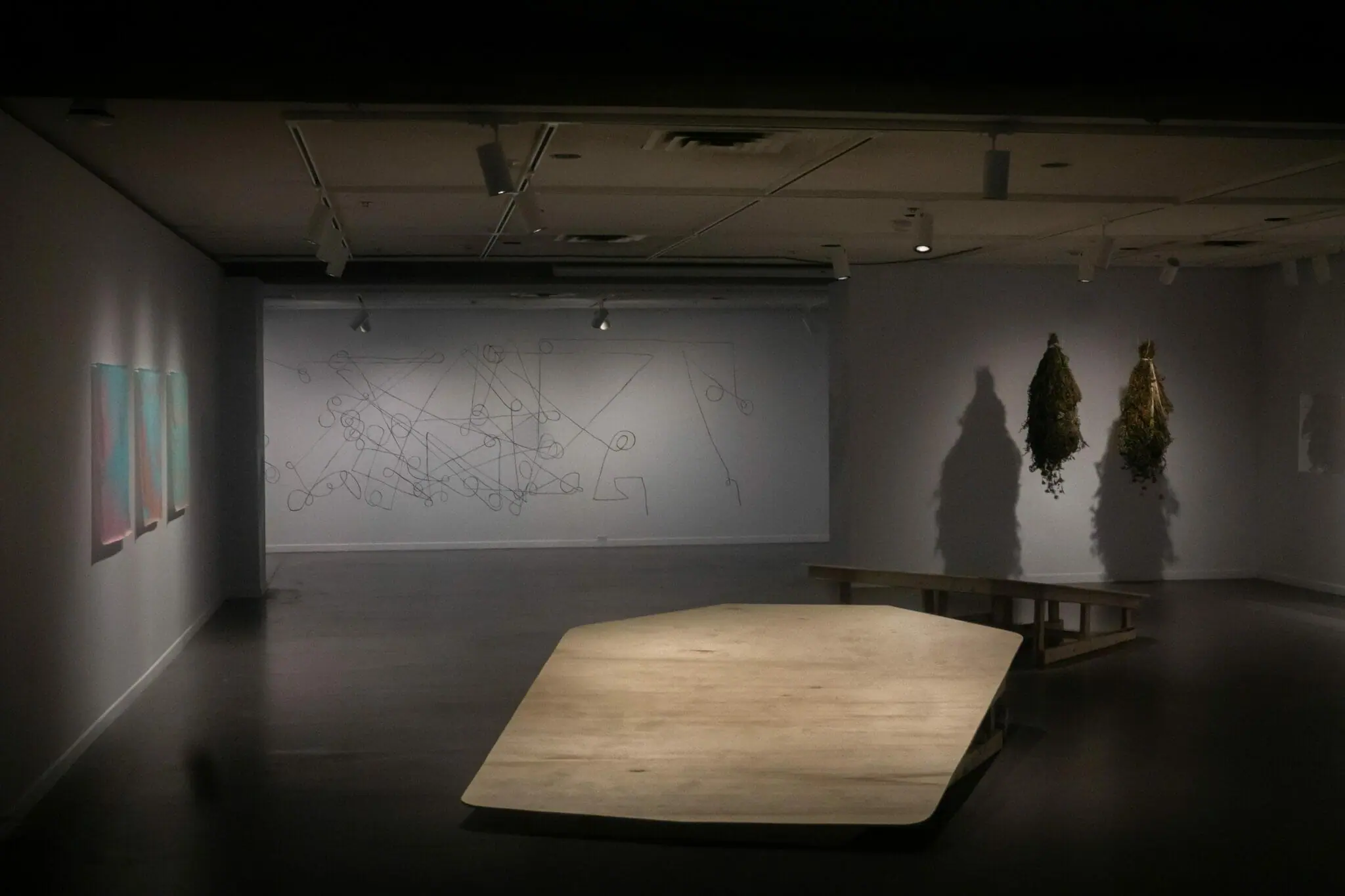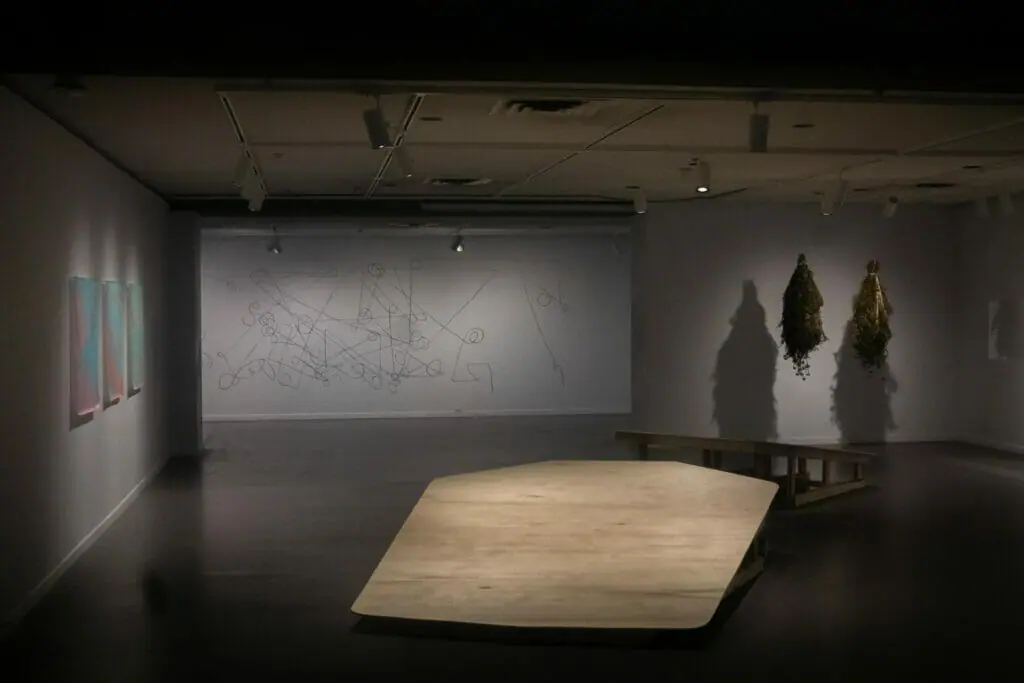 Stray Hair
This year's artists were Kim Morgan, with her two displays, Stray Hair and Blood Portraits, and co-exhibitors, Lou Sheppard and William Robinson, with their installation I want to be a seashell/ I want to be a mold/ I want to be a spirit.
Morgan says that the piece considers "a deeper understanding of the human body." The piece is meant to be playful and abject.
Sue Garvey-Gibson was the curator at the Dal Art Gallery for 17 years, between 1990 and 2007, and worked with Morgan on her Nocturne projects.
"You're interacting with something that is both a little bit scary in its implications but also very fun," she says about Stray Hair.
Blood Portraits
Morgan's second exhibit, Blood Portraits, can still be found on the first floor of the McCain Building. Blood Portraits includes nine pictures of scanned and magnified blood cells, and was accompanied by a seven-minute video.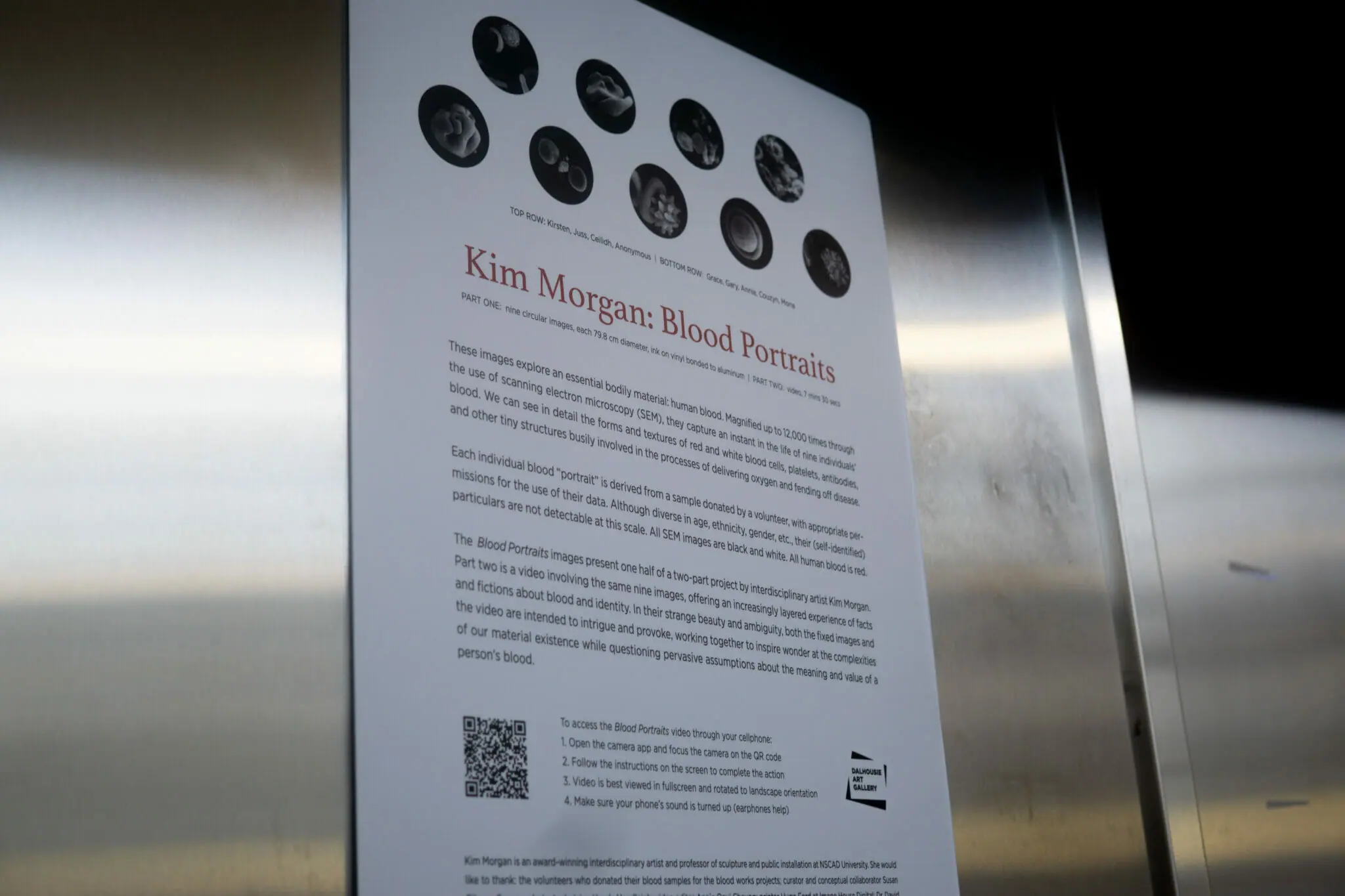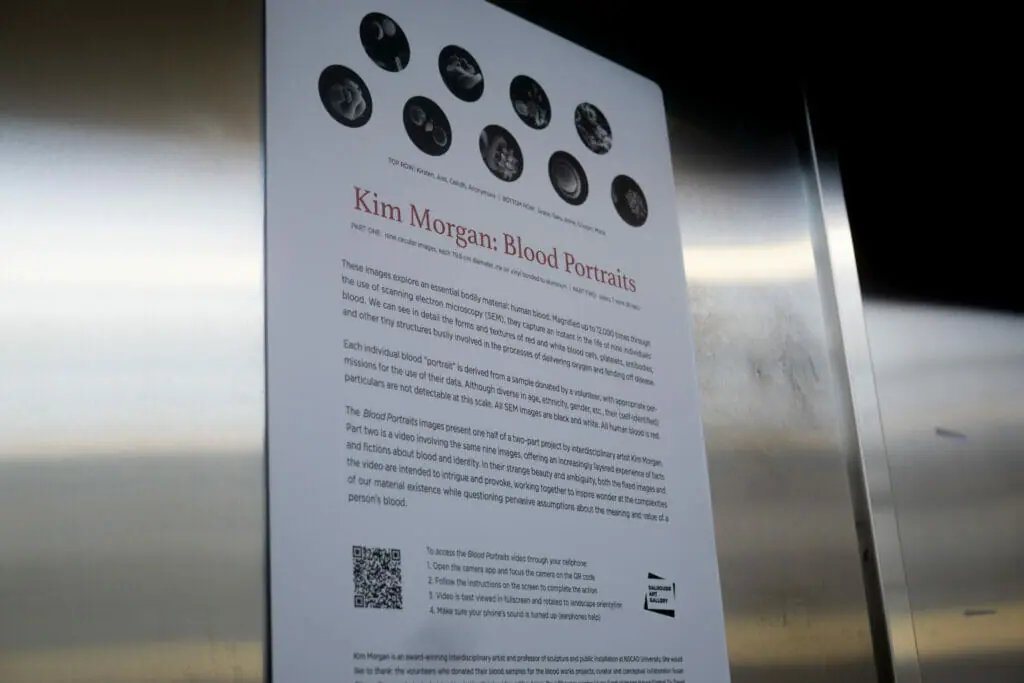 "I was interested in the notion of blood relations and what you could see under the microscope," Morgan says. She hoped the project would prompt viewers to consider the way we view and use blood, as well as the value we place on it.
"Blood is super personal, but it's also universal."
The locations of Morgan's interventions are also important to their meanings.
"It's about traffic," she says of Stray Hairs location. "I wanted the students to interact with it."
Blood Portraits also derives meaning from its location.
Garvey-Gibson says that people will consider the images through the lenses of their own areas of study based on their location.
"Plunk it down in the commerce building, and suddenly maybe it would resonate more in relation to the price of blood," Garvey-Gibson said. "Or the law building, and maybe it would relate to legal matters pertaining to blood."
The locations of the work subvert expectations. "You don't expect necessarily to, while you're waiting for the elevator, have to think about global issues concerning blood," says Garvey-Gibson.
Additional exhibits
Lou Sheppard, an artist practicing out of the South Shore; and William Robinson, an artist from the HRM, created the exhibition currently inside the Dal Art Gallery, titled I want to be a seashell/ I want to be a mold/ I want to be a spirit.
The exhibition includes multiple parts and uses mixed mediums, including audio and visual. Visitors to the gallery are greeted by sonorous music and diverse forms of art that explore, among other things, metabolism, which was a driving theme in the architecture of the gallery building itself. Metabolism is a Japanese architectural design concept that puts several smaller components or rooms together to create the finished structure, making parts of the building easier to replace if damaged, destroyed or simply outdated.
This theme is present because, like Morgan, Sheppard and Robinson are site-specific artists. Metabolism being present in their exhibit is no accident, but rather an ode to the creativity and history of the building, and Dal itself.
The Dalhousie Art Gallery is located at 1601 University Ave in the Fountain School of Performing Arts building, and is open to all free of charge.
Garvey-Gibson's message to students wondering if the gallery is worth the visit is to "Just show up!"
"Your presence is desired and welcome. Be curious, be open and just go see what's going on. It's there for you," she says.
For those interested in seeing the artwork, Nocturne exhibits will remain in place until Nov. 28.