Arts & Culture
Cycling through the snow
Dal Bike Centre wants students to give winter biking a try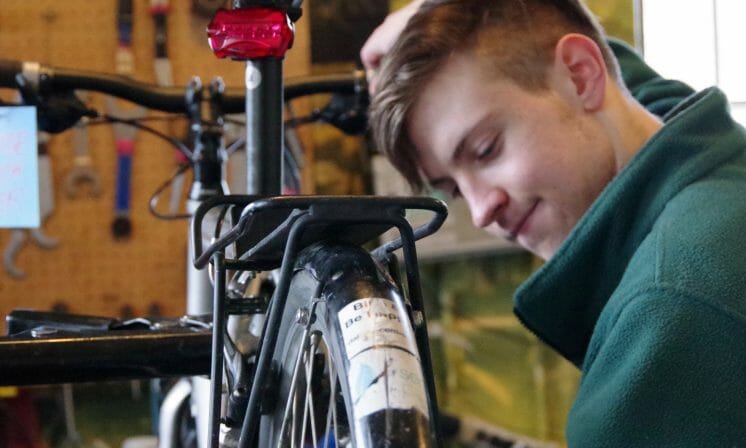 It's not easy to miss the bundled-up cyclists on the Halifax streets. Wearing bright colours, reflective tape and, sometimes, goggles, they seem to be out even in the foulest weather.
If you've seen the recent video by 22 Minutes, "Hinterland Who's Who: Winter Cyclist," you might even have had a good laugh about it.
But what does it take to be a winter cyclist? Is it really only for crazy people?
No, it's not, says Keiran Brackenbury, a board member of the Dalhousie Bike Centre. Brackenbury says he commutes almost exclusively by bike, except on those days where the road conditions are just too terrible.
But what do you need to know to be ready for winter cycling? That's a topic the Dalhousie Bike Centre has decided to tackle this season.
"We ran some rides in the fall, and being pretty enthusiastic about cycling, I wanted to continue that into the winter," says Brackenbury. "I saw it as an opportunity to show other people that they can do it as well."
With a grant from Dalhousie Student Union Sustainability Office, the Bike Centre purchased lights and repair kits for a winter ride they have planned on Feb. 4.
In preparation for the ride, Bike Centre volunteers are holding a workshop on Thursday, Feb. 2, to discuss how to prepare for winter cycling.
"Most cyclists you'll see in the winter will have a really good visibility set-up. You don't want to be the night stalker dressed in black," says Brackenbury. "And if you do, put lots of reflective tape on."
A huge misconception about winter cycling, says Brackenbury, is that you need to get extra gear.
"You can do it with the things you've already got in your wardrobe. A rain jacket, some outdoor athletic gear, rain boots."
As for what you do or don't do to your bike, says Brackenbury, that's really a matter of personal preference.
While some people keep using the same bike year-round, others get a cheap winter bike. Brackenbury got his on Kijiji.
"It's single-speed so I don't have to worry about my derailleurs getting gunked up," says Brackenbury. "It's got really thick mountain tires that I kind of deflate a little bit so they don't slip around as much. But you can go the other direction. Some people like to have skinny tires because they feel like they can cut through snow [better]."
If you're worried about salt corroding your only good bike and don't want to invest in a winter ride, the Bike Centre can help you out.
The Bike Centre rents out bikes for free, on a weekly basis all winter.
To learn more about the tips, tricks, dos and don'ts of winter cycling, join the Dalhousie Bike Centre for their winter cycling workshop on Thursday, Feb. 2, and their group ride to Point Pleasant Park on Saturday, Feb. 4.
The Bike Centre is also partnering with the Halifax Cycling Coalition for Winter Bike Week (February 10-16) and will be joining the Winter Frost Ride on February 12th.
For more information, you can find the Dalhousie Bike Centre on Facebook or contact the Halifax Cycling Coalition.
Mira Chiasson is writing in partnership with the Dalhousie Gazette and the Dalhousie Student Union Sustainability Office (DSUSO).