At the end of February, DalOUT will host their biggest event of the year: the second annual HaliQueer Formal.
Sadia McDonald-Strand, a fourth-year law, justice and society major, is the vice president of events, programming and sponsorship of DalOUT, Dalhousie University's LGBTQ2S+ student society. She says the theme for the formal is "a leap through the century." It's no coincidence that the event is being held on Feb. 29, a leap day.
Celebrating the past and present
"The reason it's called 'a leap through the century' is that we're celebrating the '20s," McDonald-Strand says. "The room will be 1920s themed—everything there will be—but you can either come dressed for a formal for today's [20]20s or come dressed as your imagined self in the [19]20s.
"We just want to celebrate everything we as queer people have gone through in the past 100 years because it sounds like a long time, but it really isn't for the amount of human rights we have fought for … the struggle in the '20s to be gay was just incredible, but they persevered. There was still such a huge community."
The formal will take place at Hotel Halifax. Tickets can be purchased by reaching out to DalOut on social media or searching the event on Eventbrite. Food will be provided, and there will be a cash bar. For entertainment, there will be music and drag performances. McDonald-Strand secured Halifax drag queens Vanity Station and Elle Noir, and is working on getting a drag king and queerlesque performer. (Queerlesque is similar to burlesque, but it is by and for the queer community.)
Despite being hosted by DalOUT, the event is not exclusive to Dal students. Anyone from around the city is welcome and encouraged to attend.
"HaliQueer Formal is us telling the entire city that there needs to be more of a sense of [a queer] community," McDonald-Strand says.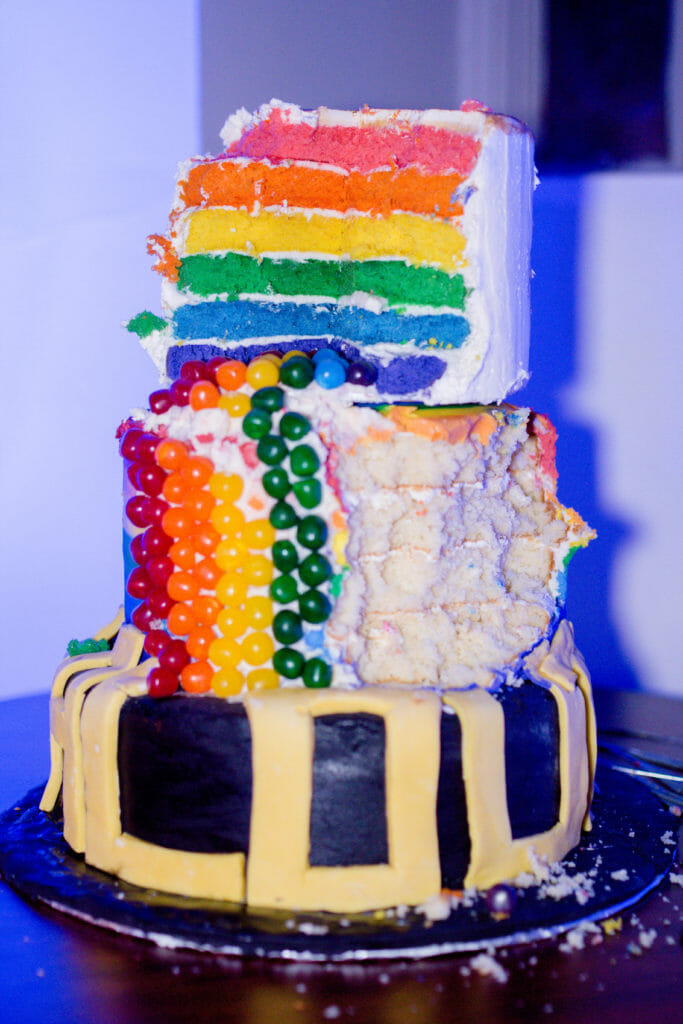 Feeling comfortable, feeling you
For Teddy Elphick and Liv Gardiner, two Dal students and society executives of DalOUT, attending the formal last year was a crucial way to connect with Halifax's LGBTQ2S+ community.
"I got there, and it was immaculately decorated. Sadia's like a wizard when it comes to design. It was magical. The decorations were incredible, and they had this huge rainbow cake at the front that Sadia had made. I had an amazing night," says Elphick, who is in his second year of a combined political science and gender and women's studies degree. He and Gardiner both became involved in DalOUT after feeling like they were missing the queer community in their lives.
"We got to go and feel comfortable in the clothes that we were wearing," says Gardiner, a second-year international development major. "Like I wore a blazer and button up shirt."
"I think we were matching," Elphick says.
"It was cool because I didn't have to feel like I had to wear an extravagant dress or anything like that. I could wear what I wanted to wear," Gardiner says.
Better accessibility
When asked what DalOUT was doing different from last year, McDonald-Strand says they began planning the event four weeks out instead of two like last year. They also made sure to take the extra necessary steps when it comes to accessibility. This was done in light of last year's venue, the University Club on Dal's campus, which did not meet everybody's needs.
"Pretty space. Completely inaccessible," McDonald-Stand says. "I felt really sorry for the queens who had to walk up and down stairs in their heels."
DalOUT also wanted a venue off campus to make the event more accessible to other people in the city. They also prioritized finding a venue that could offer gender neutral washrooms.
"I said no to a lot of places who wouldn't give us gender neutral washrooms because of other events. Hotel Halifax so far has been great…We've rented a hotel room as well, to give people that extra sense of security if they need it." McDonald-Strand says. "That was the most important thing for me, was making it accessible this year."