Throughout the pandemic, one organization has been working to provide support and representation for Halifax's Jewish community.
A safe space
Hillel: The Foundation for Jewish Campus Life is an international organization aimed at supporting Jewish students across the globe. Hillel Atlantic is the local division supporting students in Nova Scotia, Newfoundland and Labrador, Prince Edward Island and New Brunswick. This Atlantic Canadian chapter is based in Halifax and serves 12 universities and colleges within the region.
Hillel Atlantic and the team of executives that represent the organization work to provide resources, opportunities, a safe space and a sense of community for Jewish students. Even throughout COVID-19 setbacks, Hillel has continued to work tirelessly for Jewish and non-Jewish students alike in ways that fully embody and display the kindness and generosity of Jewish values.
Aaron Greenspan is a third-year management student at Dalhousie University and the current president of Hillel Atlantic
Greenspan emphasizes how Hillel has connected him with a "network of incredible individuals who have become allies, mentors and my closest friends."
These remarks are echoed by the executive team and some students involved in the organization. Rachel Meyerowitz, a foundation-year student at the University of King's College, says Hillel has provided her "with a small and familiar community of like-minded people who are proud and eager to share their Jewish identities with others."
Celebrating culture
Bayla Dolman, a second-year Dal student who is Hillel Atlantic's co-vice president of Shabbat and Jewish holidays, says she first got involved in the organization through her friend Eden Manly. Manly, who is now vice president of social programming and community service, asked Dolman to attend a holiday dinner hosted by Hillel.  
"It was a very welcoming atmosphere," Dolman recalls. Manly, a second-year neuroscience major at Dalhousie, says she remembers how her and Dolman continued attending Hillel dinners after that first holiday celebration. In their second year, both decided to become part of the executive team.  
Justine Balin, a fourth-year Dal student and Dolman's co-vice president of Shabbat and Jewish holidays, is the working hands behind the Shabbat dinner that is provided once a month for students. Balin is no amateur in the kitchen. At 17, she won the television show Chopped Canada's teen cooking tournament. She also competed in the first season of the Food Network's new show Wall of Chefs. Balin now volunteers her cooking skills to Hillel through the preparation of Shabbat meals and holiday dinners.  
Shabbat is a weekly time of celebration and rest that includes a traditional Friday night dinner where families and community members gather for food, prayers and simply for the sake of fellowship. Balin always prepares challah, a traditional Jewish braided egg bread. Another common custom is to drink a Jewish wine, which Manly says is the "sweetest wine you'll ever taste." Dolman says families who are more religious may light candles, say certain prayers, or give specific blessings over the bread or wine as part of the Shabbat ritual.  
Typically at Hillel Shabbat dinners, prayers and blessings are recited. Those who are either non-observant or not a part of the Jewish community do not have to participate, although they are more than welcome to take part, says Dolman. 
Giving back to the community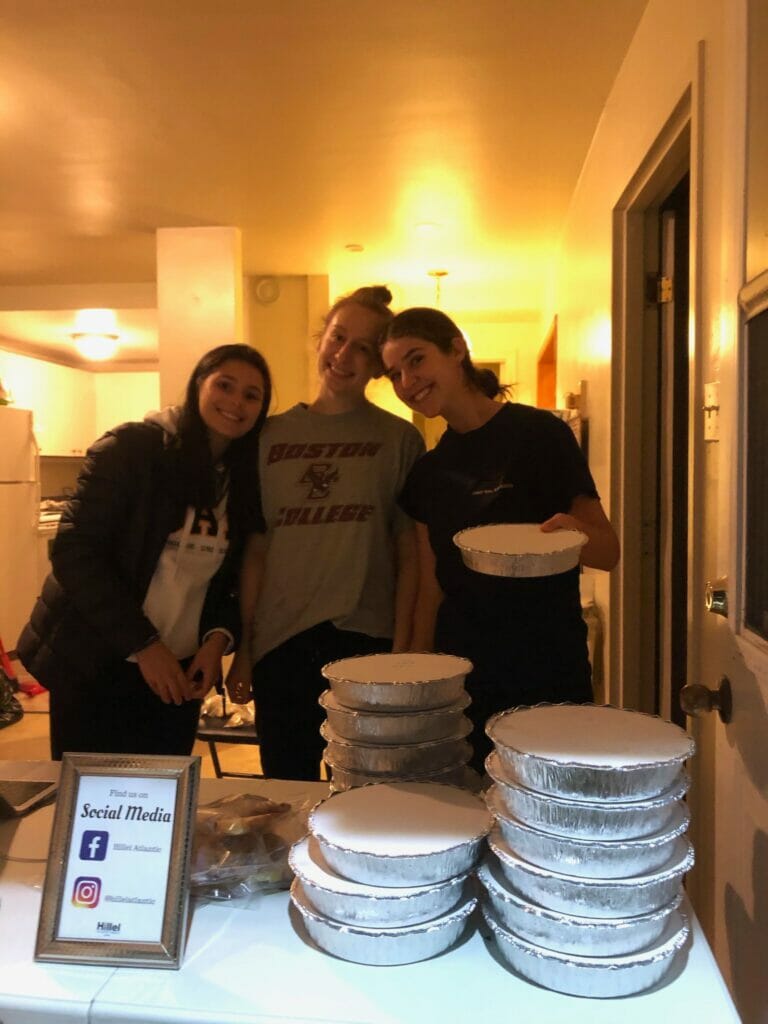 COVID-19 has made it difficult for community members to gather and has posed a challenge for Shabbat dinners. However, the board of Hillel Atlantic has used their creativity to carry on the Shabbat tradition through these unprecedented times.
Free monthly Shabbat dinners to go are prepared with traditional kosher foods. Students can pick them up at the Beth Israel Synagogue on Oxford Street Both Jewish and non-Jewish students are welcomed, but are asked to bring a non-perishable food item with them in exchange for their free meal. Hillel has started a food drive initiative to give back to the Halifax community and will donate these non-perishables to Feed Nova Scotia.
Greenspan explains there are two Judaic values Hillel strives to embody: tzedakah and tikkun olam. Tzedakah is the religious obligation to be just and charitable, which Greenspan says is usually displayed through acts of service. Tikkun olam is the belief people should behave, as Greenspan explains, in a way that is "the best and most beneficial for the world."
Donating to Feed Nova Scotia is one way Hillel Atlantic is practicing these Judaic values even when COVID-19 renders it impossible to gather and give back to the community in a more intimate way.  
Correction: This article initially included erroneous last names of two sources (Eden Manly and Bayla Dolman). The Gazette has updated the article and apologizes to Manly and Dolman for our errors.