North end theatre festival rips through 30 plays in 60 minutes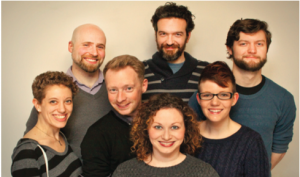 "30/60" (30 Plays in 60 minutes) by Up the Hill Theatre Productions runs from January 13 to January 18 at The Bus Stop Theatre on Gottingen Street. The set will begin at 8pm on Tuesday night, then during a 60 minute time frame, a play will be performed every 2 minutes. These plays are unique and unusual; it will be an experience unlike any other.
The Gazette spoke with actors Bill Woods and Schoel Strang about the plays.
Gazette: How long have you have you been performing for?
Bill Woods: Personally, I started doing magic at 16 and now I am 32.
G: What interested you in acting?
BW: I was taking a course at Dalhousie and I have done high school plays and was doing improv and some stand-up comedy. I had a really good teacher who was really inspiring and he made me think to go to Dalhousie and study theatre.
G: What advice would you give to people who want to start acting?
BW:It is not a way to make money, and you have to have something else that you can also do like being a sculptor, a painter or a guitar player.
G: What is one of the biggest obstacles you have faced being an actor?
BW: Getting over your bullshit is hard and it is necessary, but that is probably for all of life. Then the other side of it is that is it difficult to make ends meet and to schedule a life of being both an artist and someone who has to pay rent.
G: Can you tell me a brief history about your upcoming show?
Schoel Strang: So Ashley, Marie and I thought of a mesh over a year or two years ago and she had done this play in school and in University and really just wanted to try and full version of it. We were on board, and then we just kind of thought of great people to work with and invited them along. I know the Neo Futurists are a group in Chicago that started this whole kind of concept of 30 plays in 60 minutes. It's a show that they do every week in Chicago, so we did it last year with their work.
G: Who writes the plays for the Production?
SS: We have written most of them but we have had some contributing writers as well.
G: How do you balance acting with other obligation?
SS: Just being really organized BW: Google calendars.
G: Do you have any actors that inspire you?
BW: I like locally Jeremy Web. He's a guy who knows how to make his living doing this. So his business acumen and performing chalks are inspiring.
SS: I have a few local favorite actors, Martha Erving and Alexis Milligan, being two at the top of my head that constantly inspire me.
G: How do you handle a mistake during a performance?
SS: You just keep going.
BW: Know your lines, it is not amateur theatre.
G: Have you ever blanked during a performance before?
SS: Yes.
BW: This is professional theatre, you just do your job.