The Dalhousie Beekeeping Society had its first general meeting on Oct. 5, 2021. The society's executives, Sydney Carroll and Lara Roth Millman, were excited to spread their knowledge and share their love for beekeeping. 
Origin and goals of the society
Carroll, a transfer student to Dalhousie's college of sustainability, and Millman, who is taking a PhD in philosophy, met this summer at a course hosted by David and Pam Adams in Chester, N.S. The Adamses are lifelong beekeepers that teach a series of courses called Bee Yond the Veil. The beekeeping course was Millman's first hands-on experience beekeeping, whereas Carroll had started beekeeping earlier this year with a local beekeeper, Don Crozier.
Bee Yond the Veil gave Carroll and Millman the opportunity to develop some foundational beekeeping skills and to spend some time in an apiary (a beekeeper's term for a bee yard). Although both executives are new to the art of beekeeping, it is evident that they are both very knowledgeable on the subject. Both Carroll and Millman are passionate about saving the bees and informing other members of the community about the importance of bees. 
"To be responsible, and protect the local pollinator populations, the Dalhousie Beekeeping Society is first and foremost an educational and advocacy group," says Carroll. "Dalhousie does not have any beehives on campus, but there are lots of urban beekeepers in the HRM. The society has decided to start a bee yard outside of the South End of Halifax to ensure that there are enough flowering species for the existing beehives." 
Beekeeping in HRM
"In general, Nova Scotia has a large beekeeping population," says Carroll.
This is exemplified by the Nova Scotia Beekeepers Association (NSBA). The NSBA is an organization that serves local beekeepers, hosts meetings and provides a platform for buying and selling beekeeping supplies. Many local beekeepers, like the Adamses, also provide courses to teach the public about beekeeping and to allow for a hands-on experience.
The Adamses' website says, "At Bee Yond the Veil we stride to educate beekeepers to a level that they can assess the requirements of the bees and have the ability to deliver on every inspection. There is no point opening a hive if you have no understanding of what you or the bees are trying to do."
The NSBA website is a valuable resource for beekeepers, as it allows them to network with each other.
"There are dozens of beekeepers that you can reach out to from the NSBA website," Carroll explains.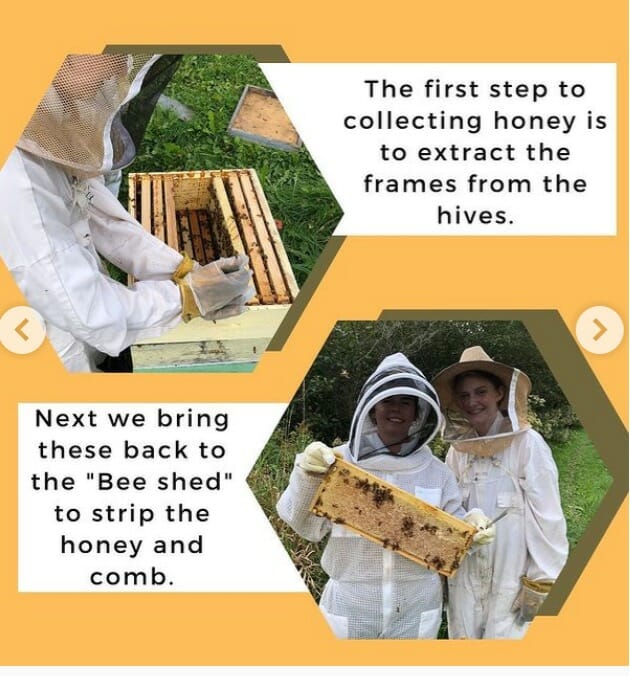 The busy bees
Carroll hopes to one day pursue commercial beekeeping, and Millman would like to keep bees as a hobby. The world of bees is complex; there are over 800 bees native to Canada, Millman told participants at the society's first meeting.
Millman also shared her favourite fact about bees: "If a worker bee sees another bee being lazy, she will give her counterpart a little nudge to try and wake her counterpart up. Basically, the worker bee is informing her counterpart that they have work that must get done." 
Throughout the first general meeting, Carroll and Millman also talked about the importance of bees. For example, bees are essential to the fight against climate change since they are pollinators and they promote biodiversity. Worker honeybees are only alive for six weeks, and they make up roughly 80 per cent of a hive which means that bees must be ultra-efficient and organized. 
Beekeepers have many responsibilities such as ensuring that the colony has enough food and water, treating any infections that arise in the colony and ensuring that the colony has a good and healthy queen. Some of the tools that beekeepers need include bee-suit/veil, smoker, gloves, and hive tools. 
Bee-come a member
Interested in joining the Dal Beekeeping Society? Follow them on Instagram or email the executives at dalbeesociety@gmail.com. Meetings take place every other Tuesday at 6:30 p.m. on the third floor of the SUB in room 303.
The Dal Beekeeping Society will also be hosting workshops on a variety of bee-related topics and having guest speakers share their knowledge about beekeeping. For more general information surrounding beekeeping, you can find lots of educational resources linked on the NSBA website.