News
Briefs of the week
Recognition for students and prof, Canada Post strike soldiers on and Halifax residents express solidarity with migrants from Mexico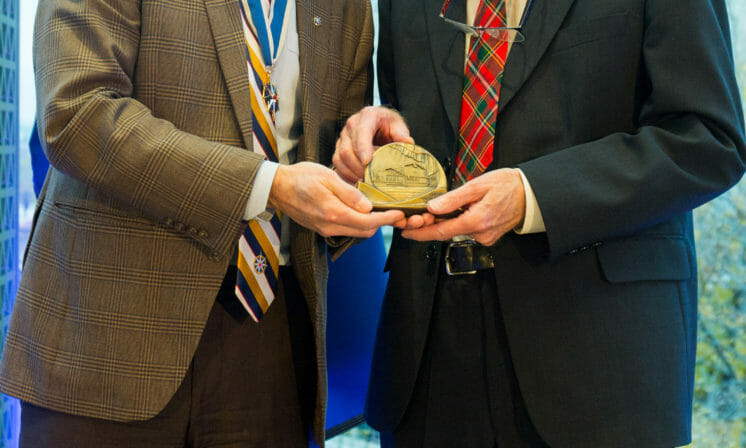 Week of Oct. 29, 2018
Dal prof wins award for Arctic research, science and leadership
On Nov. 1, James Drummond of Dalhousie University received the Martin Bergmann Medal for Excellence in Arctic Leadership or Science. Drummond is the Canada Research Chair in Remote Sounding of Atmospheres at Dal.
He was presented the medal "for his vision, dedication and leadership in Arctic atmospheric research," including the establishment of a "globally-recognized Arctic flagship observatory." Drummond accepted the award at the Royal Canadian Geographical Society Awards Ceremony in Ottawa last week.
National postal strike continues
Since Canada Post workers officially began their rotating strike on Oct. 22, talks between the Canadian Union of Postal Workers (CUPW) and Canada Post officials haven't made much progress.
In an interview with Global Calgary, CUPW's national director for the prairie region said officials haven't budged on chief demands involving "health and safety concerns, workload, staffing and wages."
Rotating strikes have ended in parts of Ontario, Saskatchewan, Manitoba and other regions. But strike action continues in Halifax and at the homes of Canada Post's three largest processing facilities – Toronto, Vancouver and Montreal.
Halifax stands in solidarity with the migrant caravan
On Nov. 3, community members convened at the Glitter Bean Cafe "to demonstrate their solidarity with the caravans of refugees and migrants currently en route to the U.S.-Mexico border," said a press release. As reported by CBC, thousands of people are currently travelling on-foot from Mexico to escape violence and poverty in Honduras and Guatemala.
Meanwhile, President Donald Trump claims to be sending an extra 5,000 troops to the border.
Halifax protesters held a discussion focusing on Canada's role in the Honduras conflict, and in the release called "on the Canadian government to make a statement in support of the rights of the migrants and refugees, and for Canada to rescind the Safe Third Country Agreement with the U.S."
Dal iGEM takes home silver
The Dalhousie iGEM team won a silver medal at the international iGEM conference in Boston last week. Read more about Dal iGEM and its work in testing water for toxic aluminum levels in last month's story by Chiara Ferrero-Wong.