Some Background
Of the four million refugees who escaped Syria this year, some making the dangerous journey to Europe, three thousand have drowned.
The image of a little boy, Alan Kurdi, washed up on a beach, became an icon for this crisis, inspiring public outcry in North America and Europe, four years into the Syrian refugee crisis.
The crisis began in 2011, when the Arab Uprisings were sparking revolutions and toppling governments in various Middle Eastern nations. The Assad regime continues to use increasingly violent repressive tactics against Syrian citizens.
Dalhousie's panel
"The Syrian Refugee Crisis and Canada's Response" was a panel sponsored by the Dalhousie Centre for Foreign Policy Studies, the Dalhousie Political Science Department, the Canadian International Council, and the European Union Centre of Excellence.
The speakers were Glenn Davidson, the former Canadian ambassador to Syria, Professor Amal Ghazal, of the Dalhousie Department of History, and Professor Ruben Zaiotti, of the Dalhousie Department of Political Science.
The war ravaged Syria, and of the estimated 22.4 million people who lived in Syria in 2011, less than half are still in their homes.
Countries in Europe and North America have been using security concerns as an excuse to be cautious and accept low numbers of refugees.
"This is a global crisis because it is also a proxy war with international implications and involvement. It will need a global solution."
Lebanon has accepted close to a million and a half refugees, despite the strain on their resources, such as primary education, waste management and traffic, and their proximity to ISIS.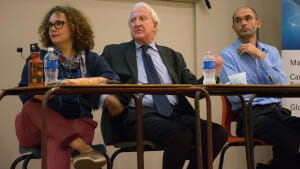 "This is a global crisis because it is also a proxy war with international implications and involvement," Ghazal said. "It will need a global solution."
Zaiotti highlighted the Syrian Refugee crisis in Europe and the Eurocentrism that accompanies it in our media. He explained that "there has been a refugee crisis for over four years now," but western media has "recognized it as such, only when refugees started reaching Europe."
Davidson talked of "three independent perspectives" that came to the same conclusion: we need to do more. It took four years and the death of one child for the Syrian refugee crisis to galvanize public opinion. He urged people not to lose sight of the issue.
"The Canadian government needs to agree on a goal and needs to be generous and ambitious, but numbers that we can absorb," he said. "Syrian refugees need to be a priority and the government needs to take on responsibility to find the funding."
The Harper government's delayed promise of taking in 10 000 refugees, much fewer than Canada's previous numbers, is hardly even a drop in the ocean of what Syria's neighbour's have already accepted. In particular, one Lebanese village has taken in more Syrian refugees than all of the United States.
Professor Zaiotti commented that because this is an election year, this presents a "window of opportunity" to pressure the government promises to act.
What Dalhousie is doing
During the question and answer period, one man asked what Dalhousie University could do.
Ghazal mentioned that in a meeting with President Florizone, the question of expanding the Student Refugee Program to include more Syrian students was raised.
The World University Service of Canada, a levied society at Dal, already sponsored a Syrian student to come to the university this year. Dalhousie may increase funding to WUSC by the winter semester, in which case the faculty advisor, Theresa Ulicki, said that the organization could bring more students to Dalhousie.
Dr. Ulicki also encouraged students, faculty, and staff to get involved in the WUSC. The group's email is wusc@dal.ca.
"Like so many across the country, we have been moved by the Syrian refugee crisis and are now looking at options for Dal's response," Dalhousie President Richard Florizone said. "One of the most attractive options is to expand our commitment to WUSC. I hope that we can significantly grow that commitment."