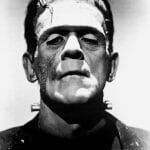 Tune in at 7:15pm on Thursday, Feb. 2, as Torey Ellis live-blogs the second annual Weldon Literary Moot fundraiser. Presented at the University of King's College by students from the Schulich School of Law, this year's theme is Dr Frankenstein v. Frankenstein's Creature.
For more information about the event, click here. And for more information about Frankenstein generally, visit your local public library.
Torey was the Copy Editor of the Gazette for Volume 145 and Assistant News Editor for Volume 144.