Arts & Culture
Theatre group on a roll: Local students debut wheelright theatre company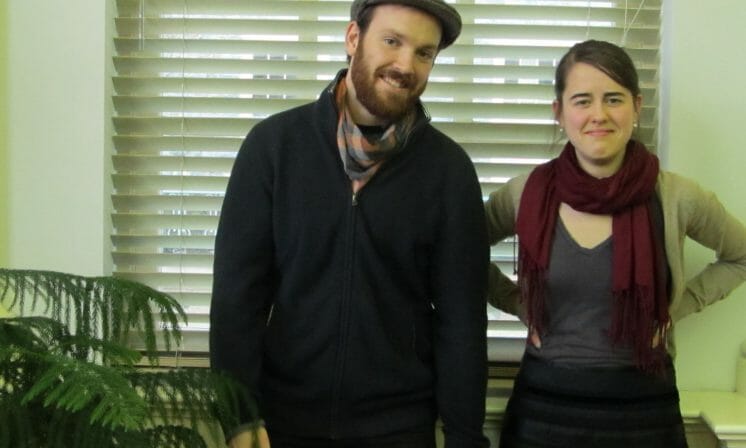 It seems some local theatre students are thinking outside of the box, and it's going to be explosive. This weekend the recently founded wheelwright theatre company is presenting M is for Drowning Feb. 2-5 at the Bus Stop Theatre.
Written, directed and produced by Dal and King's theatre students Bryn McLeod and Patrick Blenkarn, the hour-long performance explores what an explosion of memory would look like through theatre, storytelling, performance, video, music and installation.
"Memory is something abstract we all have and deal with," says McLeod. "This will be interesting for everyone."
M is for Drowning is the inaugural production for Blenkarn and McLeod's newly formed wheelwright theatre company, a name Blenkarn says takes into account the collective energy of people involved in the project.
Blenkarn wrote an initial script hundreds of pages long that McLeod has transformed through severe editing.
"I edited out the things that didn't move me, and what I cut, stayed cut," says McLeod.
"We are still editing," she continues, "and up until the last day I'm sure we will be cutting stuff. It will continue like that until eight o'clock on opening night."
Blenkarn says: "A big part of the show is that we are asking you to play along; the actors aren't just playing to you, they want to play with you." McLeod adds, "It's completely collaborative. We hope every night will be different; we are asking the audience to be part of the process. We want to make that explicit."
This collaborative feeling permeates every facet of their approach to theatre; these two even finish each other's sentences.
"We liked the idea that there are spokes in the wheel, but it has to be perfectly balanced to roll," continues McLeod. "Also, we can take it on the road," Blenkarn adds suggestively.
Blenkarn and McLeod, who met through the King's Theatrical Society (KTS), are both pursuing theatre degrees at Dal. After co-directing Hippolytus at King's during the fall, they shared a desire to experiment with theatre in Halifax.
"The KTS and Dal Theatre were great facilitators, getting us in touch with incredibly talented people, and all the teachers have been really supportive," says Blenkarn.
Working with the KTS made them realize that students can get together and make theatre happen on their own. If they could do it within the society, they could do it on their own.
"There is something about leaving the university's theatre community that seems formalizing; it feels more real," says McLeod.
M is for Drowning features students from Dal, King's and NSCAD, as well as local theatre artists.
Blenkarn and McLeod admit that stepping out on their own has been challenging. While they find a lot more freedom in many respects, there are major obstacles, such as raising their own money. They overcame this hurdle in their signature collaborative way, with a successful fundraiser at The Bus Stop Theatre two weeks ago featuring live music from local artists and treats baked by friends.
"There has been so much community support, especially from other local theatre companies and we have such supportive friends and talented musicians- all these people have helped make this happen," says McLeod gratefully.
As for future plans for the company, McLeod will be graduating this year and Blenkarn has one year left. While they have their hands full right now with M is for Drowning, they both see this as a step out of university theatre and into the greater theatre world.
"It's going to be a marathon till the end," says Blenkarn, "and we are about to start sprinting."
From Feb. 2-5 at 8 p.m. (doors at 7:30pm), wheelwright theatre will show M is for Drowning at The Bus Stop Theatre. Tickets will be $15 general/$10 students. For more information and tickets for the show contact wheelwrighttheatre@gmail.com or call 902- 448-7275.