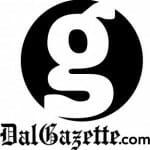 The Dalhousie Student Union (DSU) and Lydon Lynch architects are looking for student input leading up to an expansive and expensive building renovation project which would drastically change the interior and expand the overall size of the building.
The first public presentation is on Tuesday, Oct. 1 at 7p.m. in the McInnes Room with a second scheduled for Oct. 28.
Prior to this has been four months of interviews, research and design mock-ups based on input from the DSU staff as well as students, faculty and staff available over the summer months.
There are four postcard ads around campus with a quarter of the current draft for the SUB pictured on the back. The proposed drawings include an expanded wing near the food court, walkout patios, green walls, and a new entrance from LeMarchant Street.
VPI (internal) Ramz Aziz has said that in his findings so far, students are focused on three main topics: room for societies, study spaces, and eating.
Claire was News Editor of the Gazette for Volume 146. You can follow her on Twitter at @Claire_Wahlen.