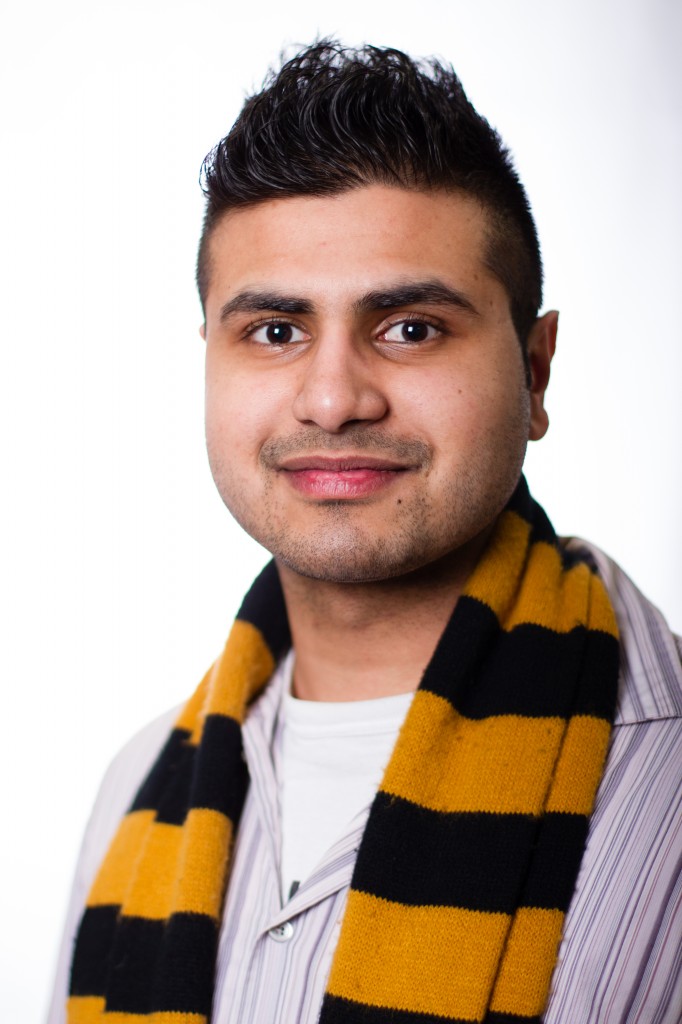 Name: Ramz Aziz
Age: 23
Hometown: Karachi, Pakistan
Program: Neuroscience, 4th year
Position: President
Relevant political experience: VP internal, Ombudsperson, Board of Operations
Dalhousie Gazette: Why are you running for president?
Ramz Aziz: Well, I was a vice president of the student union this year and I felt there was a lot more that needed to be done. Next year will be precarious for the DSU, especially when a lot of questions are up in the air about our advocacy. Along with the renovations, I felt that the management and demonstration skills I had gained from the vice president role could be applied actively in the office of president.
DG: What are your plans, if elected?
RA: First and foremost is getting some direction on the union's advocacy, as that's the most time sensitive issue, in my opinion, and one that will take the majority of my time and attention. Right now we don't have much direction for the money that was potentially saved from dropping out of SNS (Students Nova Scotia). As the situation unfolds, I want to be sure that I have the proper focus to make sure the union's advocacy capabilities aren't compromised and that students have a concrete say in what's going on.
And plowing on with the renovations. This September they were scheduled to break ground. Now I want to make sure everything is on track with that and, depending on how the levy unfolds, adjust renovations as necessary. Especially in the late stages and the design stage, I'll want to do another round of consultations to get students feedback to get finer details and see where that goes.
DG: What is the biggest issue facing Dal students next year?
RA: Advocacy, really. Who's going to represent student interests? Are we capable of representing student interests at the provincial and federal levels? Or should we strongly consider the option of institutionalizing advocacy in the union? I read Anthony Rosborough's piece in the Gazette and I think he made a comment—and I hope I didn't read it wrong—but he said that in terms of what directly affects students, this [advocacy] isn't it. So in terms of the day-to-day life of a student, advocacy is still a bit distanced.
Health services will have the most direct impact on students. For example, with this new model we have the opportunity to give students access to a family doctor. We have the opportunity, especially for international students who may not have health services always accessible to them, to get health care directly to them. That will have a large impact.
DG: What do you think of leaving our external advocacy groups, the Canadian Alliance of Student Associations (CASA) and Students Nova Scotia (SNS)?
RA: SNS was a bit more visible to me because I did see them coming up repeatedly in the media. I did see their name cited on a bunch of reports being released but CASA on the other hand was a bit distanced to me. So I chose to go to them on the CASA lobby conference in November. It's very unusual for the VP internal to go, but it was very eye-opening. I learned a lot about CASA and about lobbying and advocacy in general. So it educated me a lot in a lot of ways about what's going on.
CASA, as it stands now after going to that lobby week: there were a lot of mixed reviews, with some people hating it, but a lot of past DSU presidents praising their work. They do good work, opting for small wins—but I see the benefits of that. But leaving them wouldn't cripple their operations like leaving SNS, which is something I've come to really realize over the past few weeks and months. Of course if after a year of reviewing our advocacy and getting our priorities right and seeing how, if CASA [or SNS] would better help us achieve those goals, if that's the direction we establish we need, I'll have no problem rejoining.
DG: What do you think of the Student Union Building (SUB) renovations?
RA: The renovations have been a very contentious topic all year, but only because of the scope of the project. I mean, you're asking students for millions of dollars. And not only that, but you're locking in future generations of students to do renovations as they see fit. These are things I'm very conscious of. I'm very excited for the referendum, for either way it goes. As for the building itself, there are concerns I hear year after year without change—there are fundamental flaws. Societies need space for storage or to hold office hours, students have been asking for a kitchen for pretty much forever, issues around tabling that hasn't expanded when our societies are ballooning.
So how do we accommodate all these diverse interests and needs? From that point of view, I think the renovations are needed, at least at the core level. Forget the atrium; the core at least needs to be examined. The renovations should be done modestly, in terms of expense, but should also be done with the mindset that this may not be what we need in a few years. We don't know how much things can change in 10 years.
DG: When did you decide VP internal was a one-year only gig and decide on a bid for presidency?
RA: Concretely? Because you always joke about it and flirt with the idea. I guess November really, when I went to CASA. Because then I started to really think that I'm being exposed to an avenue that only the president gets exposed to, so the fact is that I should get educated on this now and I can, if I decide to run later, have a proper background on it. Actually decide though? December.
This interview has been edited for clarity and brevity.
On Facebook: https://www.facebook.com/ramzaziz4prez