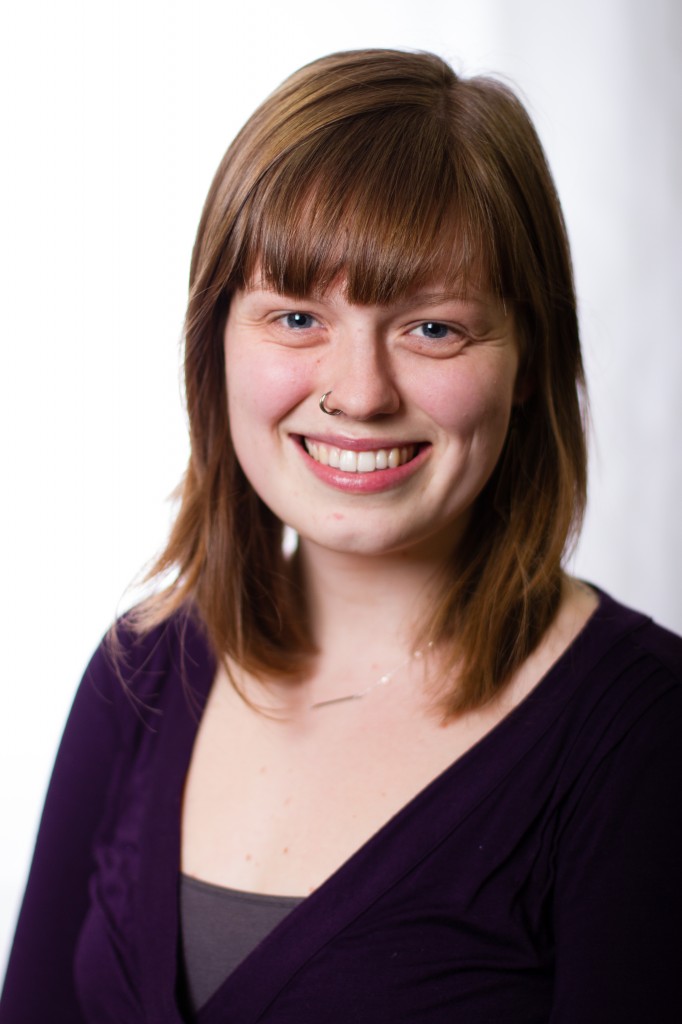 Name: Alexandra Killham
Age: 23
Hometown: Cambridge, Ont.
Program: Anthropology and Music, 4th year
Position: President
Relevant political experience: Senate rep., South House board member
Dalhousie Gazette: Why are you running for president?
AK: I'm running for president because I'm concerned about students' perception of the relevancy of the union. I don't believe that students are apathetic, I believe the union has to prove to students that we can offer them fantastic services and that we're all in this together. We're not a student government, we're a student union. I believe that I have the skills and the experience to properly reach out to students and show them that we can work really well together.
DG: What are your plans, if elected?
AK: I plan on continuing my efforts to implement a fall reading week. It's been really successful so far, students have been really excited about it. Students asked for a fall reading week and expressed interest, and so that's happening. We're going through a rigorous consultation process now, with faculty and students, as well as a survey (on dsu.ca/fallreadingweek).
Another thing I'm committed to is confronting and challenging administration on their choices on raising differential fees. I've been involved in organizing a few different town halls and spoken to many international students and now we're mobilizing and that's been fantastic. A lot of students really care about this issue, they're debilitating fees. So, next year I'm planning to run a more rigorous campaign about differential fees, create more awareness on campus, and take a firmer stance at the administrative table on how this can't happen anymore.
DG: What is the biggest issue facing Dal students next year?
AK:  I think mental health is a huge issue on campus. I think there's a lot of stigma around mental health and we're not addressing it properly. I think a fall reading week helps address that. I think an extra reading week acknowledges that there are mental health struggles on campus and can offer space for those to be discussed and acknowledged.
I think international students are in a very precarious position and that differential fees are, like I said, absolutely debilitating for a lot of students and that's a huge issue.
But I guess thirdly is that we don't have an ombudsperson at the university. What this means is that there is no current external group interested in students interests. Right now we have the Office of Human Rights, Equity and Harassment Prevention, which I work at right now and which they do a fantastic job, along with the equity department to ensure that students are getting the kind of support they need. However, these are both internal. The idea of the ombudsperson is to be an external group that doesn't have the interests of the university first but rather the interests of the students first.
DG: What do you think of leaving our external advocacy groups, CASA and SNS?
AK: I think it's really amazing that there are few issues that students have been more engaged in. More students came to council to voice their opinions on this than on any other issue this year. I think the engagement level compared to other issues was huge and really inspiring.
I don't agree that we should be paying $140,000 for advocacy efforts that we could be doing ourselves. We've been doing a whole lot of advocacy this year, independently, and also been paying into these groups. I think there are some really exciting plans for next year and I'm looking forward to expanding on those plans, and having more concrete plans on using that money to effectively advocate independently.
DG: What do you think of the Student Union Building (SUB) renovations?
AK: Students have raised concerns about the process. Students have told me that they're concerned about the lack of comprehensive consultations—and it is a huge project. In the future, I'm committed to a more thorough consultation process and making sure that before we make any decisions, students are on board.
DG: Your opponent is very experienced, having just completed a year as VP internal; what do you bring to the table?
AK: Ramz is definitely really experienced, and he's had a great year. I sat on Senate this year, and on top of that I sat on three sub-committees of Senate, two working groups, and I established the first international student academic success committee at the Senate level. My experience shows that I am committed to listening to students' needs and then advocating for them to administration.
It's not an easy job; administrators are not always excited about someone speaking loudly in opposition to some of their proposed plans. However, when students express to me that they disagree with some of the decisions administration is making, it's my job to express those things and not back down at them.
This interview has been edited for clarity and brevity. 
On Facebook: https://www.facebook.com/votealexkillham
On Twitter: https://twitter.com/VoteAlexKillham