Sarah Dobson and Grace Evans are creating the change they want to see at Dalhousie University.
In December, Dal officially established the Women in Politics Scholarship, a project started by Dobson (a recent graduate of Dal's Schulich School of Law) and Evans (an undergraduate student in Dal's political science program). Two scholarships will be awarded annually, each of $1,000, to a student in the department of political science who identifies as a woman, and is committed to feminist and gender issues. The first scholarships will be awarded for the 2021 summer term.
Through the scholarship, Dobson hopes to let "students know that there's a lot of women out there who are very interested in them and in politics."
A book, a scholarship and so much more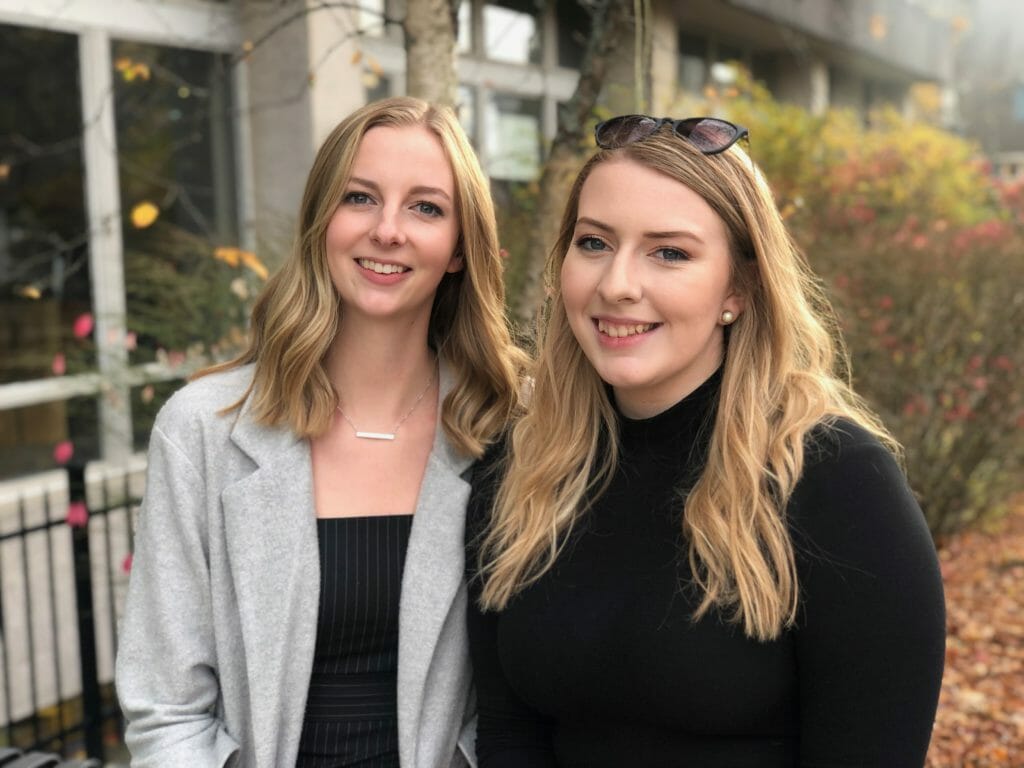 Together, Dobson and Evans wrote a book titled On Their Shoulders: The Women Who Paved the Way in Nova Scotia Politics. Once released, the book's proceeds will help sustain the scholarship. The scholarship is currently being supported by crowdfunding donations raised through the website projectDAL.
Dobson and Evans' book tells the stories of the 50 women elected to the Nova Scotia House of Assembly from Confederation to 2020. In comparison, more than 750 men have been elected as MLAs in the same time frame. Since Dobson and Evans wrote their book, the number of female MLAs has risen to 51 after Kendra Coombes was elected to represent Cape Breton Centre in a 2020 by-election.
Dobson and Evans hope to use the connections they made researching the book to create a network of women in politics who will support and empower the students chosen for their scholarship.
"One of the best parts about doing the project was seeing women who are already in those roles still wanting to help younger women and students achieve their goals," Evans said. "It kind of helped the project all come together."
Many of the women featured in the book also donated towards the project, helping Dobson and Evans raise about $13,500. Thanks to those donations, they have "a good nest egg of money" to get the scholarship started, Evans said.
While the book is focused on women serving in public office, Dobson and Evans hope to support women interested in any aspect of working in politics.
"Obviously, being a politician, you're exposed to a certain level of sexism. But I think what people don't always think of is that that extends into working in politics as well," Evans said, referring to women who work as volunteers, policy analysts, campaign managers or other political jobs.
It was also important to Dobson and Evans the scholarship be established during COVID-19, as they hope its monetary impact can help a student who is struggling financially.
How the scholarship came to life
Dobson says the book was always meant to be a fundraiser and the pair settled on a scholarship as the best way to use the money it will raise.
They originally considered making the scholarship province-wide, but were approached by Dalhousie in the fall about creating the scholarship at the university.
"It was easier to do it through Dal," Evans said. "They have a lot of mechanisms and people in place to help us create a scholarship, which was a lot harder than I think we had first anticipated."
Dobson and Evans had originally planned to accept and evaluate applications for the scholarship themselves, but decided it would be better to let Dalhousie create a panel to judge submissions.
"I think at first, we had wanted to be a part of it. But then going through the process, I think we realized that as long as we had set the criteria, the panel would be able to make probably a better decision," Evans said.
Evans says she and Dobson just want to ensure they have the opportunity to connect with the women selected for the scholarship. The pair hopes to publish On Their Shoulders sometime in early 2021.