Dalfest 2015 is upon us.  In honour of the most exciting campus concert of the year, the Gazette invites you on a trip through our archives to track the evolution of the musical tastes of Dalhousie students over the past century or so.
"JAZZ VS. OPERATIC MUSIC" – November 23, 1921 – Volume 53, Issue 19
Among other things which a college student should cultivate is a taste for good music. Four years or more spent in a University residence should give anyone an excellent opportunity. As a matter of fact a half-hearted attempt is made even now. But the taste is not developed along the right lines. Instead of music of a higher quality, we have much of what is known as jazz.
Let us take the case of two men. One was overseas · during the war. The other, being a little younger, did not have that opportunity. To the ordinary eye they have the same intellectual tastes, but our younger friend has no use for operatic music. On the other hand, the overseas man had a chance while in London to hear some good music, and learned to like it.
He was not a man who had inherited a liking for music, or was brought up in a musical atmosphere. He merely cultivated the' taste, while his friend never had the opportunity.
Now the latter case is the condition of too many of our college students. Let us suppose that on a certain evening our two friends go to the Majestic Theatre, (one time called the Academy of Music.) The younger man talks to his friend throughout the "Rigoletto Overture", but pays strict attention to the rendition of "Vamping Rose", which is given between the second and third acts. He goes home with the tune echoing in his ears, but a week later another bit of' jazz drives it from his mind, thereby replacing trash with trash.
The music lover however, listens to the overture with as much attention as his friend showed towards the popular song. Each strain brings up its memories, and each familiar air stirs his pulse just as it will stir his pulse every succeeding time he hears it. The ultimate effect of the music is much more satisfying to him than to his friend. All this enjoyment is missed by the ordinary student. He appreciates an air because it calls a dance to his mind, and sets his feet in motion. But in two months he will be sick of the tiresome piece and in time that particular selection is forgotten by everyone.
Furthermore, there is the mistaken idea that operatic music is dull. This is wrong. Some of the catchiest airs ever written are grand opera arias. What better dancing tune is there than the "Faust Waltz?" Think of the thrill caused by the "Toreador Song," or the sensuous feeling produced by the Venusberg music from "Tannhauser." What popular song ever made a greater hit than "La Donne e Mobile" from Verdi's "Rigoletto?"
All these and many other beautiful bits of music are, for the most part, entirely unknown .to the undergraduate of today. Why should this vast treasure be shared only among a few? Cannot this opportunity be placed within the reach the students?
"Dalhousie Institute of Public Opinion" – October 13, 1944 – Volume 77, Issue 2
"What Type of Music Would You Like At Dal Dances?"
All queried were unanimous on this question except two freshmen who .are self-styled hep-cats and jive-bombers. 90% wanted more slow numbers and less fast numbers. What the students want are the "slow, dreamy, sweet and sentimental" numbers; more waltzes and rhumbas. Several students thought that "Dalhousie Dream Girl" should be played more often so take note, all ye dance organizers, and instruct your orchestras accordingly.
"Hit Songs Show 1955 Hard On Hearts" – Malcolm Smith – Volume 88, Issue 13 – January 25, 1956
The old folk smile sentimentally at the undulating by-roads of young love. Yet they little remember in their senile acceptance the pangs and achings that accompany that many-splendored thing.
Statistics for the year prove 1955 was a hard one on the hearts of the young blood of Halifax. There are the records of the hit parade to prove it.
It might have been expected, of course.
The year started off badly. The younger set in the city had been seeing too much of each other. Around this time last year they were crying piteously: "Let me go, Lover." Truth to tell they were sick of the sight of one another.
Yet nothing is so fickle as the young at heart. A few weeks later they were begging the Sandman: "Bring me a Dream," and complaining bitterly over air-waves and juke boxes of "Stoney-hearted Lovers," whose only form of conversation was "No, No, No."
So it went through the cold winter months. Sick of the sight of one another, longing for a dreamgirl to bring everything right.
(…)
Spring is when school and college closes and young men must make their way in the world for a while. Forgetting their women they turned to a sterner challenge. Soon the strains of the Ballad of Davy Crockett were ringing round the city in ballroom, bathroom, bar-room and bedroom.
This seemed the answer for a while. Hard work and joyous living was the keynote. With Davy Crockett, the young men "Rocked Around the Clock" for most of the summer. Yet something seemed to that be missing. Life seemed empty.  When the day's work was done and the last rock and roll rhythm had died into the lonely night, they found they were blue. They could not forget the fair sex. Not with all the cigarettes they smoked – one after another. With Frank Sinatra they were "Learning the Blues."
(…)
The party was over, the couples broke up: Back to college and school, the grim necessities of life. Melancholy reigned. As 'Autumn Leaves" began sadly to fall, they thought regretfully of ended splendours. All in all it had been a hard year. The routine of the daily round closed over them. And the future offered no promise. The harder they worked the worse it got. They loaded "Sixteen Tons" and what did they get? Another day gone deeper in debt.
"Trouble stirring on the entertainment front" – Paul Clark – November 17, 1980 – Volume 113, Issue 11
Regardless of where you stand, there appears to be trouble on the Dalhousie Student Union entertainment front. (…)
What's gone wrong? Council members point to several things. The prices for hiring bands have risen, but ticket prices haven't increased proportionally, making for less net revenue. Discos, formerly a cheap, popular form of entertainment, are out of style. Show bars like the Misty Moon, which outclass the SUB at only slightly higher ticket prices, are drawing students off campus. Tight SUB security which requires students to show their identification three times to enter an event is turning people off.
Moreover, the overall costs of this year's entertainment schedule have yet to be squared with their actual budget. Money making bands like Spice have cancelled out on short notice. Three films have been shown on TV the same week they were to play at the SUB (at two or three hundred dollars a shot).
But bad as things they may be, councillors all think something can be done. Treasurer MacLeod says the secret to success is in providing specialized entertainment unavailable elsewhere in Halifax. "The SUB is not the Misty Moon and it is not Howe Hall and we shouldn't try to copy them". Instead of show bands and "Animal Houses", he suggests more New Wave nights, "where you can see a movie and get crazy at the end of the night". "They should find out what students want and give them that instead of making a product and trying to sell it."
"Dalapalooza '95 Advertisement" –  September 7, 1995 – Volume 128, Issue 1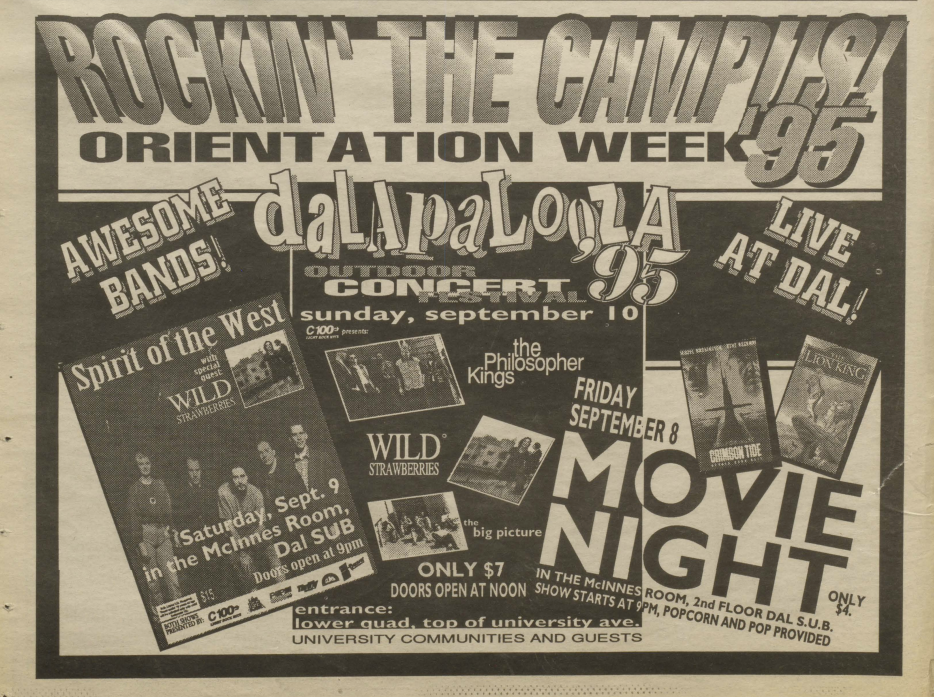 "Snoop Dogg Advertisement" – December 3, 2003 – Volume 136, Issue 14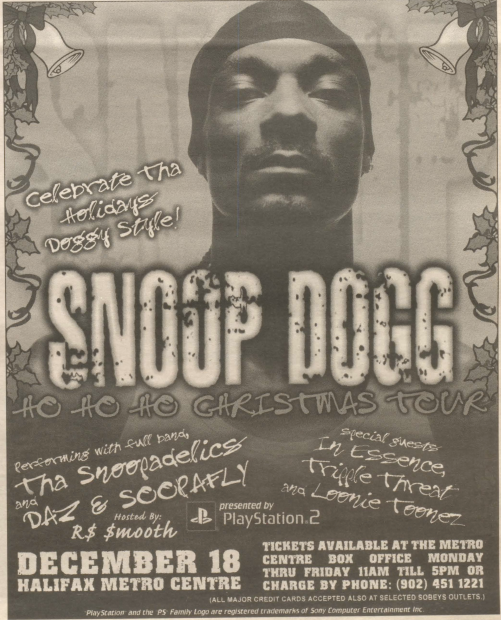 John Hillman is the Gazette's Opinions Editor. John is a second-year law student, but he has been at Dalhousie for much longer than that. Recently discovered cave paintings indicate he was first observed lurching around campus by Halifax's original human settlers some time during the late Pleistocene epoch. He started writing for the Gazette back when you were in elementary school, but he unexpectedly went off the grid a half-decade ago to concentrate on helping found Punditry.ca, a DSU-focused political blog. Where exactly was he hiding between the years 2009-2013? Certain individuals would prefer he not comment. Why has he returned? Not because of a top-secret Illuminati indoctrination project known only as the Omega Initiative, that's for sure.
You can email John at opinions@dalgazette.com.