It was a combination of team-building, basketball and education when the Dalhousie University Tigers women's basketball team travelled to Germany for a week at the end of this summer. 
"I've been on a lot of team-building events as a player and as a coach and I would put it right up there at the top as one of the very best team building experiences I've had, no question," says head coach Anna  Stammberger. 
She tries to take the team on a big trip every five years, whether across Canada to Vancouver or Victoria, or across the Atlantic Ocean, to "let  the team  experience something different together." 
But for Stammberger, Germany is a familiar country. She lived and played basketball there and her kids — both Tigers basketball alumni — play the sport professionally. Her daughter, Tessa, plays for TK Hannover, while her son,  Sven, is on the  Tubingen Tigers. 
On the court 
After a three-day training camp in Canada, the Dal Tigers played two preseason games against professional German teams and also scrimmaged against TK Hannover.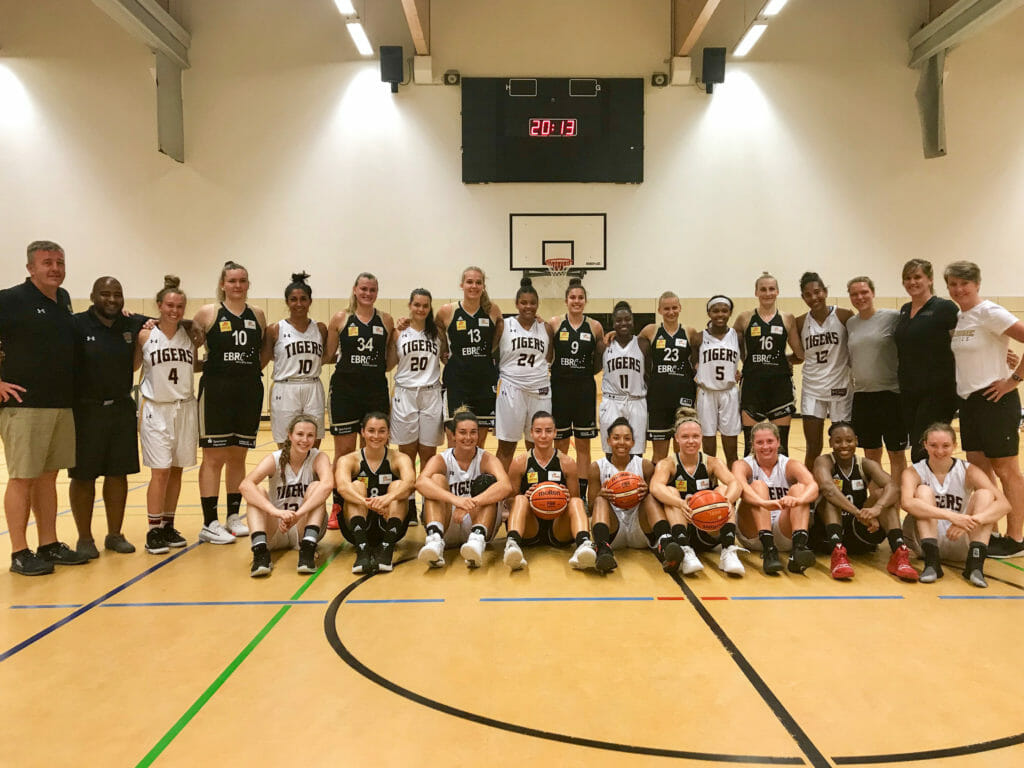 While they fell 80-62 against ASC Goettingen and lost 70-55 against Alba Berlin, it was a good start to the season for Dalhousie. They were playing against older teams who were further into their preseasons and who have a different style of play than teams in the Atlantic University Sport (AUS) conference. 
"They play a little bit differently. They really move the ball well and they're bigger," Stammberger says of the German teams. "It was interesting to have that type of competition." 
Dalhousie's defence was impressive given the lack of time they had trained together, and Stammberger says their ability to respond and improve throughout the week was promising and a good starting point for the rest of the season. 
"We got steadily better every half," she says. 
Experiencing history 
While in Europe, the Tigers had time to learn about a different culture and appreciate the rich history in Germany. They saw remnants of the Berlin Wall, visited a concentration camp and were in Berlin for the 80th anniversary of the start of the Second World War. 
The attitude of the eight returning players and four rookies was one that appreciated the opportunity to learn, says Stammberger. 
"They really seemed to understand the balance between team building, good basketball competition and eduction," she says. "It just made it a great atmosphere and a great trip."  
Bonding as a team 
The third pillar of the trip was team-building, as the Tigers travelled by public transit and stayed in hostels. They also got to visit Goettingen, which is the hometown of second-year centre Lia Kentzler. 
"I think we really got to know each other quite well, being together so intensely for one week," says Stammberger. 
In addition to the players developing closer bonds, it was also a chance for their coach to get to know them as they move into new roles — as younger players move into more veteran, leadership positions, for instance. 
"There's some really quality people on the team and it's neat to see and get to know them like that better," says Stammberger. 
Doing the trip during the summer right before term started was a good thing, says the coach, because it allowed the players to focus on each other and the team. 
During the basketball season, which runs from November to February, "there's always that pressure and that focus" on balancing an academic workload with athletics, so this offered a different experience. 
"It was almost like a holiday with some basketball games before we start buckling down and getting to work in the classroom and on the court," Stammberger says. 
The team returned to Canada on Sept. 2, the day before classes began. Their regular season starts with a home game against the StFX X-Women on Nov. 2.