Four Dalhousie University students medaled in canoe/kayak events at the 2019 Pan American Games in Lima, Peru this summer.
Alexa Irvin, who is taking a master's degree in community health and epidemiology, and Anna Negulić, a kinesiology student, were on the four-person team that won gold in the 500 metre kayak sprint.
Craig Spence, studying statistics, earned a silver medal in the two-person canoe 1,000 metre sprint. Finally, Jacob Steele also collected a silver medal for the two-person kayak 1,000 metre sprint.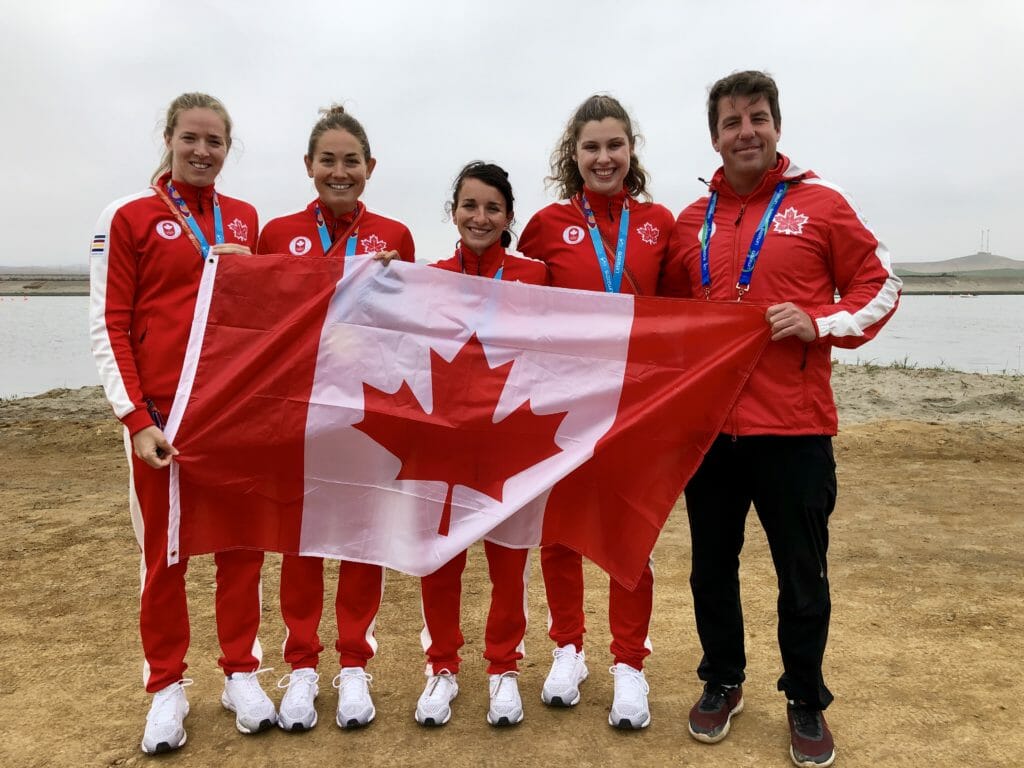 Taste of fame
For Steele, this was his first time competing in an international multi-sport competition.
"There was a lot of local Peruvian people who actually came out to watch our events and to cheer us on and watch the races," he says. "That was really cool because we often don't race in front of very big crowds."
It made for an exciting atmosphere. Having that support for the sport, even though it wasn't necessarily for Team Canada, was helpful.
"It was a pretty great and fulfilling event to be a part of," says Negulić. "It gave me a lot of confidence in […] myself as an athlete."
She found that spectators afterward were eager to get photos with the Canadian paddlers, which was a new experience for her.
Supportive team
There is a strong contingent of Nova Scotians on Canada's paddling teams, which made the fourteen-person Pan Am team feel closely-knit, says Spence.
"It's a lot of hometown pride," says Spence. "It goes a long way, especially for a small province, having so many Nova Scotians on our team."
Several athletes train together year-round: Negulić, Irvin and Steele all train with Maskwa Aquatic Club, while Spence trains at Banook Lake in Dartmouth.
"It's really great to have the familiarity of racing with people that I know well," says Steele of racing in Peru.
Repeat success
For Irvin, this was her second time winning a gold medal in the K4 500 metre sprint at the Pan Am Games. She also competed in 2011 in Mexico. At that time, she was an undergraduate student at Dal, studying neuroscience.
As well as having that competition under her belt, it gave her a perspective that helped her teammates.
"It's always comforting, having a teammate with more experience," says Negulić. If she had any questions, it was easy to reach out to her training partner and friend.
Training and school
Competing at an international level is a big commitment. The athletes are typically on the water for two training sessions a day that are an hour and a half each, as well as another hour of a supplementary session of usually running or weights.
In addition, they usually travel to Florida for training camp in the winter semester. While the lakes in Nova Scotia are frozen, the paddlers head south from February until April. That training period is especially important because trials for the national team are usually held in May.
However, being away from Halifax for so long can make it challenging to fit in courses that are only offered in certain semesters, for example. Each athlete works with their professors in each class to make sure their academics can fit in their training schedule. Often, they have to take courses online instead of in class.
Spence has had a positive experience in that regard, saying that the support and accommodations from Dal have been "incredible."
"I want to put in the work, like I love my degree," he says. "As long as you put in the work, I think the professors realize that."
Going to university in Halifax, where paddling is a fairly common sport, helps.
"This is one of the best places to train for canoe/kayak," says Negulić.
Many paddling athletes have attended Dal before, which means their schedule of training camps and regattas is usually not new for professors.
"They recognize that we're always training and competing," says Negulić, while acknowledging that some profs can be more accommodating than others.
Irvin, having had considerable experience balancing academics and training in the past decade, finds that school actually helps her as an athlete.
"I find that it's beneficial for both aspects of my life," she says. "For the training aspect, just to have something else to focus on other than just high-performance sport kind of lets you step back from that and realize that how fast you move a kayak is not the end of the world."