Cal DeWolfe ran in his first ever marathon on June 9. And he won.  
Going into the Scotiabank Blue Nose Marathon, he wanted to qualify for the Boston Marathon. He's wanted to run that race since he was in junior high. 
To qualify for Boston, he needed to run the race in  three hours. At the Blue Nose Marathon, DeWolfe blew that away with a time of two hours, 34 minutes. 
"I was further under the standard than I thought I was going to be […] so I was pumped about that," he says.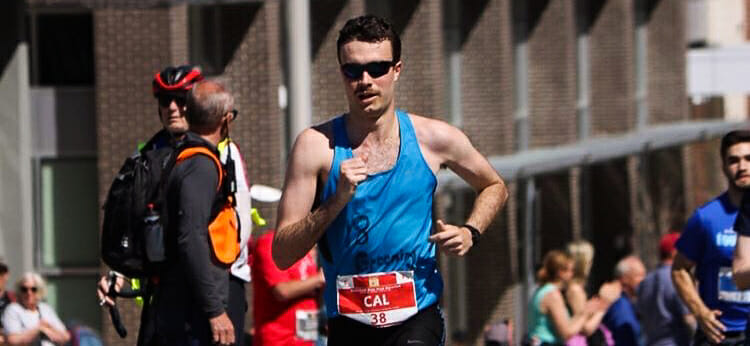 The law student is no stranger to high level running. He ran cross-country and track and field for the Dalhousie University Tigers in 2017-2018, and competed for the  St. Francis-Xavier University  X-Men for the four years before that while he got a degree in philosophy. 
During his cross-country career, he was a dominant athlete. DeWolfe won the Atlantic University Sport (AUS) cross-country championships in 2016 and earned a bronze medal in 2017 while running for Dal. 
Lessons from varsity 
Running as a student-athlete, DeWolfe says, helped prepare him for training for a marathon. Small things, like knowing when something is starting to hurt in a way that would lead to an injury, as opposed to just soreness from training, make a big difference. 
Another thing he gained was confidence and mental toughness — "knowing when the pain of a race is something that can be pushed  though  and when […] to back off the pace," he says. 
DeWolfe also gives credit to the base from a high volume of mileage he accumulated during his five years as a student-athlete, even though he ran very little during the 2018-2019 season. 
"I underestimated how much all those years before would carry over," he says. "Even though I was just focusing on school for a year, it was all there below the surface and then just a little running brought it back." 
Miles and miles 
Training as a varsity athlete for a ten  kilometre  race, DeWolfe would run anywhere from 120-145  kilometres  each week.  
Perhaps counterintuitively, his training for the Blue Nose Marathon, a 42.2  kilometre  race, was a much lighter load, 75-80  kilometres  a week at the most. 
"When you get sucked into a more competitive running stream … people almost make fun of marathoners in that it's a really weird culture," says DeWolfe. 
Despite higher training load for varsity athletes, running a marathon in the off-season is generally viewed as "ridiculous," he says, "probably because it would leave you tired for the season." 
After he was finished competing at the varsity level, it was the perfect chance for DeWolfe to try his hand at the longer distance. 
"The nice thing about being done with cross-country running, as opposed to any other varsity sport, is there are still chances to compete [at a high level] once you're done," says DeWolfe. 
He did much of his marathon training on his own, but did some workouts with the  Halifax Roadhammers, a running club led by former varsity athlete Lee McCarron. 
Ode to X 
DeWolfe ran for the Tigers in 2017-2018. In the four years before that, he competed for the  StFX  X-Men. Living in a house with his teammates, he developed friendships that have lasted far beyond his years at the university. 
Running in the Blue Nose Marathon, the words "18 Greening" were scrawled on his shirt with Sharpie — partly as a joke, representing the run-down house on Greening Drive in Antigonish where he lived for three years, but also as a testament to the tight-knit running community he is a part of. 
"Those guys who I lived with were the ones who I put in the most work with for sure, hands down, in the entire time that I've been running," he says. "Those guys are the reason why I'm any good at all and why I still care about the sport." 
"It's so easy, I think, after a varsity career to just look past it and move on to other things but it's because I was so tight with those guys […] that I still have a connection to the sport," he says. "There's something about running that brings people together." 
After Boston 
After he runs in the Boston Marathon next April, DeWolfe doesn't have any concrete plans to keep competing, as he'll start his articling year after finishing law school and wants to focus on his career. 
Working at Stewart McKelvey law firm this past summer, however, DeWolfe says he met several senior lawyers who still run quite a bit. 
"They kind of gave me the idea that it's possible [to keep running], if I can be organized enough and disciplined enough so if I can manage my life as well as those people do then I'd love to," he says.