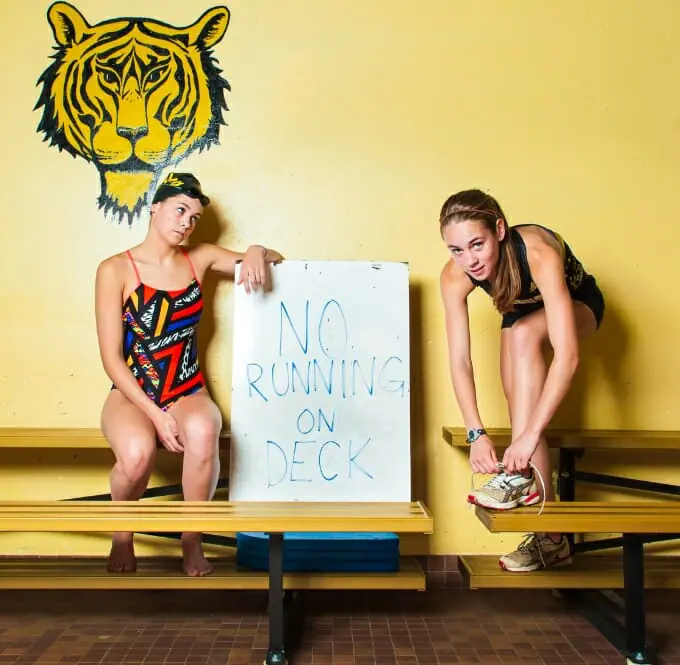 It's a family reunion for Paige, left, and Maddy. (Photo by Chris Parent)
There are some who are born into the Tigers family, and others who have been adopted by it and now flourish. Anna Stammberger and her family are an example of the former.
"We're a Dal family," she says as she and her brother, niece and two children prepare to be photographed for the cover of this week's Gazette.
Anna, a Dal graduate and former member of the women's basketball team, is currently the head coach of the women's team. Her brother, Noel Pendergast, also went to Dal and is an assistant coach with the team.
The second generation comprises of niece Cailin Crosby, whose career began two years before Anna took over coaching duties, and Anna's children Tessa and Sven, who play for Dal's women's and men's teams, respectively.
When asked about her decision to play for the Tigers, Tessa notes that it was the possibility of following in her mother's footsteps that appealed to her. "I wanted to go here [Dal] because my mom went here," she says.
While some families have a longstanding history in Dal's athletic department, there are others who have embraced the black and gold. Just like basketball runs deep with Anna's family, for Maddy and Paige Crowell, swimming was at the heart of their relationship.
"I just love swimming," says Paige, who came to Dal because she feels that "they have the best swim team."
Paige is joined by her older sister Maddy, who after four years on the swim team at Mount Allison University, decided to switch to Dal to do her master's degree and run cross-country. "I'm a better runner than a swimmer," says Maddy, who also ran cross-country at a club level during her time at Mount Allison.
Growing up in Charlottetown and New Glasgow, Prince Edward Island, the sisters played many sports, including gymnastics, soccer and cross country before eventually swimming together  between the ages of seven and eight. Maddy had discovered it first, but Paige was eager to follow.
They were never really competitive with each other, but things changed when Maddy was 14, and 12-year-old Paige began to lap her. Maddy found it funny when her sister started beating her at the same sport even though Paige was two years younger.
Being in the same sports kept the sisters close. They are very involved with one another's competitions, showing up for each other's main events. Although Paige admits to not having seen as many of her sister's meets, their parents and younger brother who still live in PEI come down and support the sisters for their big competitions whenever they can.
Whether being the next in line of a long legacy or hoping to start one, having family so closely involved is an added bonus in the lives of many student athletes at Dal. Each family has it's own unique story, and the following profiles will offer an insight into their experiences as Tigers.
Correction: Maddy Crowell's name was incorrectly spelled in the print story and an earlier version of this story online. The Gazette regrets the error and any confusion it may have caused.