Shaun Miller gazed over the fenced-off lot between Wickwire Field and LeMarchant Place after a team skate at the Halifax Forum.
Miller's schedule was ironic. Right after a few Dalhousie University Tigers men's hockey players took to the ice for some informal offseason exercise, he made the five-minute drive from the uptown arena to check out the site of what will soon be the Dalhousie Events Centre. It was only fitting that he could daydream of his team's new home amid the infamous 2.5-kilometre commute from campus. Dal hockey players have been doing that since 2012.
"To look out now and see that we're making headway toward building a facility that will enhance our program, it's super exciting," Miller said. "We love playing at the Forum, but I think as a program, it's time to move on."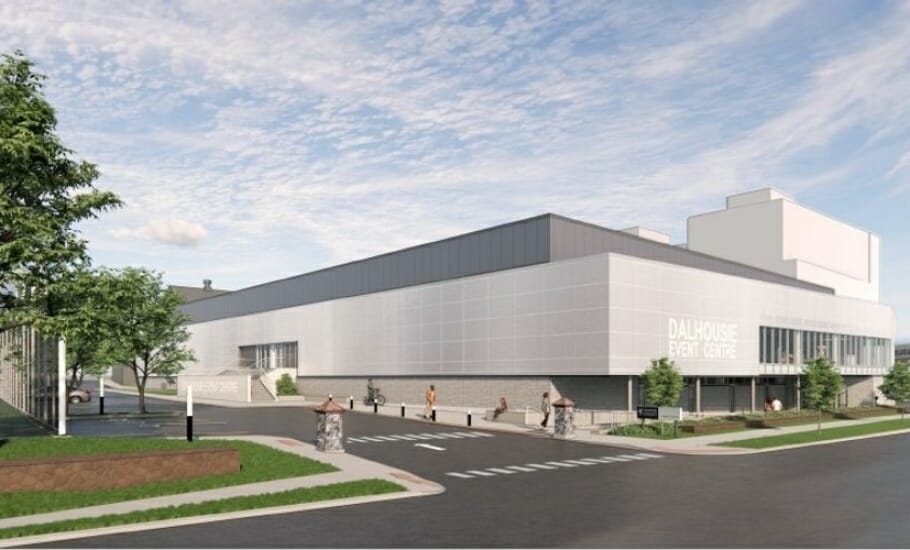 Days later, Olivia Eustace had her first good look at the construction site. Back in Halifax for the first time since ground broke, the women's hockey Tigers' leading scorer in the 2021-2022 Atlantic University Sport (AUS) season could, at last, see the project in reality.
"It's a good feeling because it shows that things are in motion," Eustace said. She added some older teammates were involved in new rink hype and speculation well before the June 28, 2021 announcement. Now it's a reality.
"That shows it definitely took a while to get going. So now that the ball's rolling, it's exciting," Eustace said.
Rink designs out
The facility's construction began in July, just over a year from the June 2021 announcement which made the project official. Dal's facilities department and the Tigers revealed its design on July 6 at an open house, including artist renditions of the completed rink and floor plans.
The building's highlights include a dressing room for each Dal hockey team, six more dressing rooms, 936 seats, a standing room above the seating sections around the top of the rink and an event room with a view of the ice. The Dalhousie Physiotherapy Clinic, currently at Dalplex, will also move to the building in a space triple its current size. With the main lobby downstairs off South Street, two different indoor entrances to the rink will be built from adjacent LeMarchant Place, one on each of the rink's floors.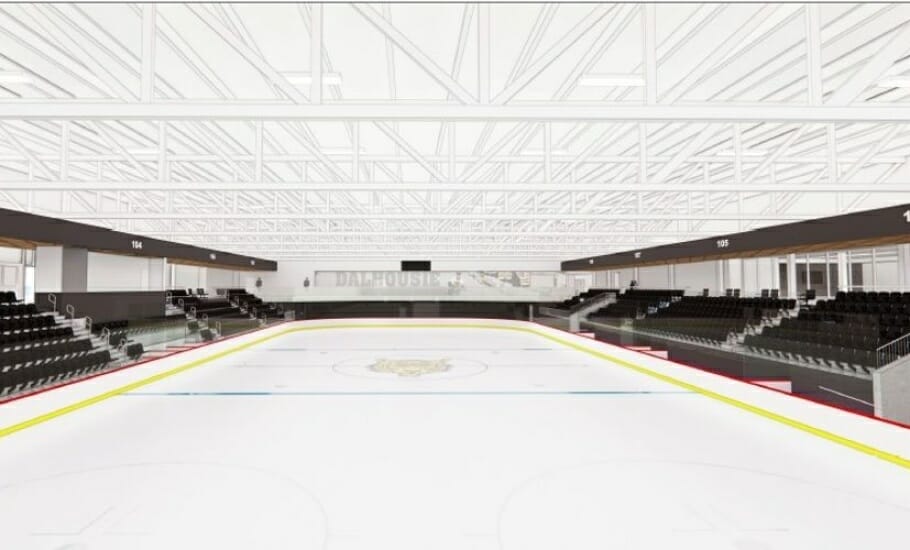 A rink at Dal has been a long time coming. That includes the community in south-end Halifax, along with Dal's teams and students.
"It fits perfectly into our role in the community," Tigers athletic director Tim Maloney said in a July 2021 interview, less than a month after the project was revealed. He emphasized the rink exists for more than exclusive Dal use. "When the old rink [the Dalhousie Memorial Arena] was torn down in 2012, it left a lot of people in peninsular Halifax without a place to skate or play hockey."
As of August 16, the rink site has been fenced off. To make room for it and Alumni Crescent, the street between Wickwire Field and LeMarchant Place, a section of Wickwire Field's east end has been removed. On the other end of the field, Dal's tennis courts were replaced with parking to make up for the lot where the rink will be.
Opening date still unclear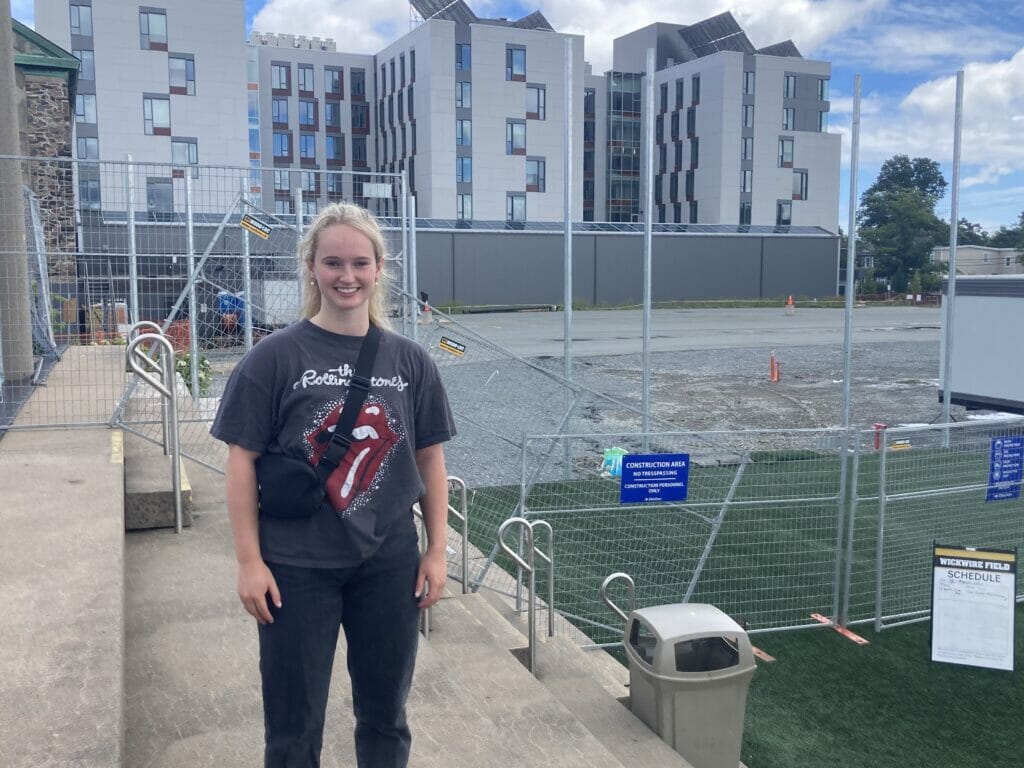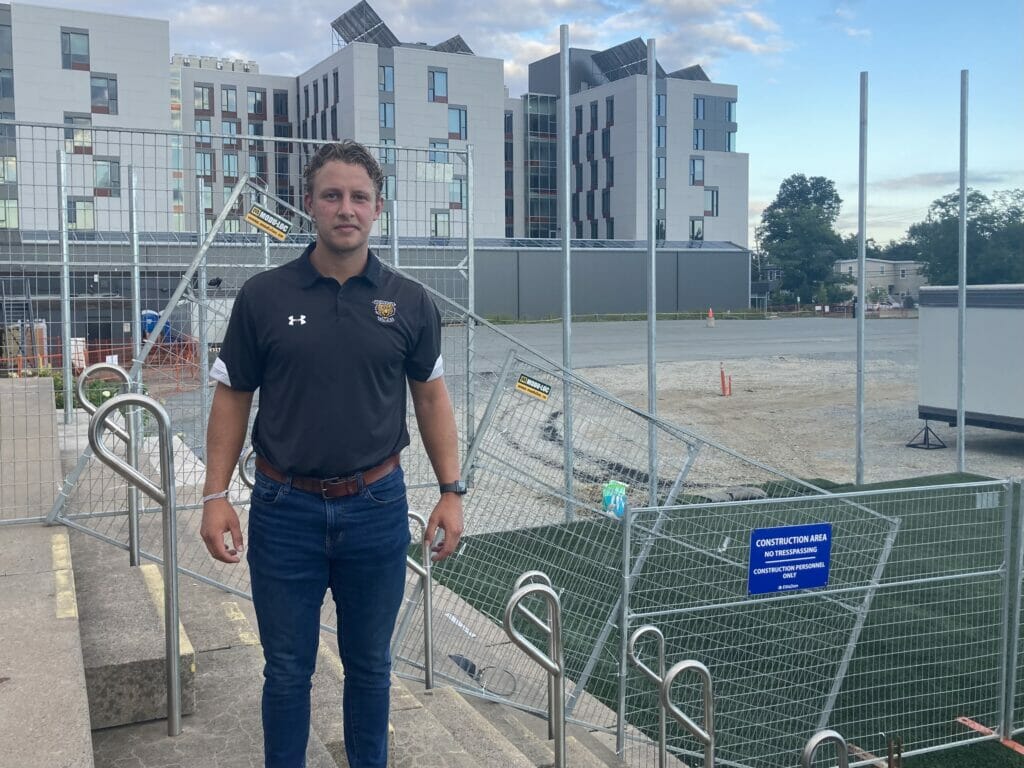 More than anyone, the hockey teams have been following the construction. They, as Miller and Eustace have, speak with caution about exactly how soon the rink will open.
Opening dates range between summer 2023 and winter 2024, but project timelines presented at the July 6 open house suggested closer to the latter. No budget has been determined yet, and dozens of construction tenders, the Tigers said at the July 6 event, are yet to be awarded.
While there is still a road to go, Eustace has already daydreamed of hanging out in the team's new dressing room whenever she is not in class.
"Our room is upstairs at [the Forum]. That is fine, but it would be a lot nicer in the new rink. The rooms seem nice with how big they look," she said of what stands out to her in the designs. The physio clinic and exercise areas are also highlights.
"It's already easy to have physio in the Dalplex, but this will make it so much easier," Eustace said.
Miller looks forward to saving that drive uptown from campus.
"For guys with cars like myself, it's simple but frustrating to drive back and forth multiple times a day. The student side comes first, of course," he said. "To have our facility here and a dressing room we can call home, right next to Dalplex and a few steps away from our classes, it's going to be super awesome."
Becoming a part of campus
"When [the rink] is off campus, it's disconnected," Eustace said. She spent much of 2021-2022 convincing friends to make the trip to the Forum, but that came with coordinating plans and times to get to the game. Travelling to other AUS rinks, she has seen the potential that playing on campus holds.
"Sometimes we would practice in the morning [at the Forum], and a lot of us had 10 o'clock classes. You would have to leave practice early," she added.
As the men's Tigers surged up the AUS standings last winter, attendance figures began to rise. That culminated in a three-game series against the Université de Moncton Aigles Bleus where hundreds of fans, many being students donning black and yellow, made the trip. For Miller, that's a sign of things to come.
"Some days, it's hard to get up for games. But when you have fans there cheering you on and people who want you to do well, it's way easier to get up and perform," he said. "Bringing this rink to this area, the location is what's going to change our culture and hopefully bring some people in."